Sync Intercom engagement data with Woopra to optimize marketing, sales and support efforts across all customer touchpoints
Research firm McKinsey found, "56% of all customer interactions occur during a multi-event, multi-channel journey." These journeys are, "30–40% more predictive of customer satisfaction and churn and organizations that analyze the customer journey win in customer experience and growth."
As businesses become more focused on optimizing the total customer experience, uniting each interaction users have with your company is a fundamental step toward this objective.
At Woopra, we understand that the concept of unified customer data sounds great but is often incredibly difficult to achieve. To help with this, we continually add new one-click integrations to our integrations suite so that you can spend less time cleaning and aggregating data and more time building better customer experiences.
Intercom, a messaging platform that helps businesses connect with customers, was a no-brainer for our next integration partner. Aside from the dozens of integration requests piling up from our mutual customers, the company places a clear emphasis on engaging throughout non-linear customer touchpoints. This made it philosophically and strategically a win-win for us and our customers.
Combining the Power Woopra and Intercom
The most obvious benefit of this integration is the ability to analyze Intercom engagement data alongside the rest of your customer data in Woopra. Let's look at a few examples:
Measuring the impact of Intercom messages in Journey Reports
Woopra's Journey Reports allow you to visualize and analyze how users move through distinct touchpoints in the customer experience. The beauty of Woopra's Journeys is that they're channel/source agnostic in nature. This means you can analyze how a marketing campaign impacted support tickets, that influenced product usage, that drove sales opportunities, and so on.

For this example, let's look at a Journey Report to see the impact of Intercom website, in-app and email messages on the Customer Journey for a SaaS company.
In below Journey Report, we can see people who came to our website for the first time and moved through essential steps to signup for a trial, become a paying customer and eventually, an NPS promoter.
Notice how some steps are blue while others are pink. Blue steps are optional, meaning users do not have to take that step in order to complete the Journey. This allows you to see people who took the predefined steps, but more importantly, those who did not and identify why they might have gone a different direction.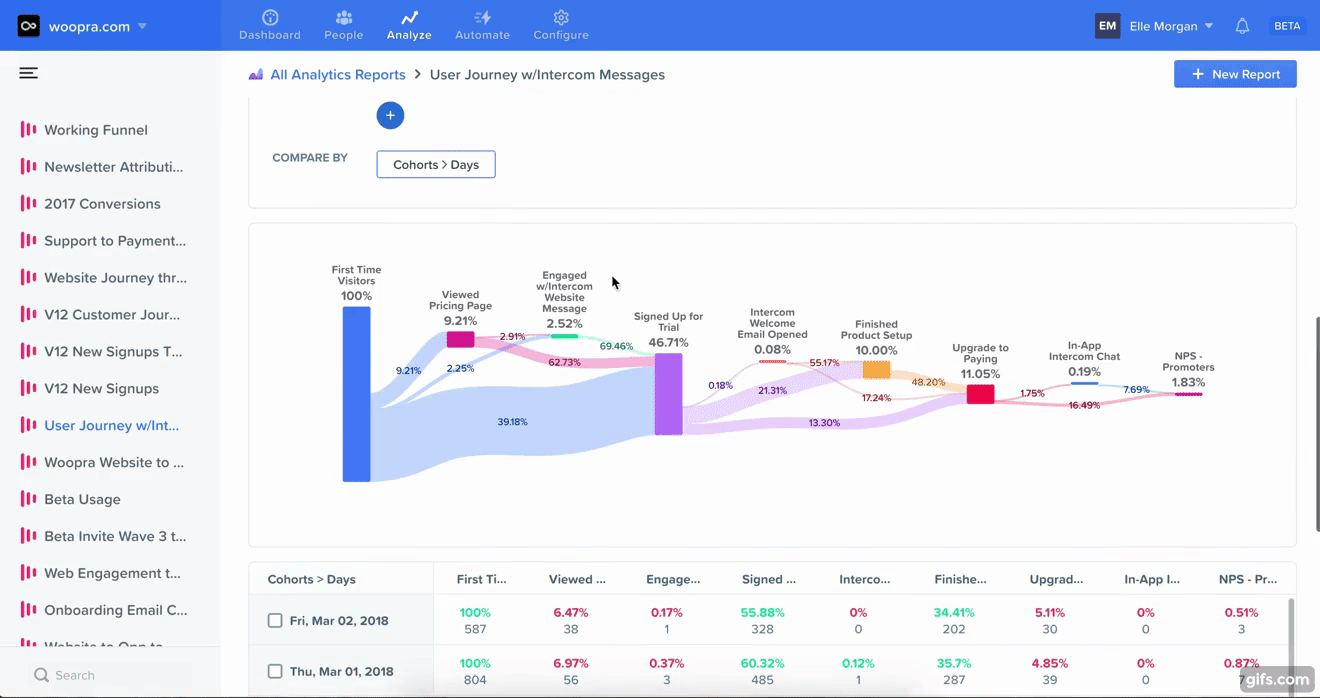 Omni-Channel, Non-Linear Customer Journey Reports
In the above Journey report, we can see that 2.5% of new website visitors engage in an Intercom chat on the pricing page. Of those, 69% sign up for a free trial of the product. That's roughly 5% higher than new visitors who did not engage in a chat. We can also see that users were more likely to finish the product setup after opening Intercom emails.
Analyzing real-time Intercom engagement in People Profiles and reports
The more actions tracked in Woopra, the more behaviors you can include for analysis. Installing the integration will allow you to automatically track the following Intercom actions in Woopra:
Tagged in Intercom — User was tagged in Intercom.

Un-Tagged in Intercom — The tag was removed from a user in Intercom.

Admin Assigned to Conversation — An Intercom conversation with this user was assigned to an admin.

Admin Opened a Conversation — An Intercom conversation was opened by an Admin.

Admin Started Conversation — An Intercom conversation was initiated by an Admin

User Initiated Conversation — The user initiated a chat conversation

Admin Noted Conversation — The Admin added a note to the Intercom chat conversation

Admin Closed Conversation — The Admin closed the conversation in Intercom

Admin Replied to Conversation — The Admin replied to an Intercom conversation with the user

User Replied — A user replied to an Intercom conversation
As the above actions are performed, individual-level Profiles in Woopra will populate with the corresponding action and associated details in real-time.
These can be used to:
See the exact Intercom conversations had by users before encountering an issue or reaching out to sales

Create dynamic segments of users including based on who they are and what they do including chat and email messages that took place through Intercom
For example, in the below People Report, I can segment a list of people based on the conversations they've had through Intercom and other data such as whether or not they've signed up to our service. From here, you could choose to analyze this list further or re-engage the segment with one of Woopra's Triggers.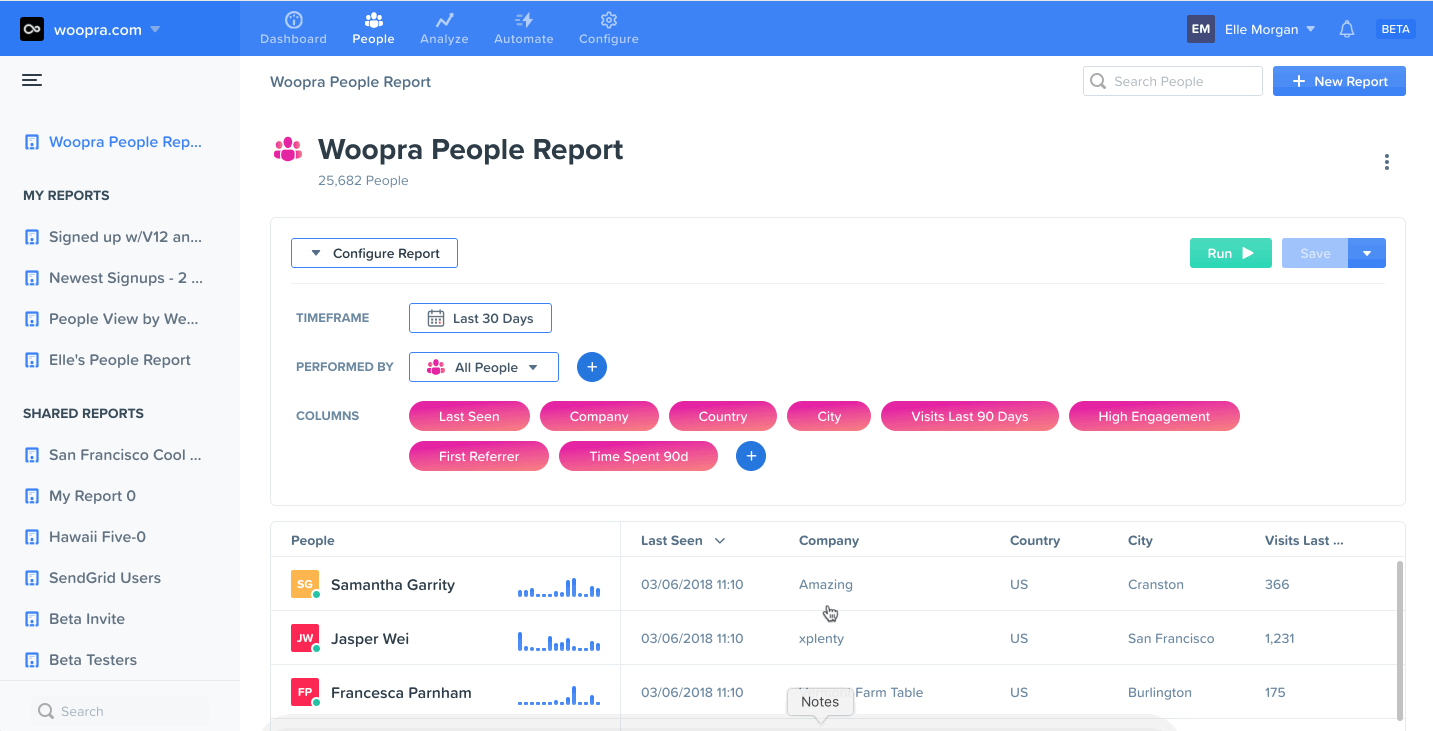 Behavioral Segmentation with Nested Logic in Woopra
FUEL PERSONALIZATION AND TARGETING IN INTERCOM WITH WOOPRA'S TRIGGERS
Woopra's integrations are unique in that they include two-way data synchronization. You can seamlessly sync data from other tools into Woopra, but also sync data back out from Woopra to other solutions in real-time.
This means you can personalize page content, trigger a chat message, automate enrollment in a drip campaign, update a lead status or customize a promotion using the dynamic behavioral segments housed in Woopra.
The Woopra and Intercom integration includes a suite of these Triggers out-of-the-box. In the "Automate" section of Woopra, you'll see these triggers automatically appear in the "Add Action" drop-down.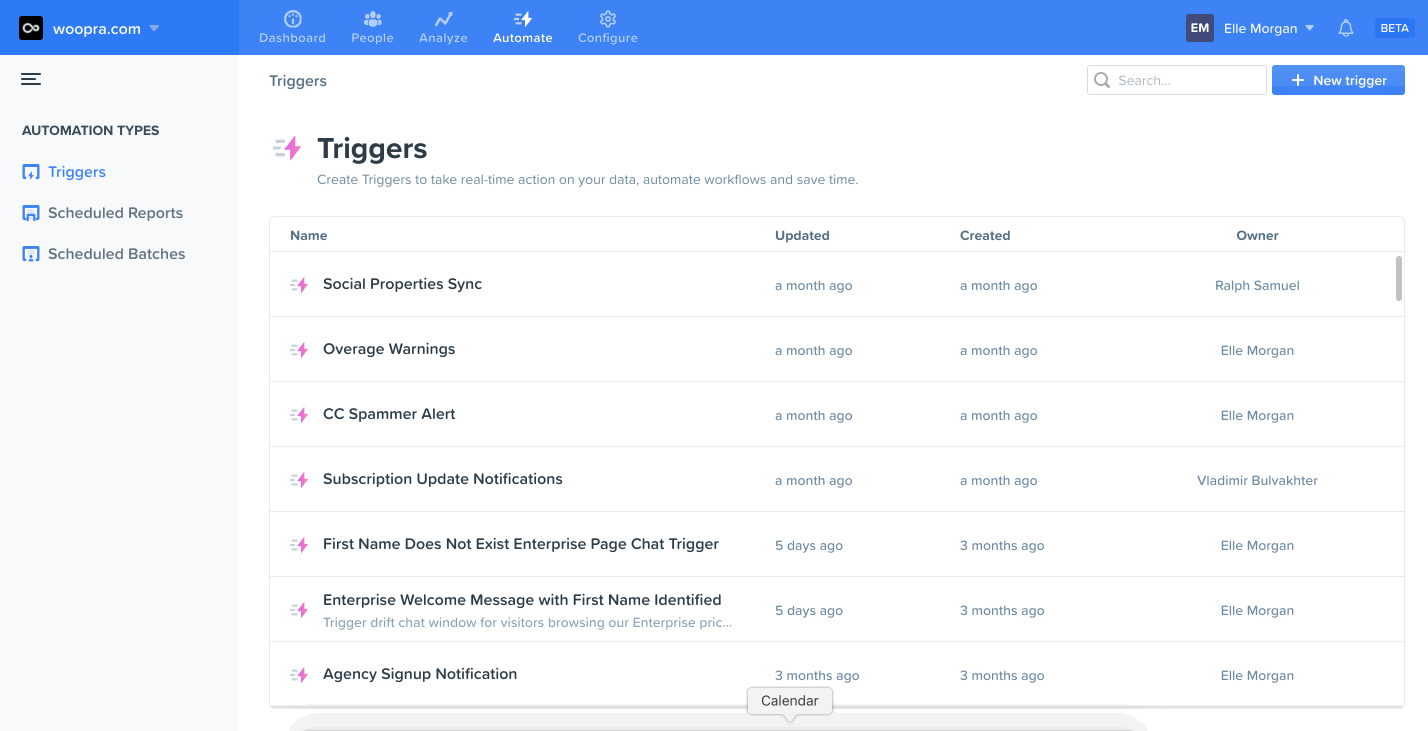 Dozens of Automations to Take Action on your Data
Use these Triggers to take action in Intercom based on the behavioral data collected in Woopra. For example, you could create a Trigger to automatically convert an Intercom lead to a user based on their behavior.
This helps to streamline communication between tools, keep leads and contacts in sync and incorporate additional data points in your lead qualification process.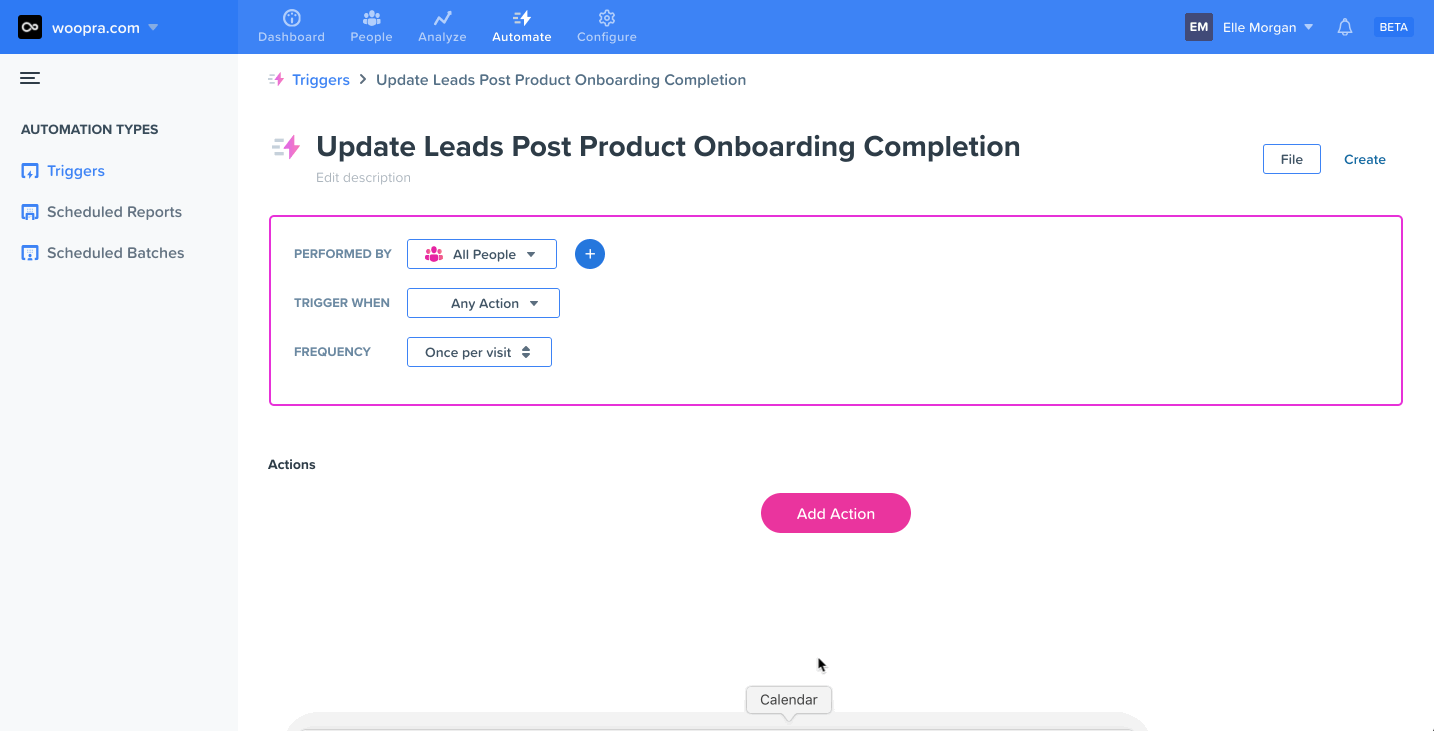 Creating Triggers in Woopra with Behavioral Data
Getting Started with the Woopra and Intercom Integration
These common use cases are only the beginning. Install the integration to explore all capabilities, benefits and begin leveraging Intercom engagement in data.
If you have any questions on setup, use cases or configuration, don't hesitate to reach out to support@woopra.com and we'll be happy to assist!
Learn more about customer journey analytics, product analytics, and customer analytics.