Guest Post from Olga Kolodynska — Content Writer at LiveChat
LiveChat is a great tool for delivering customer service and nurturing relationships with customers, but there's also a hidden potential behind it. It's generating and capturing leads.
Imagine, all the first time visitors who come to your site and are not ready to make a buying decision yet. Are you gonna talk to them again? It's a great idea to do so! LiveChat can help with gathering details about visitors and converting them into customers. Do you want to know how?
Let me show you ways in which you can generate and capture more leads with LiveChat.
1. Proactive greetings — reach out to customers
After a customer spends some time on your website, you can start a conversation with them. To do that, you can set up a greeting — an automated and customized message that starts a chat with visitors. The very basic and popular greeting that often displays after a visitor spends 20 or 30 seconds on a website is: "Hello, how may I help you?"
Greetings displayed at the right moment, engage website visitors to start a conversation with you.
According to our report, visitors invited to chat are 6.3 times more likely to convert into customers than the ones who don't chat; 61% of those customers convert within the first chat. (link do raportu)
Once you ask visitors if they need help and what problems they encountered, they're more likely to share their doubts with you. By chatting you display these doubts, help with everything they need and as a result, guide them to a sale.
With LiveChat you can set greetings for many scenarios, like:
time on a website (after spending a specific time on your site)

a greeting for returning visitors

when a visitor visits one particular page

when a visitor visited the following page "…" during this session

when a referring website address is "…" (facebook.com, google.com)

when searched keyword is "…"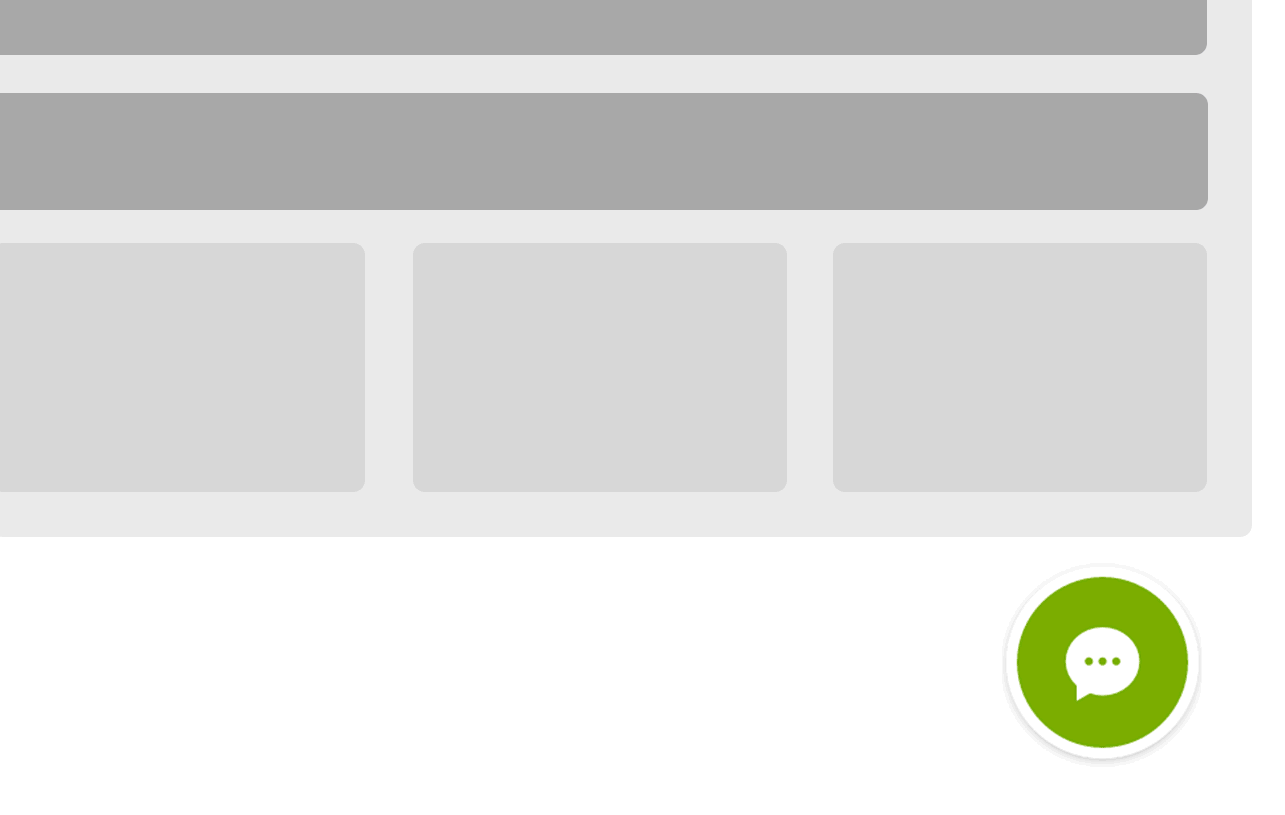 As you see, you can approach customers with the right questions the moment they need your help the most. You increase your chances of getting a sale.
2. Gather emails before each chat — keep the communication going
You can capture live chat leads on a much larger scale using one of LiveChat's integrations with email marketing automation services.
These integrations allow you to add an email opt-in checkbox to your pre-chat survey. People entering your chat would be then able to opt-in for your email marketing campaigns.
In the survey, visitors give you their name and email address and a reason for contacting customer support. This way you can direct chat to the right person immediately and also reduce the time chat agents spend collecting the information themselves.
You can get a healthy stream of live chat leads going through integrations with services like:
Apart from using these live chat leads for mass email campaigns, you can also use them for more personalized follow-ups. For example, when you make sure everything they got is everything what they wanted. Personal customer experience increases the chances of getting a sale, as customers feel more comfortable and understood while talking with the chat agents.
3. Use post-chat surveys to gather feedback after chat
You can use post chat surveys to collect feedback after a chat. Ask customers about their experience and satisfaction with your service. You will know if their case was resolved and if they're satisfied with professionalism of your agent. They can also rate the chat using thumbs up and thumbs down. Having this information allows you to work on your customers service. The better service you provide, the more happy customers you'll have.
And we know that happy customers means loyal customers.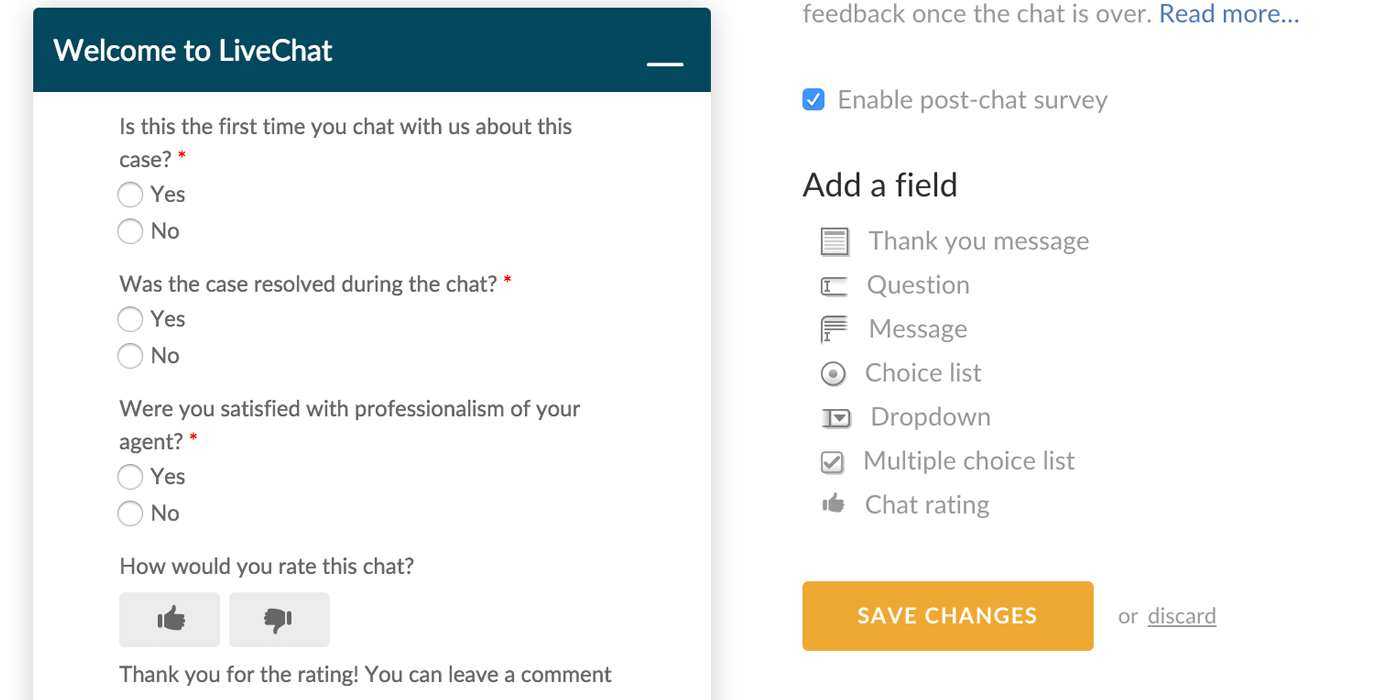 Don't forget there's nothing wrong with a bad feedback, it only helps you improve your service and business more, so in the future it will increase your conversion rate.
4. Integrate LiveChat with 3d party providers
If you use LiveChat without any CRM integrations, I can say you don't realize its full potential. And if you're an entrepreneur you probably like to use all the opportunities you have. CRM happens to be one of them. I think many people heard of it, but when it comes to integrating it with LiveChat they're not fully aware of the benefits.
By integrating LiveChat with CRM systems your sales rep can see everything they need to know without leaving the app. They have access to all of the data collected through chats, including social profiles information. They can use this information to tailor their communication to the needs of each individual prospect. They can also segment customers into groups and send them personalized campaigns.
You can for example integrate** **LiveChat with Hubspot. Hubspot is free, #1 CRM solution. By integrating it with LiveChat you can easily check the information about your customers in real time and add your new contacts without the need to leave the app. This is the powerful integration that helps you generate more leads, close more deals and make your pipeline more manageable.
By leveraging the LiveChat + Woopra integration, you gain granular level insights on the impact chat has on customer happiness and success. This is a great way to understanding the customer experience, starting from the moment they visit your website, to their first conversion and beyond!
How LiveChat increases conversion?
From reaching out to customers through gathering information about them to sending them personalized campaigns, LiveChat helps you generate and nurture your leads.
The more you dig into the app, the bigger opportunities you see in front of you. Improving customer satisfaction and increasing conversation can help your business in a long term so it's definitely worth a shot.
Learn more about customer journey analytics, product analytics, and customer analytics.