Behind every shopper on your site, there is a story. A story told by the browser behavior exhibited by shoppers at each point along the shopping funnel.
When we take a closer look at the story told by behavioral data, we are faced with an alarming fact: the majority of all eCommerce traffic leaves before completing a purchase.
Take this site, for example: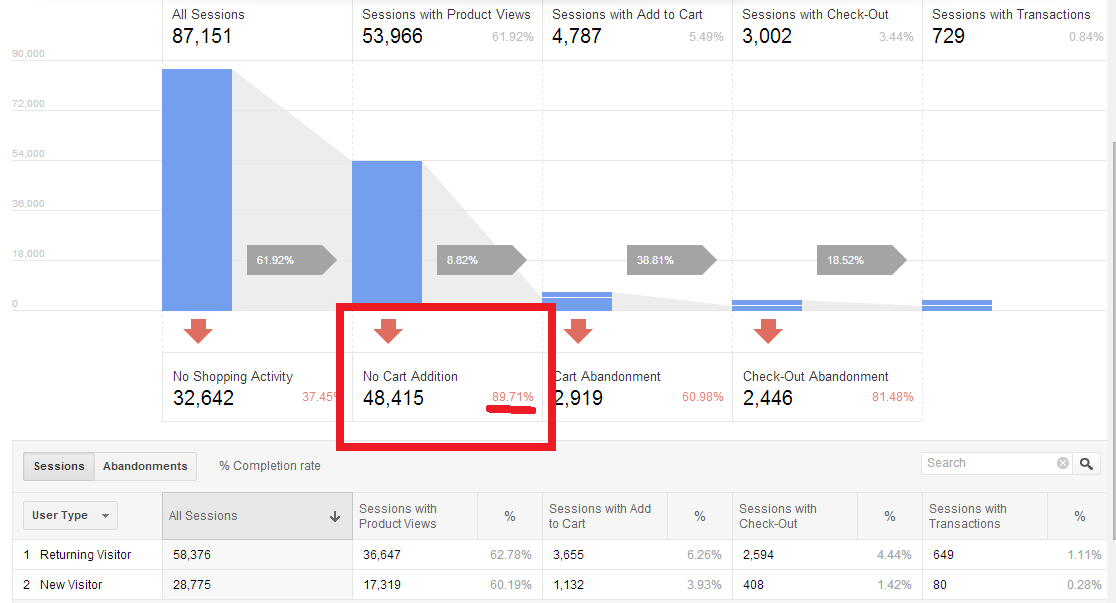 Here, you can see that nearly 90% of traffic did not add any products to a cart, let alone complete a successful order.
eCommerce business owners and managers alike are more informed than ever, looking to glean insights from the web analytics data available to them on their sites and turn those insights into action. Yet the fact that the same old story of low conversion rates is one most sites still tell just proves that there must be something more we can do to better leverage behavioral data to more effectively generate online sales.
Using Browser Behavior Data to Discover More Customer Engagement Opportunities
At each point in your shopping funnel, from the homepage all the way through the checkout, each shopper is expressing a different level of purchase intent. These are data points we can use to drive better, more personalized customer engagement strategies.
Most merchants focus on engaging with shoppers at the tail-end of the funnel. Exit-intent popups are triggered to prevent abandonment, cart abandonment emails are sent to shoppers who leave carts behind, and transactional emails are sent to shoppers who complete a purchase.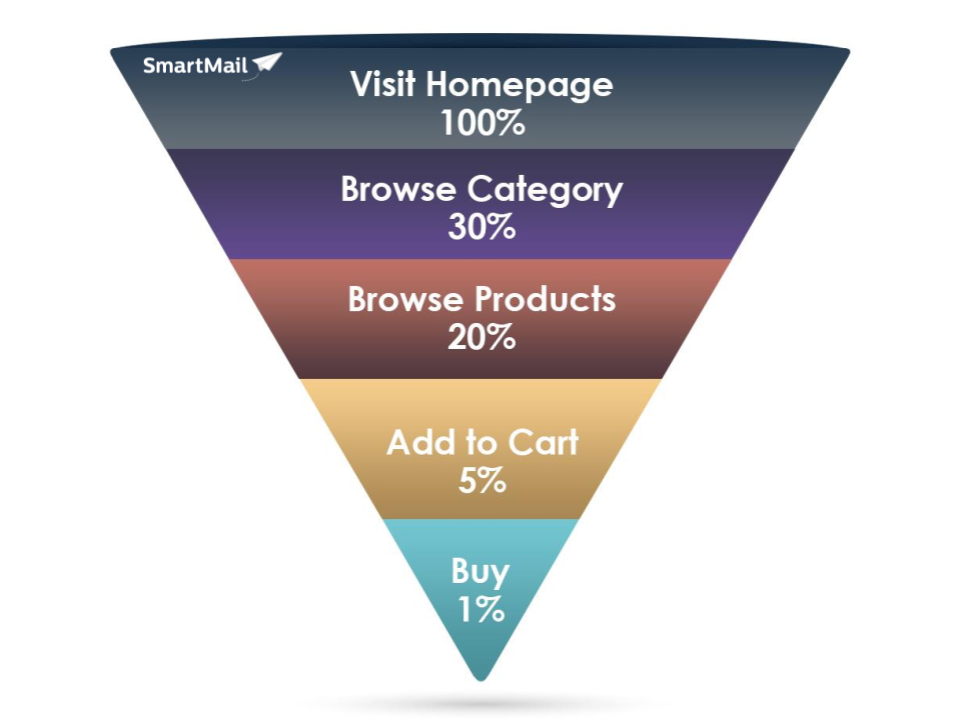 But what about the rest of the shopping funnel? eCommerce sites have even more opportunities to engage with their shoppers much earlier on, however browser behavior data often gets overlooked.
There are 4 commonly overlooked behavioral data points in the online shopping journey:
The segment of shoppers who hit your** homepage** but then bounce

The segment of shoppers who browse a *category *but then never go on to view any specific products

The segment of shoppers who view specific *products *but never added them to their carts

The segment of shoppers who enter a keyword or term in your site search but never get any further on your site
But how can merchants use all this data to effectively drive an increase in sales?
Leveraging Behavioral Data in Automated Email Campaigns to Increase Conversions
All this talk about browser behavior data can seem complicated, and if you're feeling overwhelmed just thinking about it, you're not alone.
Even once you've got data-collection systems in place for your site, what's the next step? eCommerce marketing managers are constantly looking for the best marketing channel with which to integrate their user data and power engagement that will yield conversions.
Also Read: Unleashing the Power of the Email Journey
While retargeting ads seem to be the go-to strategy for engaging with shoppers who've left a site early on, they lack** advanced, data-driven personalization** that can be the key increased conversions.
Despite all the ads, SEO, PPC, and social media strategies that tend to grab the attention of digital marketers, email is the one marketing channel that consistently delivers a phenomenal ROI and can potentially convert the highest.
Did you know that Amazon generates over one-third of its revenue from data-driven personalization strategies? Automated emails that seem to have been created on a one-to-one basis, personalizing every single email experience for each individual shopper have been the foundation of Amazon's success.
So how can you send data-driven, automated email campaigns to browsing shoppers like Amazon?
The answer is in Browse Abandonment Email Campaigns.
These email campaigns are less common than cart abandonment and general promotional messages yet they tend to yield significantly higher conversion rates. Browse abandonment emails are no longer just for the big players like Amazon, and we've created a simple process to help you harness the power of these personalized campaigns.
In just 3 steps, you can send automated emails that are personalized to each and every one of the shoppers who browse your site and, as a result, turn more window shoppers in paying customers.
Step 1: Identify and Create Different User Segments Based on Browser Behavior
You can identify and define various user segments in your email marketing software so that each user segment will be sent messages that are relevant and behaviorally triggered.
To engage with shoppers who drop out before the cart page, create the following 4 user segments:
Homepage browsers

Category browsers

Product page browsers

Site search browsers
Each of these 4 user segments will receive a different automated browse abandonment email using different types of messaging, calls to action, and levels of urgency.
Step 2: Setup Personalized Product Recommendations for Each User Segment
You can identify and define various user segments by leveraging a customer analytics solution such as Woopra and your email marketing software so that each user segment will be sent messages that are relevant and behaviorally triggered.
Once you have defined your 4 user segments you can decide which types of product recommendations to display within your browse abandonment email campaigns so that the content is relevant and personalized for each shopper.
Homepage browsers: display site-wide top sellers

Category browsers: display a combination of product recommendations from within the category browsed and some site-wide top sellers

Product page browsers: display not only the specific product that was viewed but also recommendations of related products, including upsells, downsells, and best sellers within the same category

Site search browsers: similar to category browsers, reference the term that was searched by the shopper and display a combination of product recommendations from within the category related to the search
The key here is not to simply fill up an email with various product recommendation options. Click-through rates are increased only when the content displayed is truly relevant for each shoppers, so the trick is to display product recommendations that are interesting and directly related to browser behavior.
Step 3: Optimize Browse Abandonment Email Campaigns for Mobile
Up to 55% of email is opened on a mobile device, so it's crucial to create browse abandonment templates that are optimized for mobile. While the desktop version of your emails may display product recommendations in rows, the mobile version should display products one-by-one, stacked on top of each other for increased readability.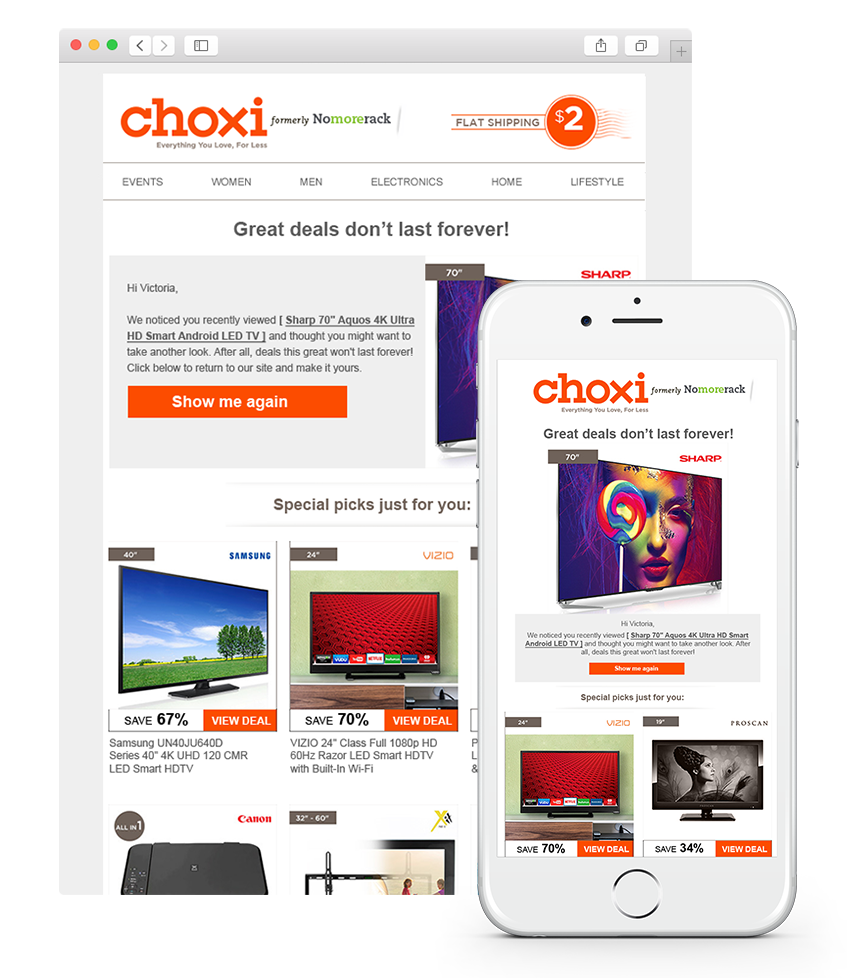 Personalized Browse Abandonment Emails Convert More eCommerce Traffic Than Any Other Marketing Channel
Site A: Personalized Browse Abandonment Emails Converted Higher Than All Other Channels 7 to 1:

Site B: Personalized Browse Abandonment Email Campaigns Doubled Total Revenue Generated From Abandonment Emails:

Site C: Personalized Emails Converted Nearly 6x Higher Than All Other Marketing Channels Including PPC and Automated Newsletter Campaigns:

As you can see, the results truly speak for themselves. When you tap into new user segments of shoppers and send automated campaigns that are highly personalized and behaviorally driven, you can achieve a significant lift in your sales and stay ahead of the game.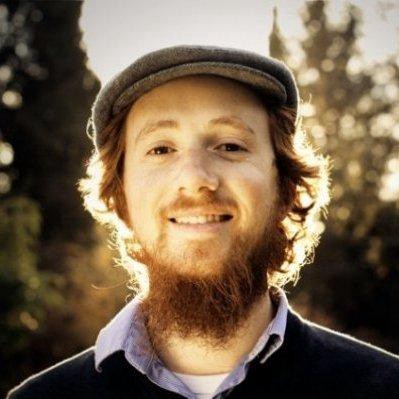 Daniel Kohn is the CEO and co-founder of SmartMail.io, a company that helps eCommerce stores and online retailers increase sales, average order value, and lifetime customer value through email. Download SmartMail's 4 highest converting email templates to help jumpstart your eCommerce email marketing program.
Learn more about customer journey analytics, product analytics, and customer analytics.