If you're reading this post, then I assume you're a data whiz, or at least an aspiring one. You probably already know how important tracking and capturing user data is. But have you ever considered how you can combine tracked user data with user feedback?
On-site or in-app surveys, such as Survicate, allow you to collect feedback directly from your users by launching unobtrusive survey widgets asking users questions. And with pre-built integrations, like the Survicate app on AppConnect, you can use the data from these surveys to build even more detailed user profiles within Woopra. Now you can not only track user activity, but you can also get to know your users better.
Let's take a look at six examples of insights you can gain from surveys and how they can benefit you.
1. Product Roadmap
Building a product roadmap is a huge challenge for SaaS companies. You must weigh the user requests for new features against the overall experience and company resources. Some companies encourage users to vote on new features (in fact, we used to do this ourselves at Survicate) in order to implement the most popular features first.
But many users don't want to make the effort to visit a dedicated page to vote. You must be proactive to get their ideas. For example, you can target survey widgets to pop up for registered users so that you can ask them what features are missing and ultimately build a customer-driven product roadmap.
2. User Characteristics
Who are your users? You might know their names and companies, but who are they really? What are their industries? What's their role and seniority?
Insights like these can help you uncover who uses your product. For young companies, these answers can help find product/market fit. For companies of all sizes, they can help create a better onboarding and user experience as well as provide marketing direction.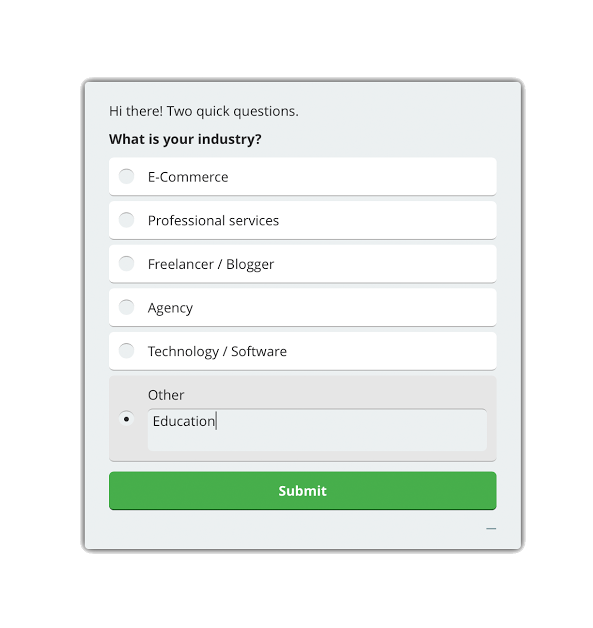 3. Traffic Sources
Direct traffic can be a real headache. When someone comes directly to your site, you don't know how they actually found you. This can be especially problematic for B2B products since there is often more than one person is involved in the buying process. For example, one person may find your website, while another one registers for an account or books a demo. In addition, some people clear their cookies or use private mode when comparing solutions to avoid being flooded with ads.
As a result, you're likely to overestimate the profitability of your direct channel. You can use surveys to find out how customers really find you in order to have a better understanding of how each channel affects your revenue.
4. Investigate UX
For SaaS companies, insightful product feedback can be just as valuable as subscriptions. When users find it difficult to configure accounts to their needs or when an app is hard to use, users are likely to churn. Even small fixes can lead to higher user engagement, higher activation rates, and lower CAC. UX is just as important for non-SaaS companies as well; better UX results in higher NPS and a greater likelihood of users returning.
You can use surveys to investigate the UX and discover what to improve. In fact, we do this ourselves at Survicate. We noticed that one part of our app might be difficult to understand for new users. We didn't want to guess what and how to improve, so instead we asked our users directly. Their ideas and suggestions led us to changes that made our tool easier to use. We know the changes worked because surveyed users confirmed that they did.
5. Stage in Decision Process
How far users are in their decision process is an important piece of information in the sales cycle. For example, if a person visits a car dealership's website, they might be just browsing cars under $30,000 and doing in-depth research, or they might already know what they want and are ready to buy. When you know what stage the buyer is at, you can react appropriately.
While the person doing research might be interested in comparisons or a guide to choosing the right car, the person who is ready to buy should be able to quickly book a test drive or talk to a sales rep. A simple survey asking users where they are in the decision process can give you the answers you need to tailor the experience to them.
6. Conversion Analytics
Why do people buy your products or register for accounts? Is it because your product is priced competitively, has unique features, or is a trusted brand? Using a survey to ask users why they convert will help you understand what your perceived advantages are over competitors.
Likewise, insights into why visitors don't convert can be equally important. Simply ask users who abandon shopping carts or leave your pricing page why they didn't buy. This can help you improve areas of friction, refine your messaging and positioning, and ultimately see sales growing.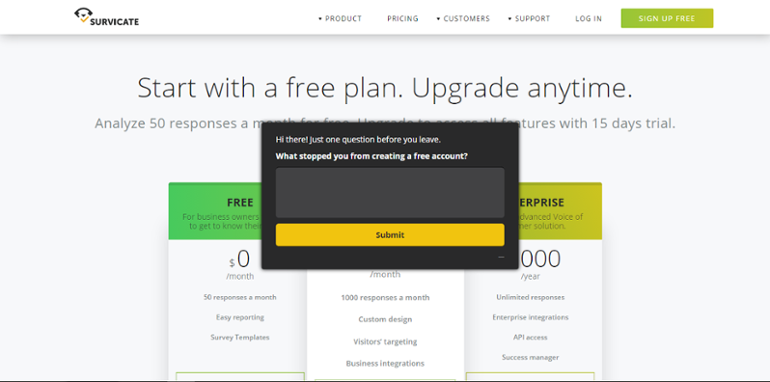 Using Woopra and Survicate
With the new integration, you can send data collected with Survicate straight to Woopra. Your Customer Profiles will be enriched with survey answers so that you can learn more about your users and address their needs better. You will find the survey answers in the Reports tab: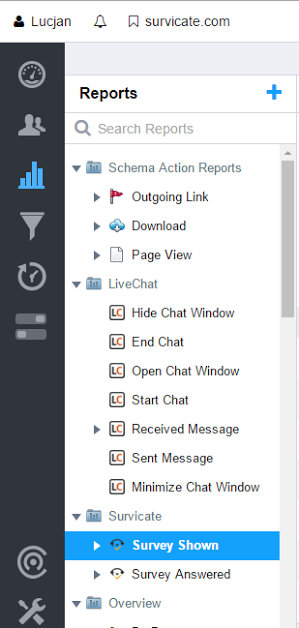 From the report, you will learn how people who answer in a certain way behave compared to other users. You can also see overall stats for your surveys, such as how many users see the survey and how many of them answer.
Collecting data and answers is not enough — the key is to act on it. So how can you use the customer information you get from Survicate in Woopra?
You can leverage user answers from Survicate to better personalize the experiences for your customers. For example, you can:
Use Woopra Triggers to personalize website or app content based on survey answers (e.g. display resources based on a user's industry or title)

Trigger LiveChat, Olark, or SnapEngage chat pop ups based on survey answers (e.g. display a chat pop up to users who say they are "ready to buy")
Get Started
Since the integration is brand new, Survicate is offering a promotion for Woopra users: 50% off Survicate for 6 months. You can claim the discount here.
The post below was written by Lucjan Kierczak, a marketer at Survicate, an online survey tool. Survicate is a Woopra-integrated app that makes collecting feedback from visitors easy and quick. You can find him on LinkedIn or Twitter.