Content marketing is one of the most cost-effective ways to build brand awareness. A great blog post, for example, can bring tens or hundreds of thousands of new visitors to your site. (And convert them into customers, too!)
Unfortunately, it's not as easy as just writing a blog post and kicking back to watch the sales roll in, especially when you're selling a B2B product. The wrong B2B content marketing strategy can actually damage your brand.
What Does a Good B2B Content Marketing Strategy Look Like?
A great B2B content marketing strategy is based on the foundation of understanding the brand and its potential customers.
It takes into consideration the buyer's journey and provides genuinely valuable content that solves problems and builds trust by meeting its audience where they are.
The key here is genuinely valuable. This is one thing that B2B and B2C content marketing have in common — people don't click on blog posts or videos to be marketed to. B2B buyers don't want to read saccharine marketing copy any more than consumers do.
Whether it's B2B or B2C content, people click on it because they have a question they want answered or a problem they want solved. They're looking for something, and they want content that can help them find it.
Good B2B content creation, then, has to begin with understanding.
Good B2B content creation, then, has to begin with understanding. Understanding of the brand and its place in the market, and understanding of its customers and the problems they face.
This, in turn, means that the content part of any good B2B marketing strategy must be informed by an analytics strategy too. The better you can understand who your customers are, what their problems are, and what makes them convert, the better you can target your content.
The specific types of content that you'll create as a result of that understanding will vary from brand to brand. But for a B2B audience, educational content often plays an important role.
Show your customers how they can solve their problems. Along the way, demonstrate how your product can help.
However, a good B2B content marketing strategy does not and cannot stop there. It must also include a robust plan for measuring content performance. That means tracking web metrics as well as conversion-related data (at an absolute minimum).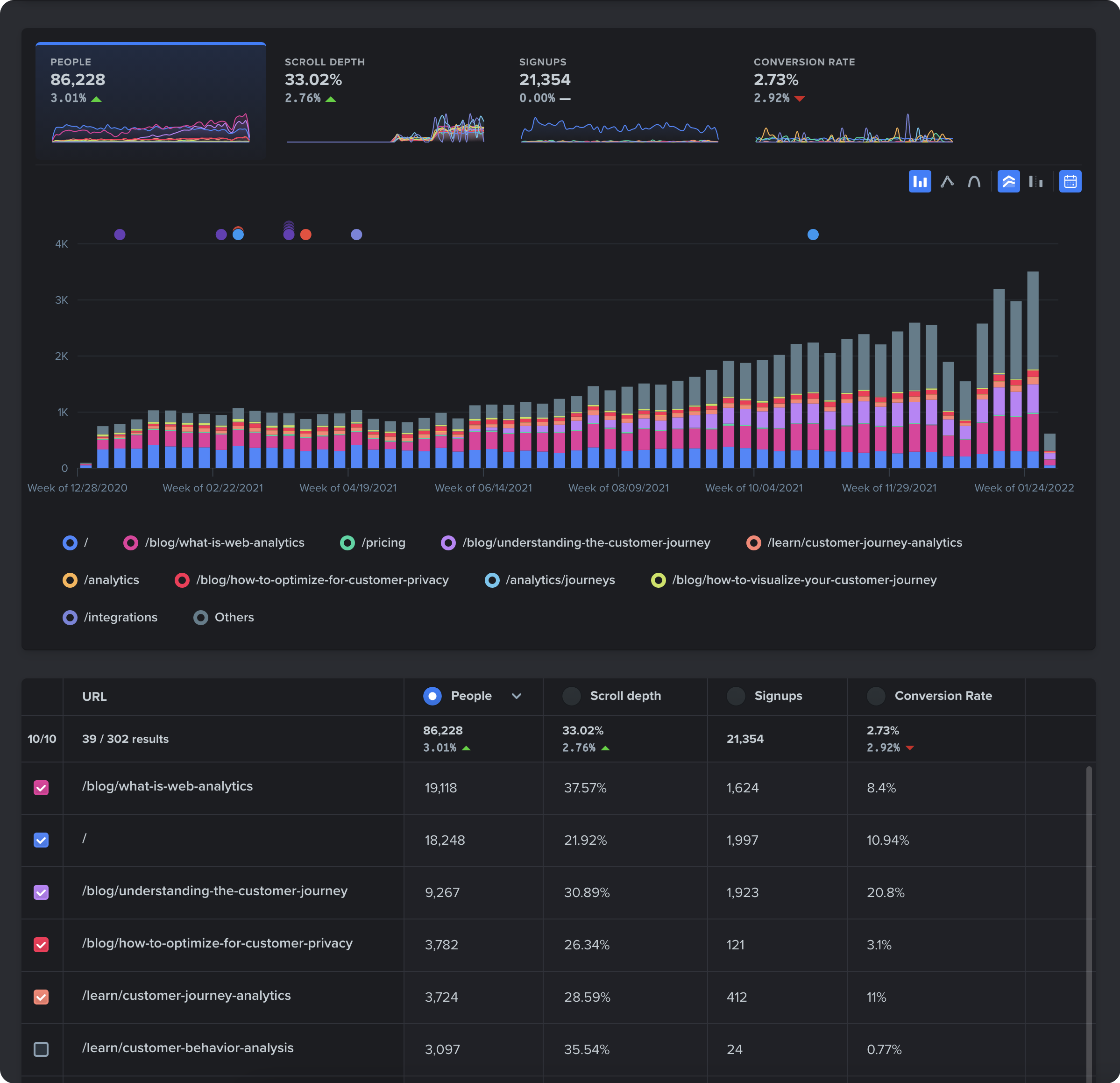 Ideally, it means tracking users on an individual level to better understand the customer journey so that you can analyze where on that journey customers are encountering your content, and fine-tune the content for the moment.
How to Develop a Good B2B Content Marketing Strategy
Although we've covered the fundamentals, let's take a look at each step of developing a good B2B content marketing strategy in a bit more depth.
In this article, we'll place most of our emphasis on building a solid foundation for building brand awareness. The key here is to build a content marketing strategy that is unique and specific to your company, rather than just following B2B content marketing trends.
Step 1: Understand Your Brand Positioning
Your brand positioning is the space your brand holds — or rather, the space you want your brand to hold — in the minds of your customers. It's what sets your brand apart from your competitors.
For example, consider the B2B technology solutions firm, Cisco. Their brand is all about using technology to bridge the gaps — the gaps between people in different locations, the gaps between humans and technology, etc. Their logo even resembles a bridge.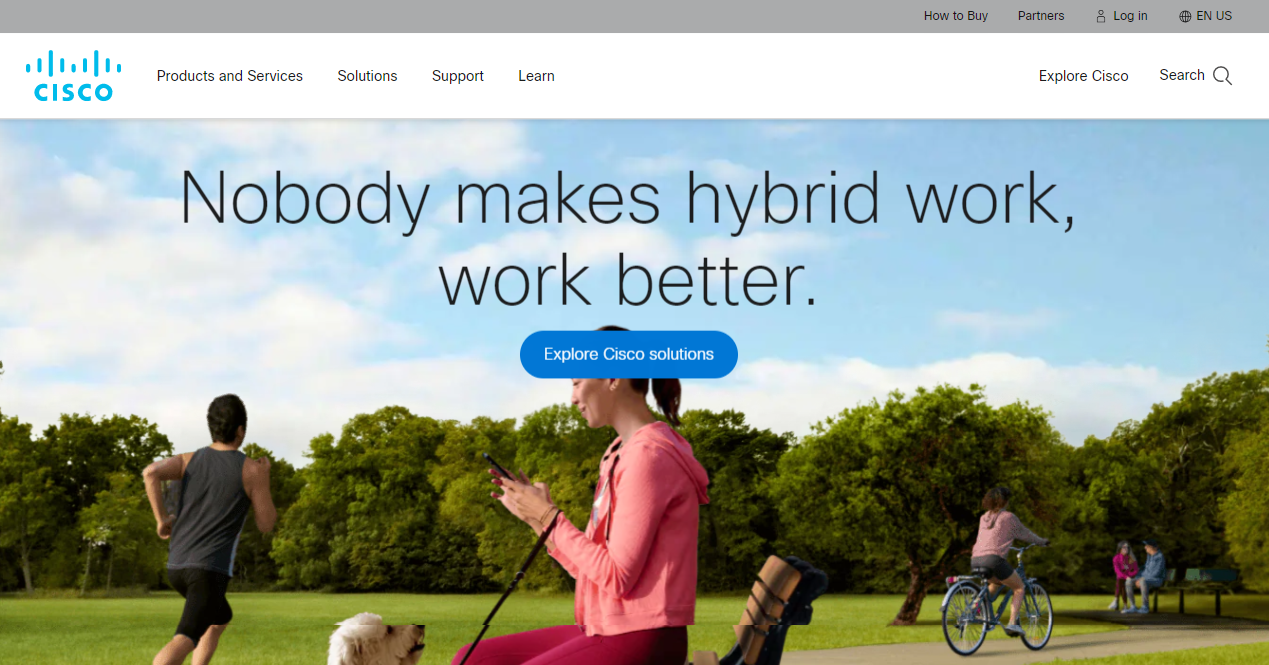 Cisco's content marketing strategy reinforces this positioning. With many companies considering remote and hybrid work options, a lot of Cisco's content is focused on helping bridge the gaps between remote and in-office employees using technology.
Your first step, then, must be to understand your brand positioning — both what it is right now, and what you want it to be. Answering the first question requires customer research and customer journey analytics. Answering the second is more about knowing your long-term brand goals.
Knowing the answers to both questions is important (you should always know where you are starting from), but as Cisco's example shows, it will be the answer to that second question — What do you want your brand positioning to be? — that influences your content strategy.
Part of defining your own brand positioning is also researching your competitors to better understand theirs. You must understand the brands you're up against to be able to differentiate effectively while maintaining appeal to a similar audience of B2B buyers.
However, brand positioning is just one aspect of competitor research — we'll cover this area in more detail in Step 3.
Step 2: Identify Your Target Audience and Their Needs/Problems
While every step is important, this one is absolutely critical, and it's worth spending as much time as it takes to get it right: You must understand who your potential customers are. What do they need? What problems are they facing?
The only way to answer these questions is through analytics work, both qualitative and quantitative.
On the qualitative front, you should be surveying customers to get a better understanding of why they chose your product.
You should also be speaking to them by phone, video chat, or in person. There are many insights about your audience that don't come through in survey responses. To write effective B2B content, you'll need to understand their businesses, but also who they are as people.
These qualitative efforts at information-gathering should be backed with robust analytics tracking that can provide you with qualitative data about who your customers are, and how they're interacting with your B2B brand.
Ideally, you'll want an analytics platform that can track users on an individual level across multiple channels so that you can see how over time things like blog, video, and social media content all contribute to a sale — or, just as important, how they do not.
Message testing is another underused strategy for figuring out what your audience wants. Ask them what they think of your current messaging - then ask them what they think of alternatives that you can bring them.
All of this data, both qualitative and quantitative, should be collated and synthesized into a format that everyone at your company (but particularly your B2B content marketers) can understand.
Typically, this means creating customer personas — archetypes of your most common customer segments that marketers can quickly refer to for information including (but not limited to) demographics, job titles, interests, preferred social media platforms, etc.
For example, you might find that your best customers are men, aged 35-55, working in systems architecture and data architecture roles at tech companies. This would obviously suggest very different content than if your best customers were 25-year-old graphic designers at ad agencies.
Step 3: Research Your Competitors
Once you understand yourself and your customers, it's time to focus on understanding your competitors. Likely, they are B2B companies too, so understanding them will give you a good idea of how your own B2B company fits into the market.
As previously mentioned, the first part of this — understanding their brand positioning — should already be done. And it probably goes without saying that you should understand your competitors' products, and how they compare to your own.
To define an effective B2B content marketing strategy, though, you'll want to do a deep dive into your competitors' content. You'll be competing for at least some of the same customers, so you need to have a thorough understanding of what they are doing and what they are not.
Your search will probably begin on the competitor's website, but it shouldn't end there. They may have accounts on other platforms, such as a YouTube channel. They may also be placing content with third-party media outlets or marketing partners.
As you find content, log it. Over time, you'll begin to get a clearer picture of your competitors' B2B content strategy: what channels they're focused on, what types of content they're creating, etc.
You should also be using analytics tools to assess the_ effectiveness_ of their content marketing efforts. SEO analytics tools, for example, can show you the top keywords your competitors rank for. Many can even highlight opportunities: areas of content where your competitors are weak.
Ultimately, your brand is unique, and your B2B content strategy should be unique too. But building a thorough understanding of how your competitors are using content marketing will almost certainly give you ideas about what kinds of content could work well for you.
It's important to remember that this is a moving target. You'll need to come back to your major competitors to check up on their content strategy regularly because significant changes can happen fast.
Particularly in the realm of SEO, a single, well-optimized article or video can tip the balance of power when it comes to the most important keywords in your market. You need to be sure you stay informed about competitors' content strategies even after your own strategy is launched.
Step 4: Pick Your Marketing Channels
Now that you've got a thorough understanding of the market and your brand's place in it, it's time to determine the content channel or channels you want to focus on.
It's important to do this before hiring B2B content marketers because different channels call for different strengths and specialties. You don't want to hire a full video team and then realize that what you really need is technical writers.
Your choice of channels is going to be based in large part upon the understanding of your audience that you built as part of Step 2. You should understand who your customers are, where they are, and what problems they have.
Now ask yourself: What B2B content do they need? What kinds of content do they typically consume?
For example, if you're marketing a B2B SaaS tool for software developers, then your audience is primarily programmers. What does this suggest for your content marketing strategy?
Programmers tend to handle problems by searching for specific, technical phrases on Google and StackOverflow (a Q&A platform for programming questions). They also tend to consume a lot of written technical content on forums such as Hacker News and Reddit.
This suggests that you may want to focus on highly technical written content that's aimed at the specific channels your audience spends time on, such as Google Search, StackOverflow, Hacker News, or programming-related subreddits.
That said, programmers do also search for help via video tutorials on Youtube or watch streams of other developers writing and explaining their code on Twitch. It may make sense to allocate some of your resources towards video content focused on these channels too.
On the other hand, if your audience is primarily C-suite executives, the channels you choose would be very different.
That audience isn't watching Twitch streams, but they are reading in-depth market reports and business news articles, so your content strategy might be focused on those sorts of channels.
Your audience might be best targeted via marketing automation: email campaigns with triggers that move them through your B2B marketing funnel as they engage with your email content. Or your audience might be concentrated on a particular social media platform.
Any channel your audience uses, and particularly, any channel where they go to look for help, is a channel that you should consider.
Step 5: Hire a Team
Once you've selected the channels you'd like to focus on, it's time to hire your team. While anyone can write a blog post or shoot a video with their smartphone, effective B2B content marketing requires great content, and that means hiring professionals.
The right team won't just be tools for turning your content ideas into reality, they'll be a source of great content ideas of their own.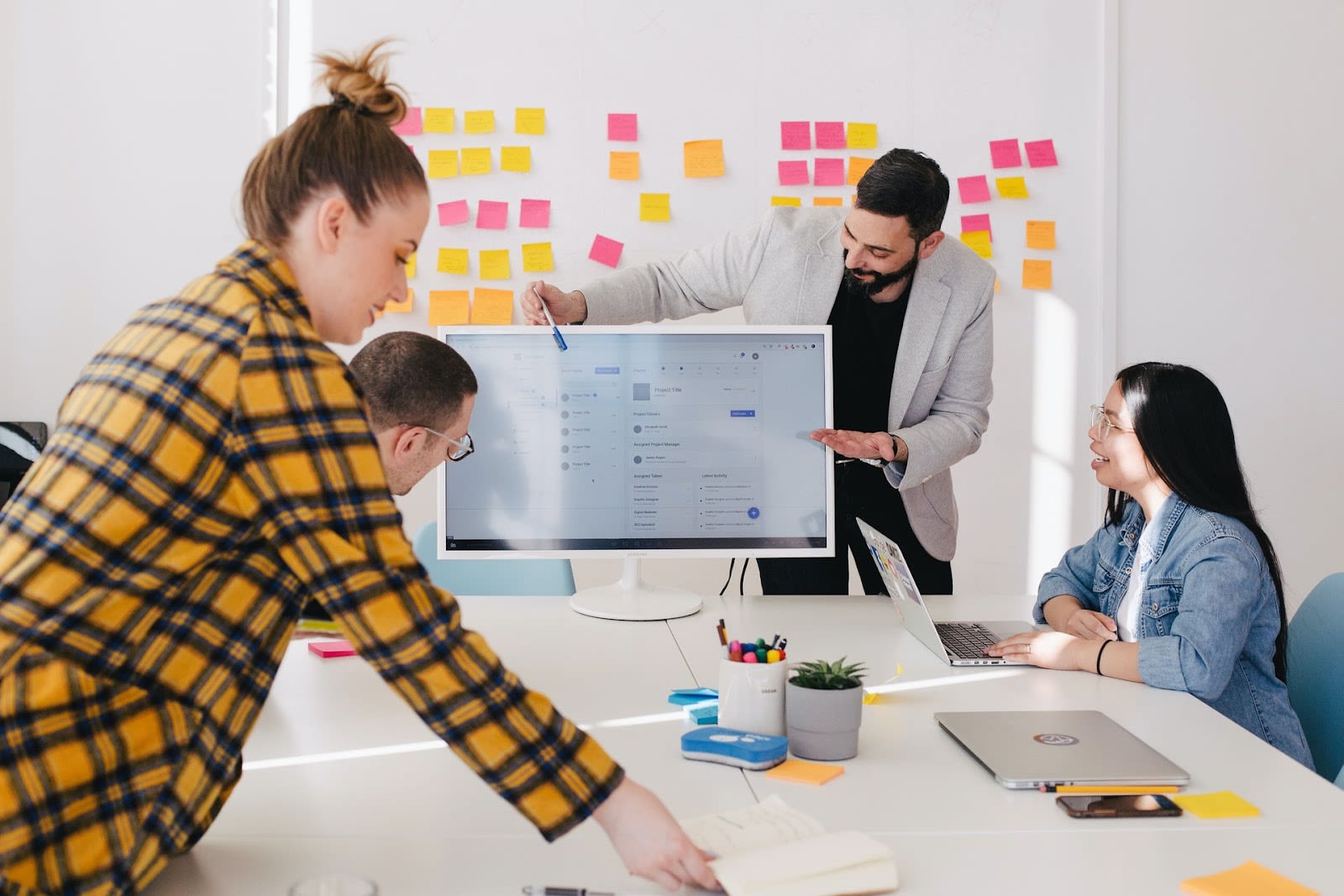 There are several options here. You may choose to hire an entire in-house team that can meet all your content needs. You may choose to bring in contractors and freelancers, with a single in-house content manager to drive strategy and maintain communication.
Most companies end up using some combination of in-house and freelance talent, and this can be particularly effective for B2B content marketing strategies, which often call for a mix of technical, industry-specific content and more general-interest work.
Needless to say, the skill set of your team should reflect the channels you decided to target in the previous step. If you're planning to produce videos, hire B2B marketers with experience in video production. If you need technical tutorials, hire technical writers.
Look for candidates with specific experience in B2B content creation, but if you have trouble finding suitable candidates, it's best to prioritize skills over industry experience. A great B2C content writer can probably do great work for B2B companies too.
It's generally easier to teach a great writer about your industry than it is to teach an industry expert to be a great writer (although this is not always the case, particularly in highly technical industries).
Be aware that while content marketing credentials such as certificates from the Content Marketing Institute exist, the best measure of any B2B content marketer's skill is going to be their portfolio of work.
In fact, one of the best ways to find great hires is simply to find B2B content marketing work that you like and reach out to the author or creator to see if they're interested in a position or interested in freelance work.
Step 6: Measure Your Results
You've chosen your channels. You've hired your team. They're cranking out content. Now you just need to measure your results so that you can double down on what's working, and fix or abandon anything that's not.
Measurement and analytics are important everywhere in B2B marketing, and content marketing is certainly no exception. Even with a great team in place, writing great content based on great research, a lot of your content will fail. Especially at first.
But which content is failing, and why, and what changes actually make an impact? That's where having an analytics platform such as Woopra that can give you the big picture really comes in handy.
For example, what content is actually leading to sales? Even if your sales team is excellent, relevant content can play a huge role in building trust in your brand and helping convince customers to buy.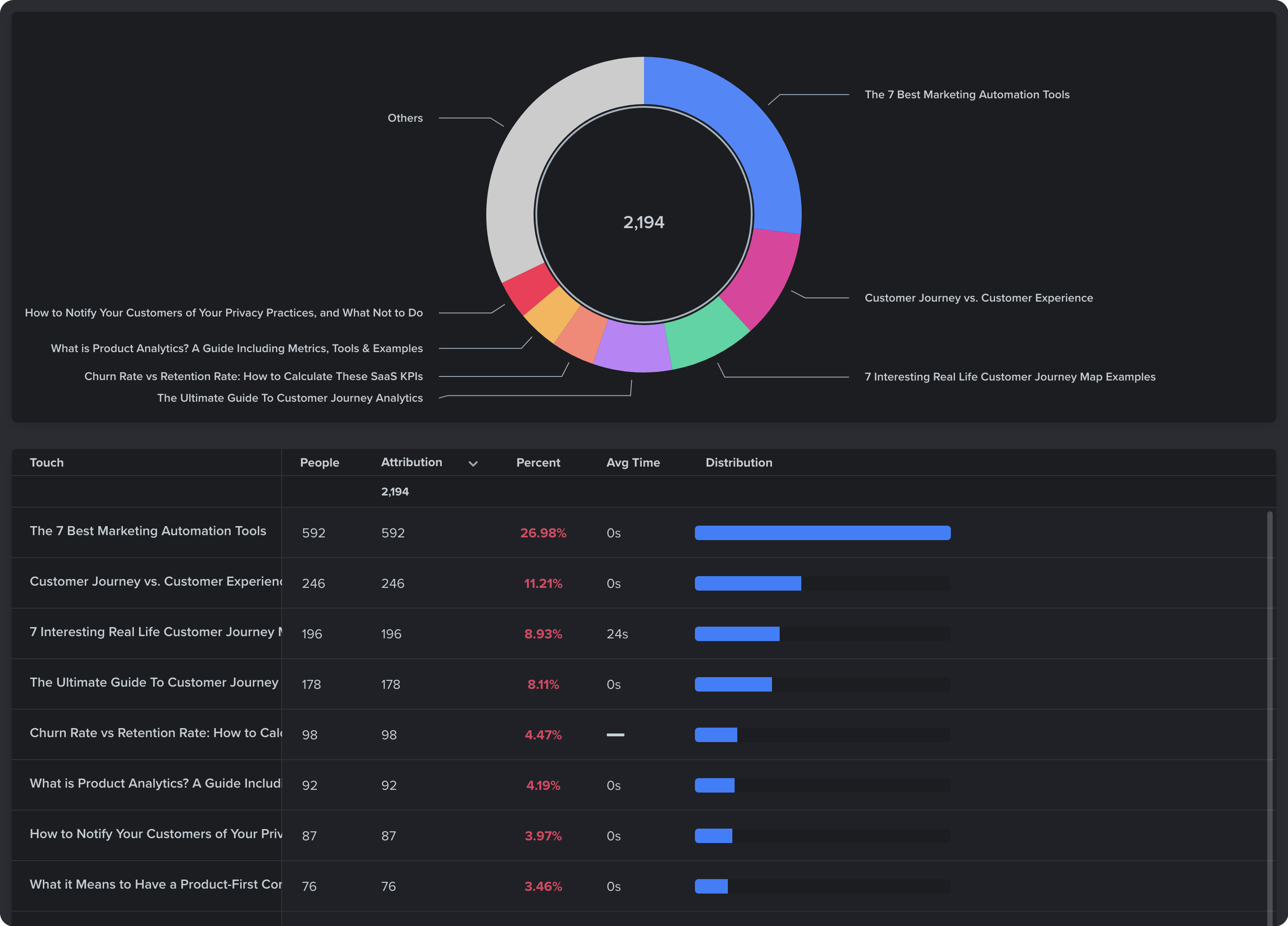 Attribution often presents a challenge though. Particularly in the realm of B2B sales, customers may engage with a dozen different marketing touchpoints on the way to a purchase. Which one of them gets credit for the sale?
There's no perfect or completely correct answer to that question. Most companies will have to adopt or develop a model, such as first-touch, last-touch, or multi-touch, that's based on the specifics of their own content and their industry.
The advantage of a platform such as Woopra is that it tracks the complete user journey across all of your platforms, allowing for flexibility and a wide variety of attribution modeling options.
Whether you want to do something simple like last touch, or something more complex like a time-decay-based attribution model, Woopra supports it. And since all of the data is there, you can easily switch between models to see what's most effective and practical for you.
B2B Content Marketing Examples
It's easy to talk about the virtues that lead to great content marketing:
Educational content
Understanding your B2B audience
Building brand awareness with great blog posts
Digital marketing that reinforces your B2B marketing strategy
Ultimately, the best way to understand what great B2B content marketing looks like is to actually look at it. The most talented B2B marketers are constantly churning out content everywhere from blog posts to social media to video channels, and you can learn from them.
It's difficult to fully understand the entirety of any company's content marketing efforts from the outside, but we'll look at some examples of content strategies and examine how they reinforce the principles of great B2B content marketing strategies we've covered in this article.
These examples may also give you content ideas for when your team starts to create content of its own. There's no shame in learning and borrowing strategies from other B2B companies!
Example 1
Zendesk is a company that provides customer service software, so many of its customers are customer service managers. The company's blog provides an excellent example of great B2B content marketing that understands its audience and their problems.
On the blog, you'll find a variety of articles covering relevant topics, from how-to posts related to the software to rundowns of industry trends and other helpful pieces like articles about how to help your team deal with rude or abusive callers.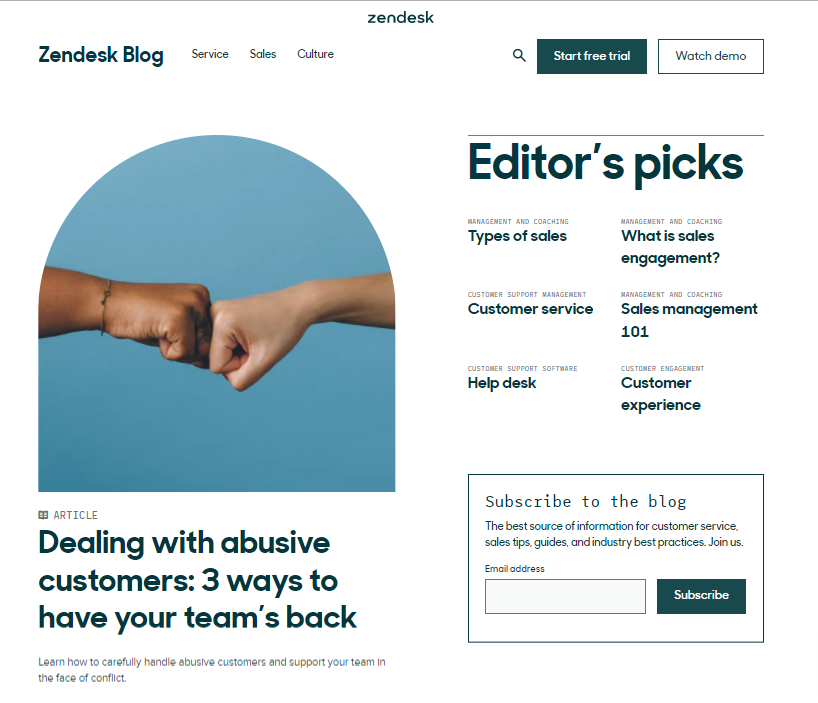 This is great B2B content marketing because it is laser-focused on Zendesk's actual audience (customer service managers) and because it offers genuinely valuable information that helps them solve their business problems.
If you browse the blog, you'll notice that many of the posts have nothing to do with Zendesk specifically. They may not even mention the software! That's another strength. These pieces feel like helpful content, not just marketing sales pitches.
But of course, finding a brand that provides helpful content builds trust in that brand. That's what makes it great B2B marketing.
Zendesk knows that they don't have to sell to their visitors on their first visit or even their tenth. They just need to help their audience find the answers they're looking for.
Over time, many of those visitors will realize that Zendesk's software solves a problem they have, and they'll be inclined to trust the brand because of their great experiences on the blog.
Example 2
IBM is a massive tech company with a variety of products. Many of which are of interest to developers, and perhaps, more importantly, managers at technical companies who are trying to assess the value of a new tool or a new piece of technology for their stack.
That's what makes this page on Kubernetes, a great example of B2B content marketing. (This particular page is just one example; IBM has lots of content like this).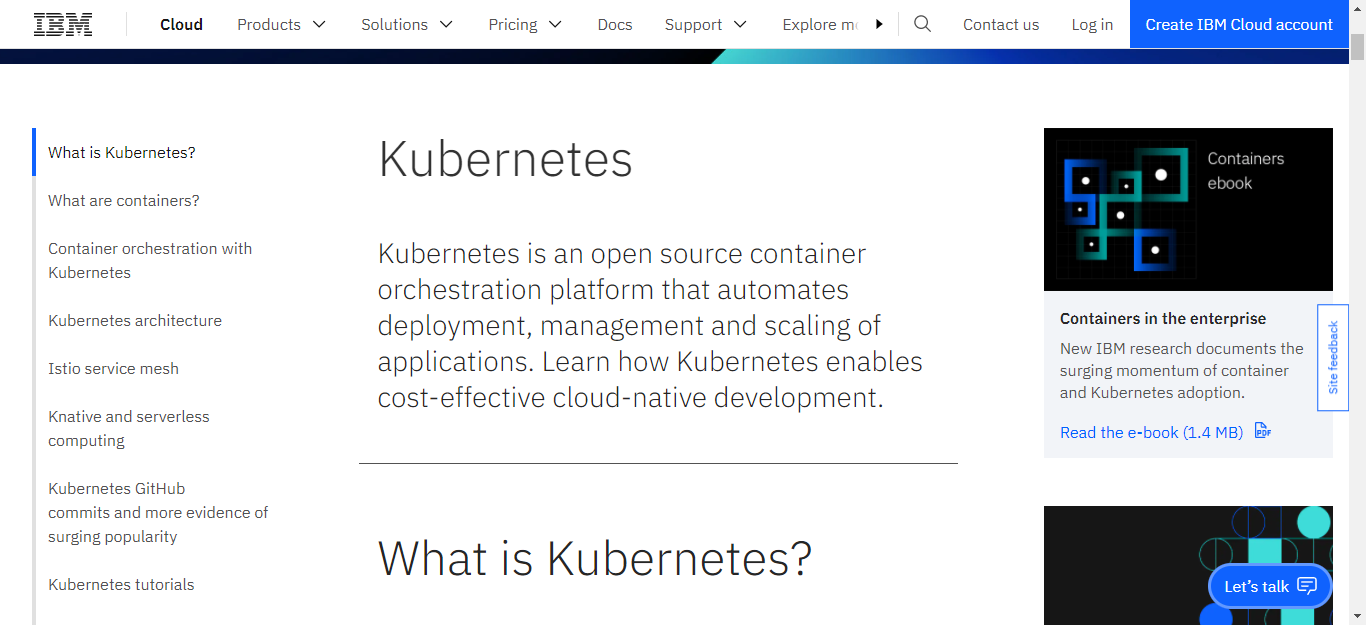 First, the written content on the page is very well tuned for SEO. More specifically, it's optimized for precisely the kinds of questions IBM's target audience might be asking about technology they're not familiar with. What is Kubernetes? What are containers?
Second, the page offers multiple consumption options. Visitors who like to read can get their answer in the written article, while more visual learners can watch a video lecture that does a great job of explaining the concepts with some visual illustration.
All of this content is in line with IBM's brand. It's high-tech and complex, but not flashy or confusing. It's friendly, but more businesslike than playful.
Kubernetes, it should be mentioned, is not an IBM product, so this page isn't an example of IBM trying to sell itself. Rather, it's doing precisely what Zendesk did in the previous example: providing a valuable answer to a real question that its target audience has.
The article does get to some of IBM's related projects near the end (probably well beyond where most users scroll), but the company certainly knows that this kind of content benefits them even when users don't directly concert.
This is doing what the best B2B content marketing does: Building trust and goodwill towards the brand.
Example 3
Wistia is a company that makes B2B video tools, and its Instagram account is a different, but still great example of B2B content marketing done right.
While our previous examples built trust and goodwill towards the brand with their audience by providing helpful content and answers to questions, Wistia's Instagram builds that trust and goodwill in a different way: by making a human connection.
In the world of B2B SaaS marketing, it's easy to forget that behind all of those businesses and all of those business decisions are people. Since Wistia's brand is more playful than (for example) IBM's, its Instagram is focused more on being playful and fun and making a human connection.
For example, there's the video announcing their latest industry report that treats it like a classified alien document (and then demonstrates how they made it at the end).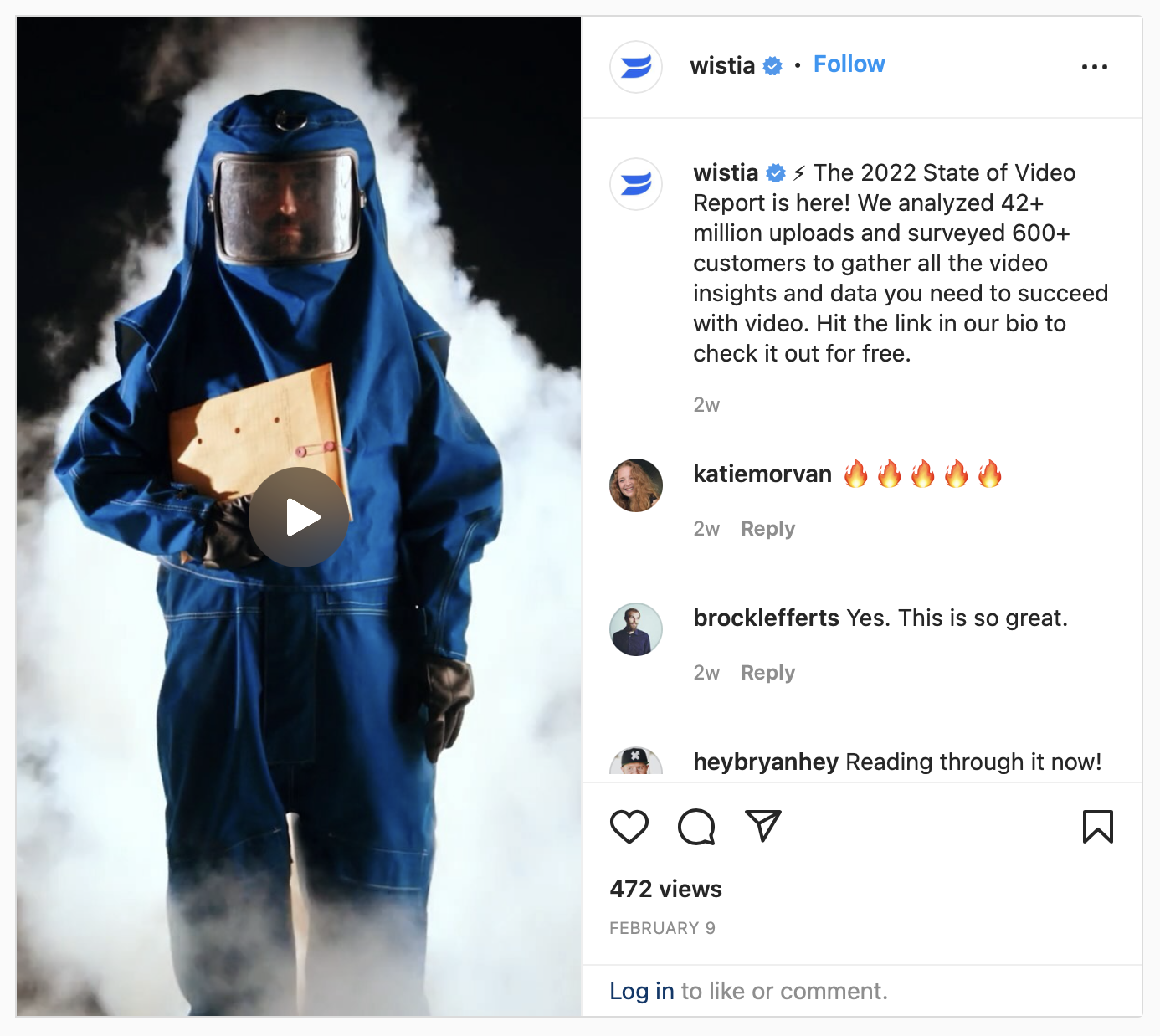 There are also videos like this, that put a smiling human face and voice (backed by happy music) on the company to make it feel more human.
And there are videos like this. It's just a nice-looking fireplace for the holidays. It's barely marketing at all, but it's a warm, comfy image that creates positive associations and inserts a little bit of relaxation into followers' timelines.
As this final example demonstrates, there are almost infinite ways companies can create impactful B2B content marketing. If you understand your brand and your audience, you can build content that creates genuine connections and solves real problems.
If you can do that, the sales will come. Just make sure you've got the analytics platform needed to attribute and track them!