Business to business marketing is different than consumer marketing. Your analytics approach should accurately reflect that difference.
In this post, we'll cover the fundamentals of B2B marketing analytics so you'll know how to fully capitalize on it to ensure you make smarter, data-driven decisions with your marketing efforts.
What is B2B Marketing Analytics?
Simply put, B2B marketing analytics involves taking the data generated from measuring B2B marketing campaigns and analyzing it to gain insight into marketing performance. This can include looking at a wide range of areas, including SEO, social media marketing, content marketing, email marketing, account-based marketing, Google Ads, and more.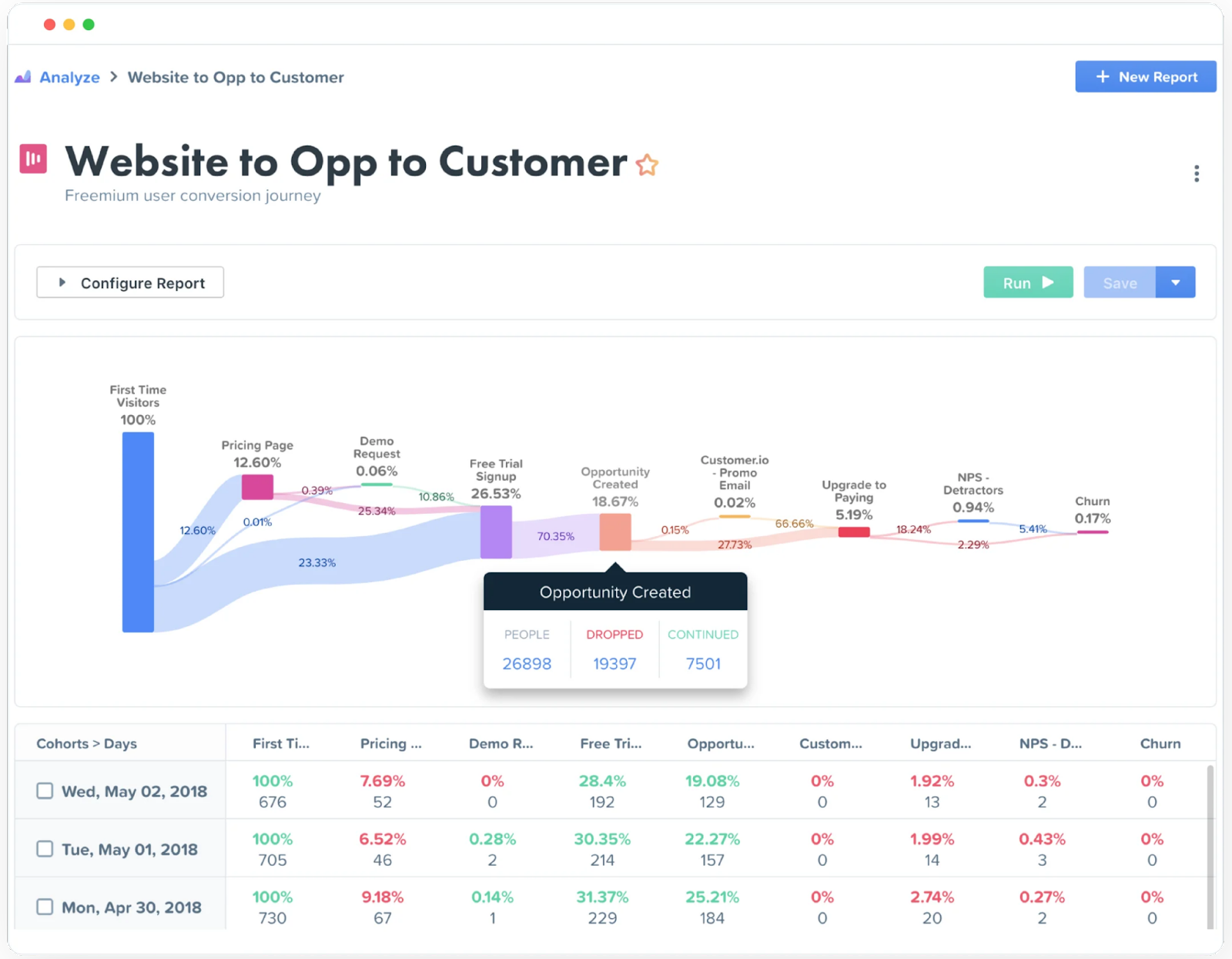 B2B marketing often revolves around generating sales leads
By using B2B marketing analytics, you can better understand:
How prospects are engaging with your marketing assets
Points of friction
Which digital marketing strategies are getting the best results through attribution
Which strategies need adjusting
Note that B2B marketing analytics differ from B2C marketing analytics.
B2C marketing analytics are designed for business-to-consumer purposes where you use a tool to analyze direct consumer behavior.
The consumer analytics journey can be easier to track because the end goal is a purchase on an ecommerce website.
B2B marketing analytics are specifically designed for business-to-business purposes where you use an analytics tool to understand the engagement and behavior of decision-makers at companies.
Therefore, you'll only use a B2B marketing analytics tool if you're a business that sells to other companies and looking to build a better B2B marketing funnel. Which can be quite complex.
The end goal isn't a $30, onsite purchase. The end goal is a sales qualified lead for a $10,000 purchase. (Or a $100,000 purchase - or more!) Which makes tracking the actual sale that much harder.
Why Is It Important?
Unsurprisingly, the majority of B2B marketers (74%) set goals. But would you believe that only 1% always achieve them?
These stats clearly show the disparity between where B2B companies want to be and where they actually are. And that's exactly why marketing analytics is so important.
By accumulating data through analytics, a marketing team can accomplish several key things.
For example, you can:
Identify which marketing channels are generating the most leads through attribution
Determine which marketing channels aren't carrying their weight
Tell where leads are dropping off
Optimize your marketing strategies
Improve the B2B customer journey
Determine cost-per-acquisition and cost-per-lead
Increase conversions and ROI
There's also the benefit of "data democratization" where a B2B marketer basically has access to the same level of insight as a data scientist.
In other words, you don't have to wait in a breadline for your data, and you can use advanced marketing analytics to fine-tune nearly every aspect of your marketing campaign.
And for perspective, consider these statistics from McKinsey & Company.
Source: McKinsey & Company
These stats illustrate the effectiveness of using marketing analytics and that nearly two-thirds of companies plan to spend more in this area.
They also show that more companies are better utilizing the data they generate than in the past — a trend that should likely continue in the future.
How to Set Up Your B2B Marketing Analytics
Effective analytics provide you with an end-to-end view of the full customer journey.
From the very first touchpoint to the ultimate conversion, the goal is to understand the customer experience to determine which marketing strategies are leading to success and fueling growth.
The first step in setting up marketing analytics is choosing the specific tool you want to use.
With Woopra, for example, you can sign up for their free product and upgrade only when you need to.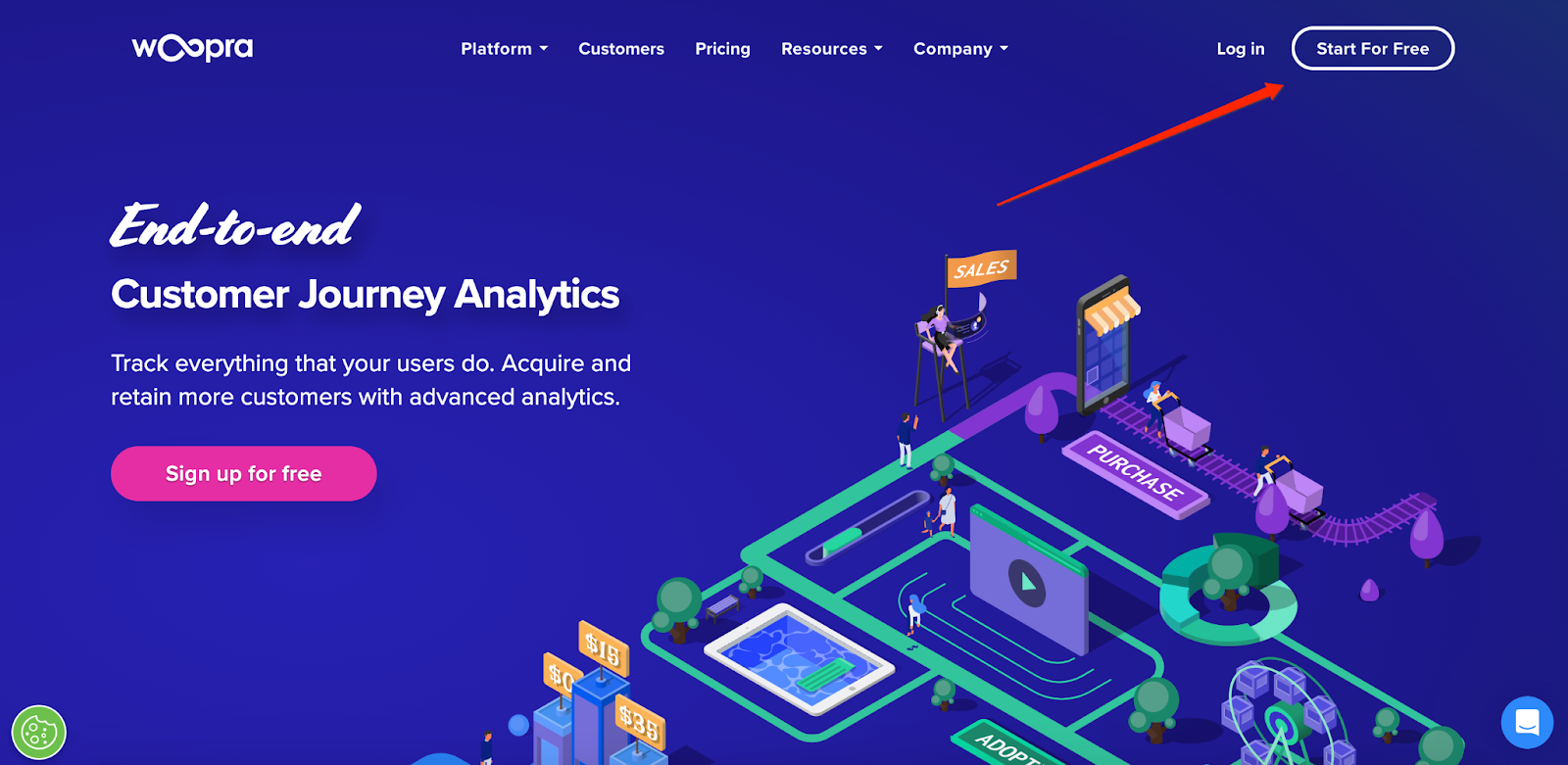 Once you've done that, you'll need to integrate your marketing platforms, such as HubSpot, Marketo, Facebook, Mailchimp, and Google Ads. This will allow you to generate data from your marketing channels and gather new insights.
From there, you'll want to set up custom conversion events to monitor each step of the customer journey.
The exact events measured will vary from company to company, but a simple example is determining which advertising channels are resulting in the most signups.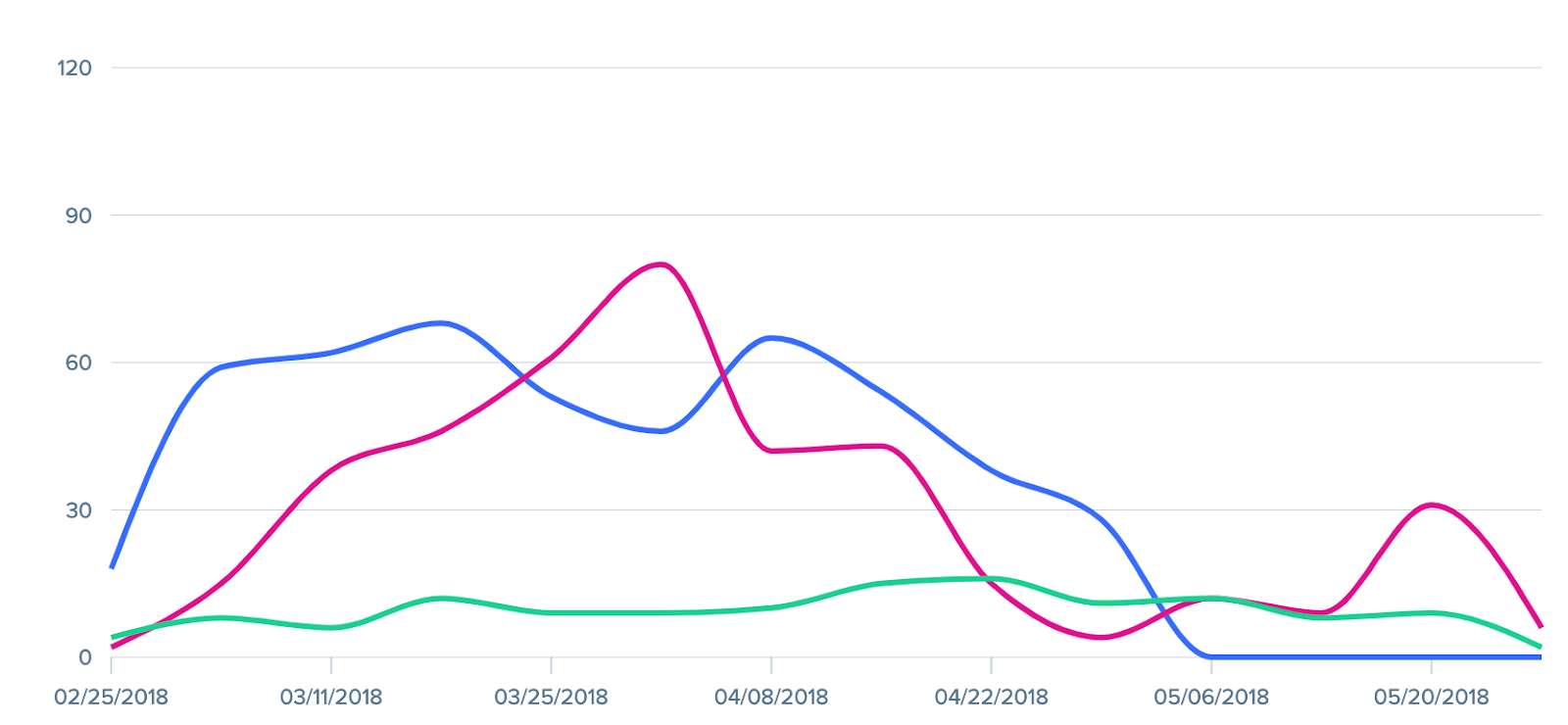 To ensure the best chance of success with your marketing analytics, here are three strategies we suggest using.
1. Create the Customer Profile
Advanced customer profiling lets you know exactly what is happening in the customer journey at all times.
What pages did someone visit on your website?
Did they click on an ad?
Which emails did they look at?
Have they already talked to a salesperson?
These are just a few of the questions you can find answers to by creating a 360-degree customer profile from the first touch to the last touch.
To do this, you'll want to integrate all the marketing platforms you use into one place and tie in those data points to see what each individual user is doing across your entire marketing ecosystem.
With Woopra, for instance, you can track what percentage of users convert from Adwords with Journey Analytics Reports.
And one particular innovative feature you'll find with Woopra is the ability to anonymously track a user at first and then retroactively track them once they've converted or you have ID data.
That way you can clearly understand user behavior right from the beginning and keep adding to the customer profile later on for even more detailed insight.
2. Track and Measure Everything
The more metrics you track and measure, the more clear your understanding becomes. So you'll want to analyze every single aspect of your B2B marketing that impacts your campaign.
For instance, Woopra's Journey Reports help you visualize how leads move through your marketing campaign to ultimately become customers.
If you were wondering how blog content engagement impacted free trials, you could follow a user from the initial moment they arrived on your landing page to reading a blog post to signing up for a free trial.
Beyond that, you could see what percentage of free trial users ended up becoming paid customers.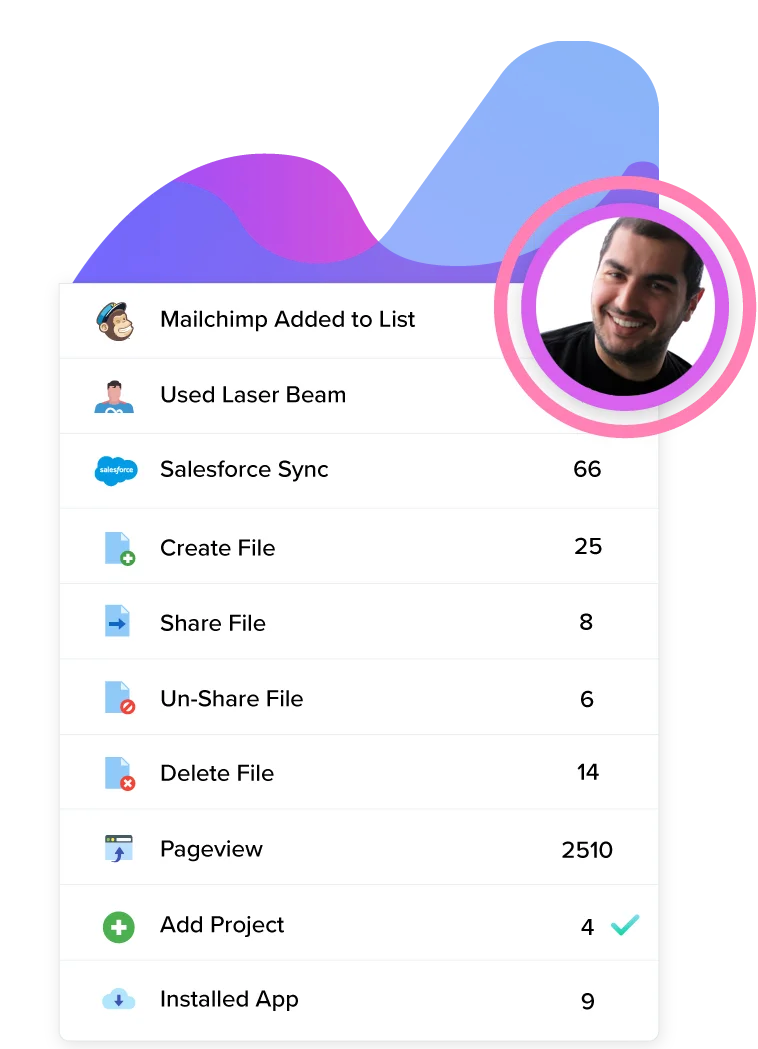 With Trends Analytics Reports, you can "zoom out" and analyze the trajectory of key metrics over time to see what path they're on and what's driving B2B marketing performance.
For example, you could track which content categories are getting the most views so you'll know what to double down on and what to cut back on or eliminate altogether.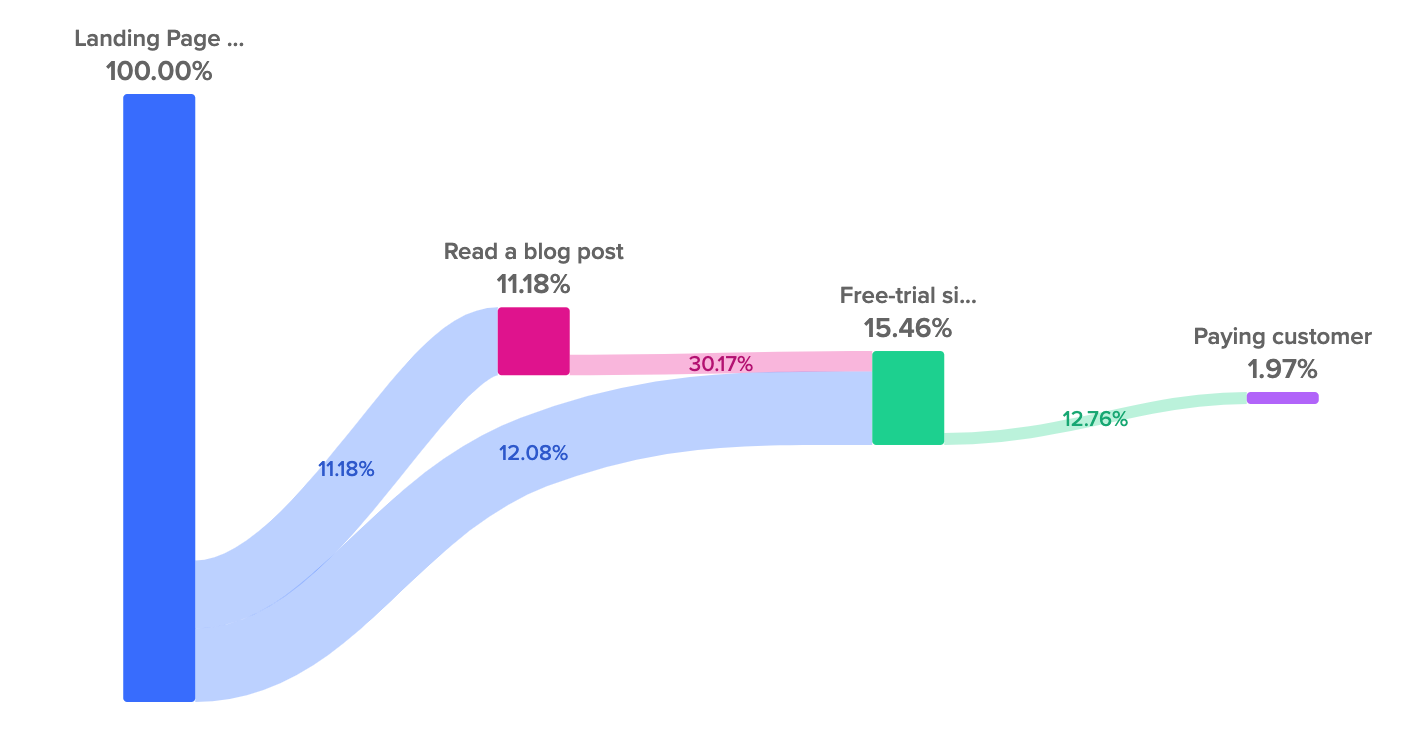 3. Personalize Your Marketing
The final piece of the puzzle is to give your marketing analytics the level of personalization it needs to thrive.
There are two core components to personalization.
First, you'll want to ensure every member of your marketing team is on the same page by sharing a dataset (rather than letting the data become siloed).
Second, you'll want to automate personalization for your customer so that they get the right offer at the right time.
After integrating your various platforms with Woopra, you can create automation triggers that initiate marketing sequences such as retargeting, emails, and sales notifications.
So, based on a particular touchpoint like viewing a certain piece of content or downloading a free educational resource, you could create advanced retargeting and email ad sequences to strike while the iron is hot.
Or, you could empower customer support by sending them Slack notifications triggered by customer support tickets, which can be done on Woopra with the Zendesk integration.
Regardless of the exact approach you take, focusing on personalization should create the tailor-made customer journey needed to maximize conversions, and in the long run, increase customer retention.
Beyond that, this can be instrumental in optimizing your overall B2B content marketing strategy.
Integrate Your CRM & Marketing Automation Properly
Now let's go into a bit more detail about specific Woopra integrations that allow you to track the customer more effectively with connected campaigns. Here are two examples.
One is to connect Woopra to a CRM like Salesforce.

Source: Salesforce
With this integration, you can conveniently import current and historical Salesforce data to create more comprehensive customer profiles and also develop advanced workflows based on user actions.
In turn, this equips your sales team with a potent dataset to enhance their interactions with leads and increase their chances of converting.
Besides that, Woopra offers the People Export and Trigger features that provide information on things like user intent and visitor frequency, which can help your sales team prioritize qualified leads over those that are less engaged.
Those that show a strong intent to buy would be a top priority, while those that show less intent could be nurtured until they're ready for the sales conversation.
The other example is to integrate Woopra with Marketo, which allows you to import your Marketo data to your customer journey analytics and use it to streamline marketing automation.
Source: Marketo Engage
After importing Marketo data, it can be used to set up triggers to create or update leads from within Woopra. So if after signing up for a free trial a user engages with a particular product feature, this could trigger their behavioral data being used to create a new Marketo lead.
Dashboard Examples
For the final part of this post, let's take a look at some Woopra dashboard examples so you can see B2B analytics in action.
Like Google Analytics, the Woopra dashboard is extremely visual, making it simple and intuitive to analyze a dataset and make informed decisions.
With Journey Reports, you can configure the data exactly how you want to get a bird's-eye view of how someone goes from being a basic prospect to a free trial user to a paying customer.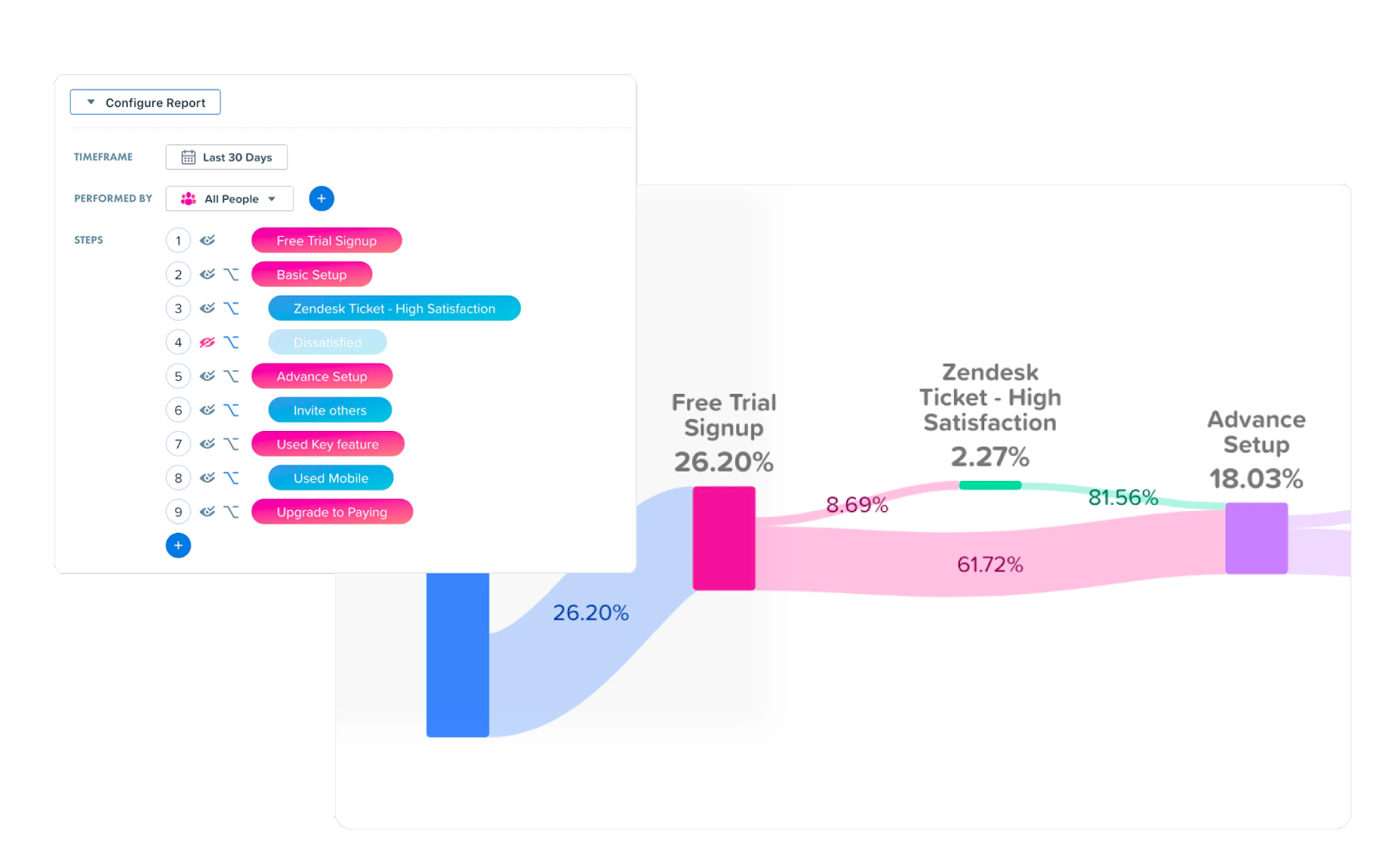 Using Trends Reports, you can use predictive analytics to spot overarching trends to provide your marketing department with objective insights on long-term campaign performance.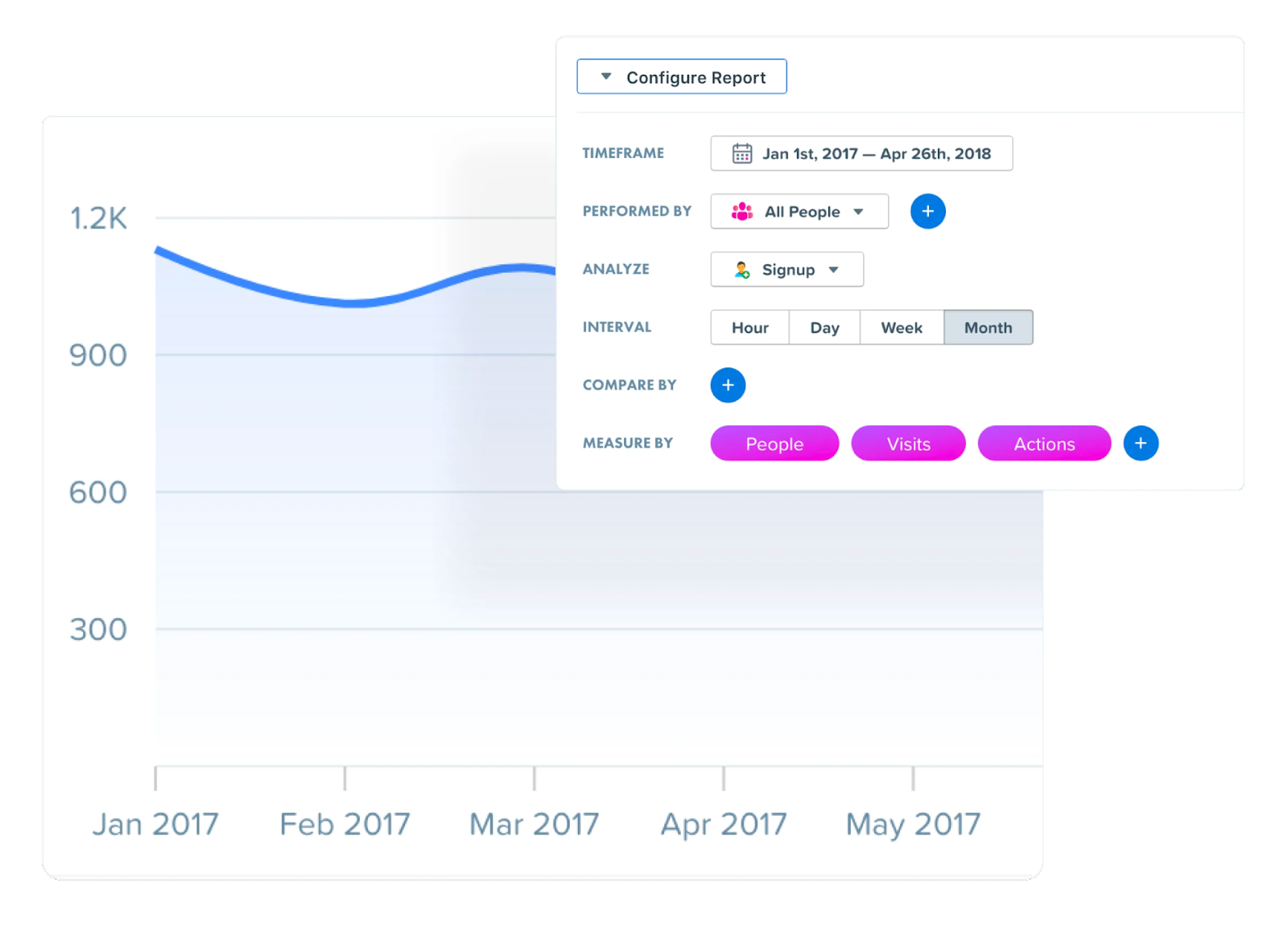 That way you know which direction a channel or strategy is heading to get the most from your marketing investment.
And with Behavior Segmentation, you can create advanced user segments based on any type of criteria you want, such as viewing a landing page, signing up for a free trial, and opening an email.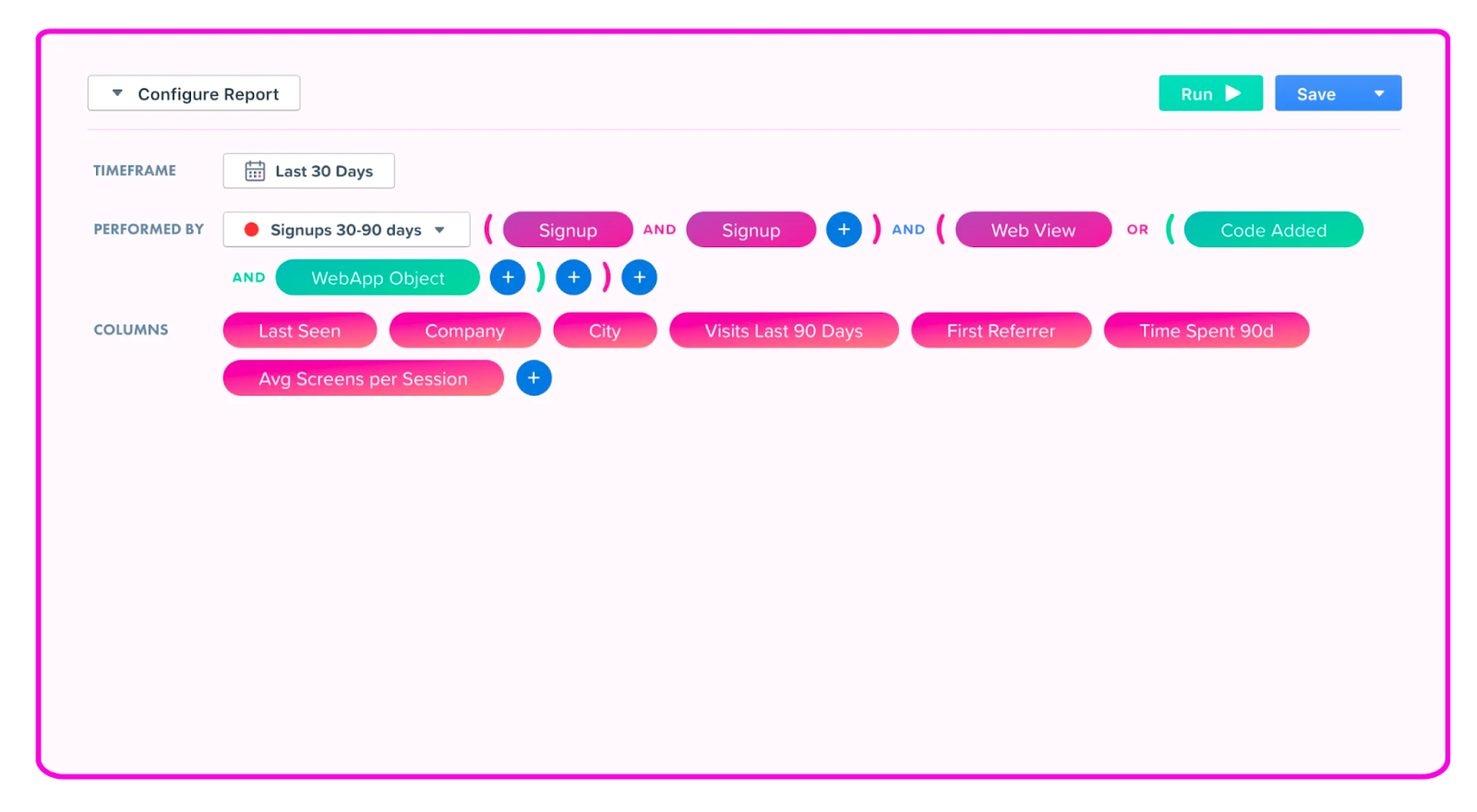 In turn, you can get an up-close view of the customer journey and use the information to boost your marketing effectiveness.
Wrapping Up
With B2B marketing analytics proven to have a major impact, it's definitely a tool every marketing manager will want in their arsenal.
From channel attribution to measuring marketing activity performance to charting the entire customer journey, B2B marketing analytics helps you measure the key metrics needed to fuel growth and stay competitive.
Check out the other articles in our Marketing Analytics series: