Despite all the pomp and circumstance in the marketing technology space, forms are still the gold standard when it comes to collecting customer information on your website.
They're versatile. You can use them for lead generation, customer feedback, market research, or simply to let your visitors contact you.
They're prototypical. Users, at this point, know how to fill out a form. It's a technology they know, trust and expect to have available.
You'll find dozens of solutions out there for form builders. How do you know which is the right one for your website? Well, that depends on your specific context. Some form builders are good for marketing, some for surveys, etc.
This list of the 17 best form builders will help you choose which is best for your unique case.
1. Hubspot Forms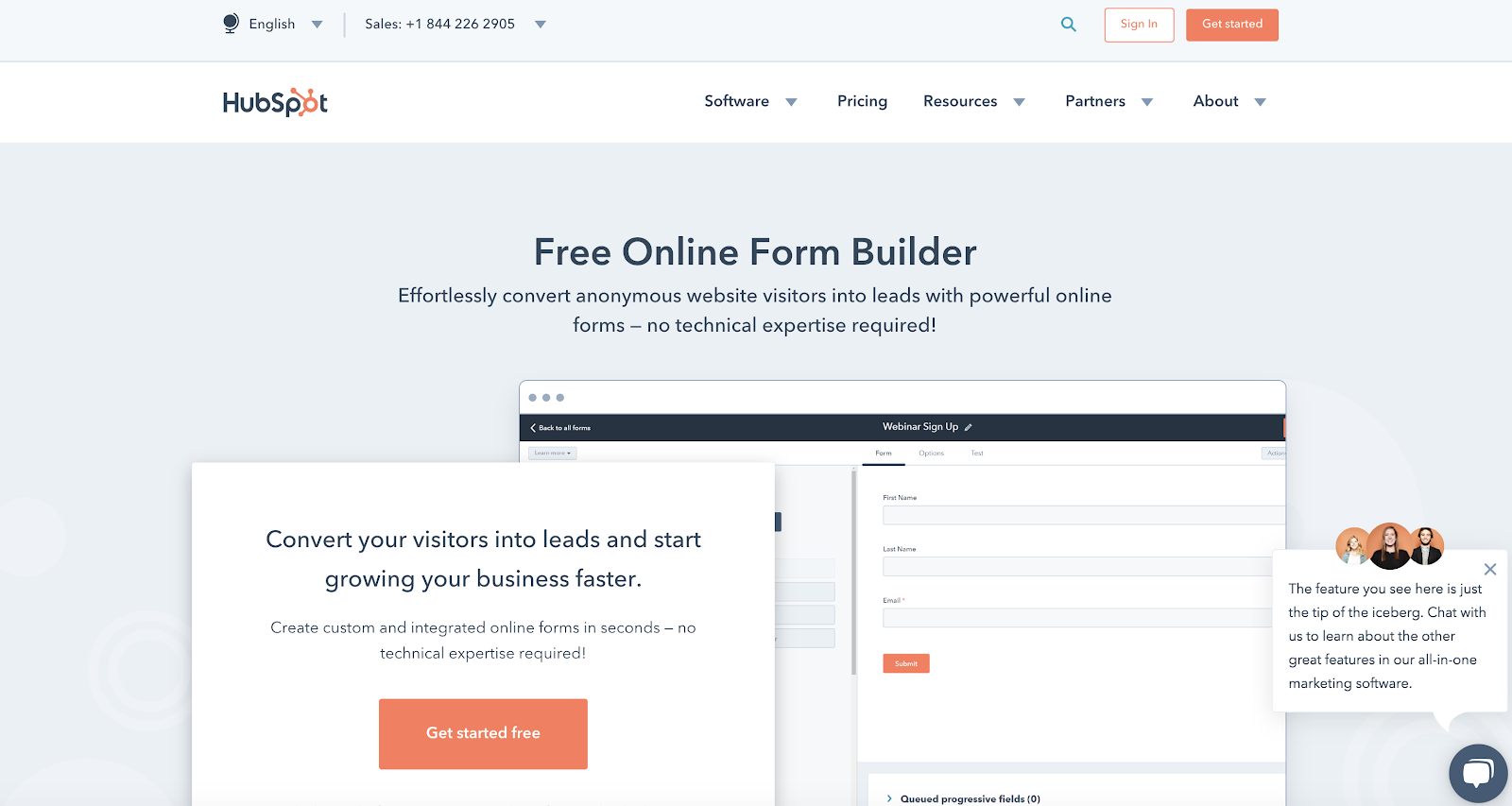 HubSpot Forms is an excellent solution for marketers. HubSpot Forms plug into several other HubSpot free products, including their Lead Flows popup tool and the CRM, to give you a full suite of lead capture and marketing tools.
It's super easy to set up and use as well. They come with templatized high converting designs, and you can also easily integrate with other marketing tools, like Mailchimp, if you use them.
The only cons are a lack of customizability, but the forms, for the most part, and without effort, look pretty great.
2. Feathery
Feathery is the best form builder for building fully-customizable and branded forms. While most form builders focus on basic lead gen and surveys, Feathery enables you to build beautiful signup/login, onboarding, payment flows, and more—all without code or needing a developer.
They also offer a free plan, best-in-class template library, and 5,000+ integrations.
3. TypeForm
TypeForm has the best looking forms. While they're mainly used for surveys and market research, you can use them for lead generation or information collection on a website too.
Wordable uses them to collect information at the bottom of blog posts: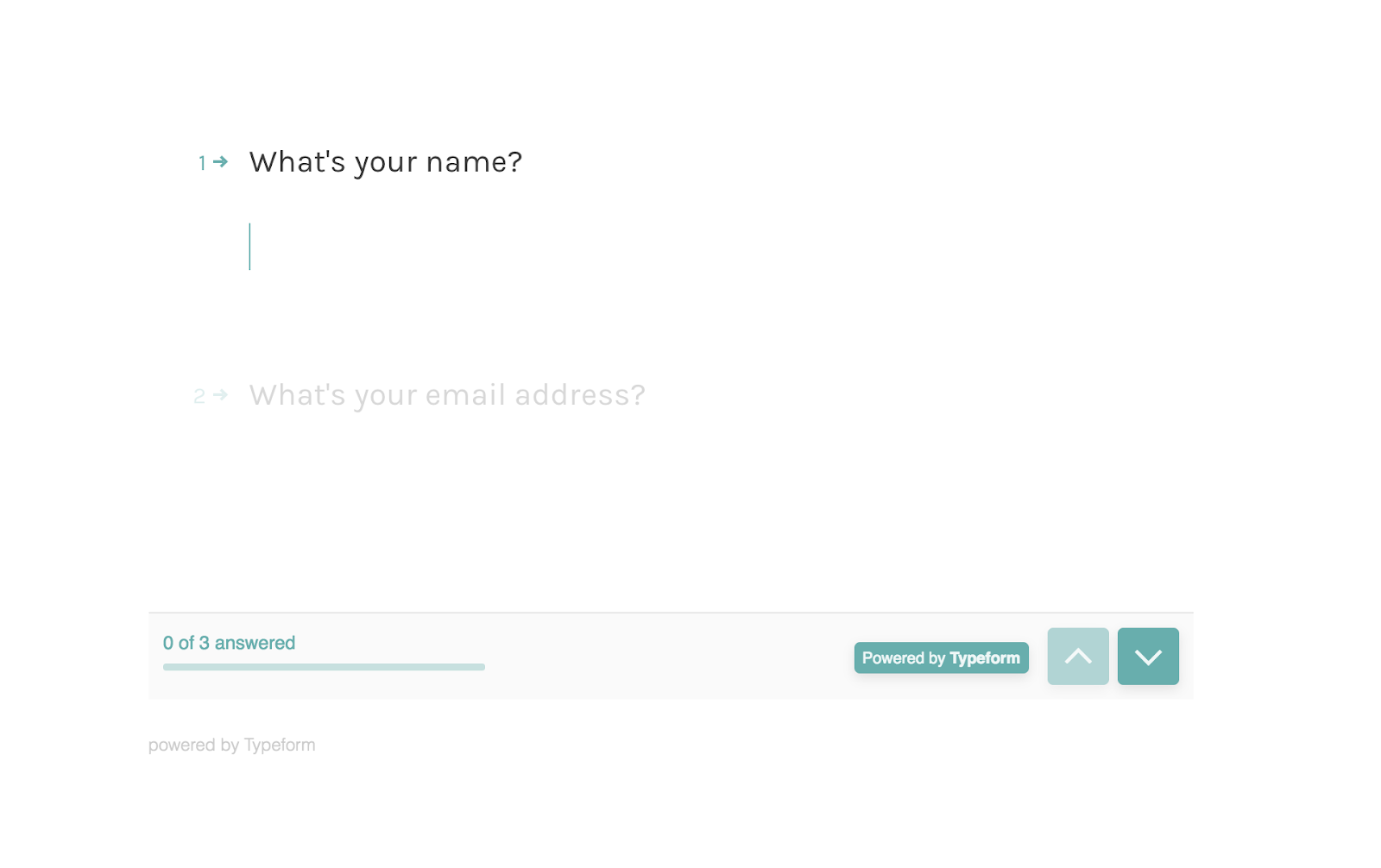 4. Google Forms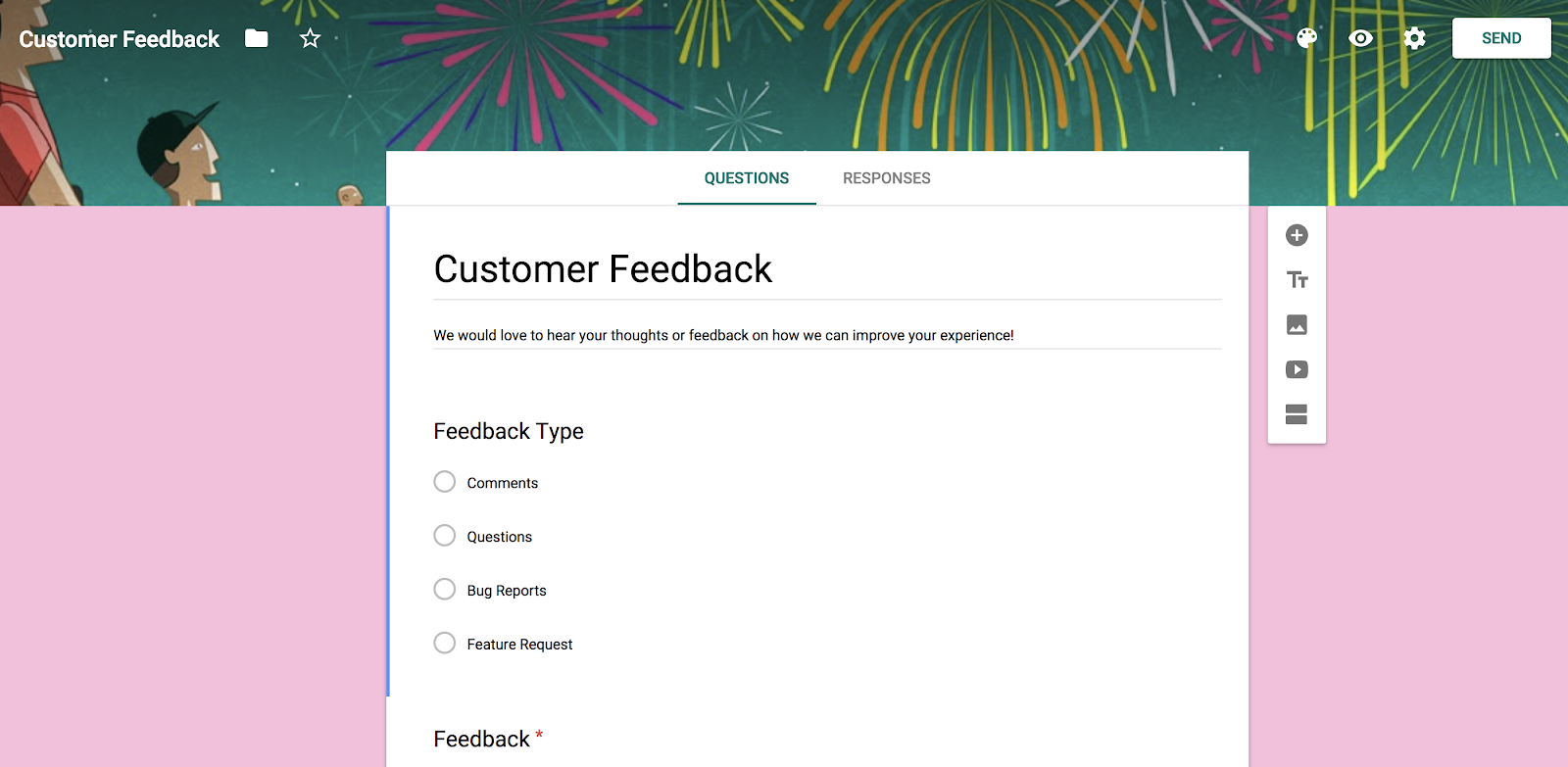 Google Forms is completely free and very easy to use. It's not something you would use as a lead generation tool for your website, at least if you're collecting leads at a large scale. But it's great for some ad-hoc purposes — original research, customer satisfaction surveys, etc.
5. MailMunch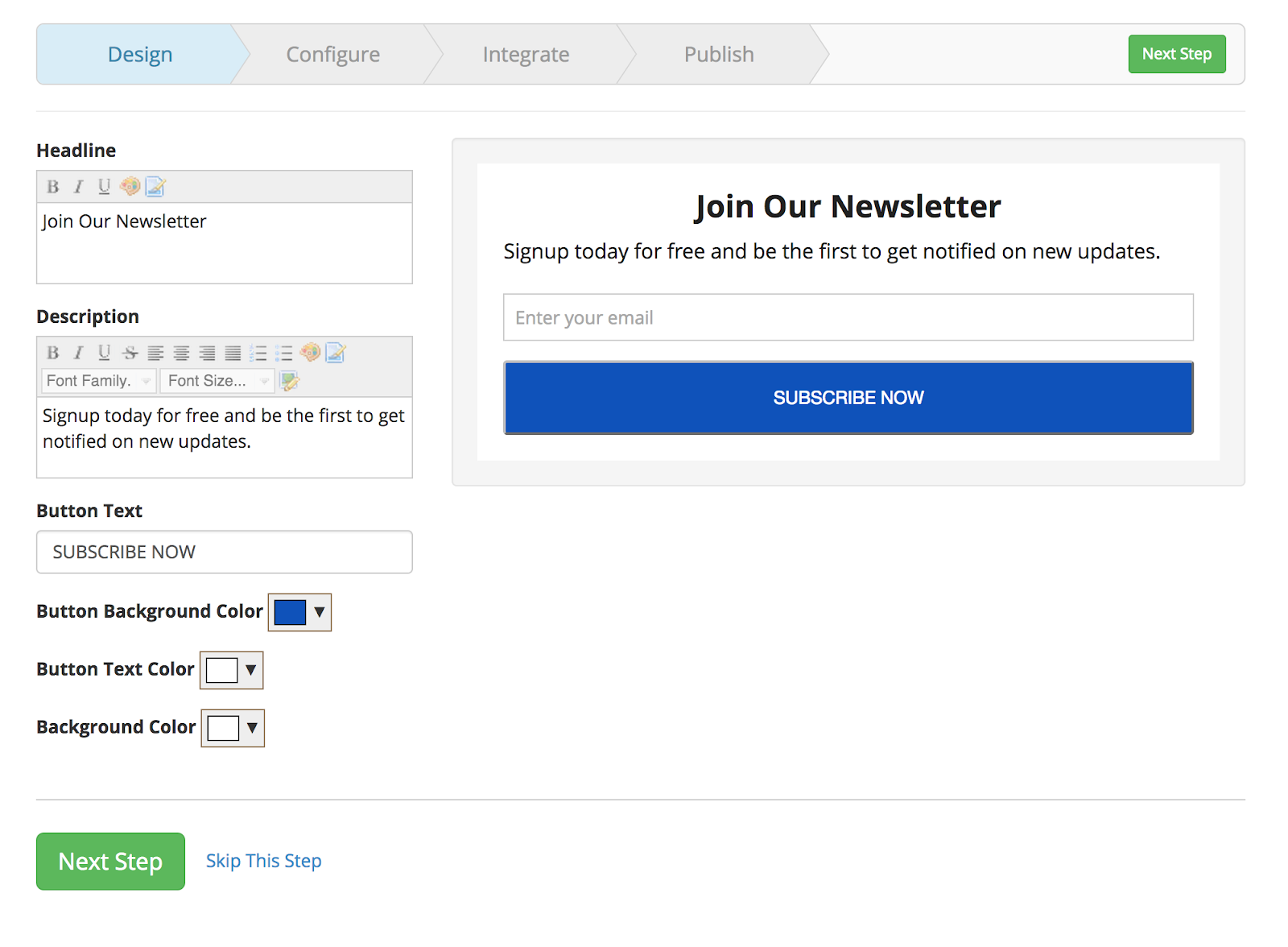 MailMunch is another great lead capture tool, this one mainly being for WordPress websites.
You can easily build, design, and embed forms on the bottom of your blog posts, as popups, or as callout overlays.
Of course, you can easily integrate MailMunch forms with Mailchimp.
While it's not super customizable, it's a good beginner solution or a good solution if you don't need tons of custom design or integration work.
6. Gravity Forms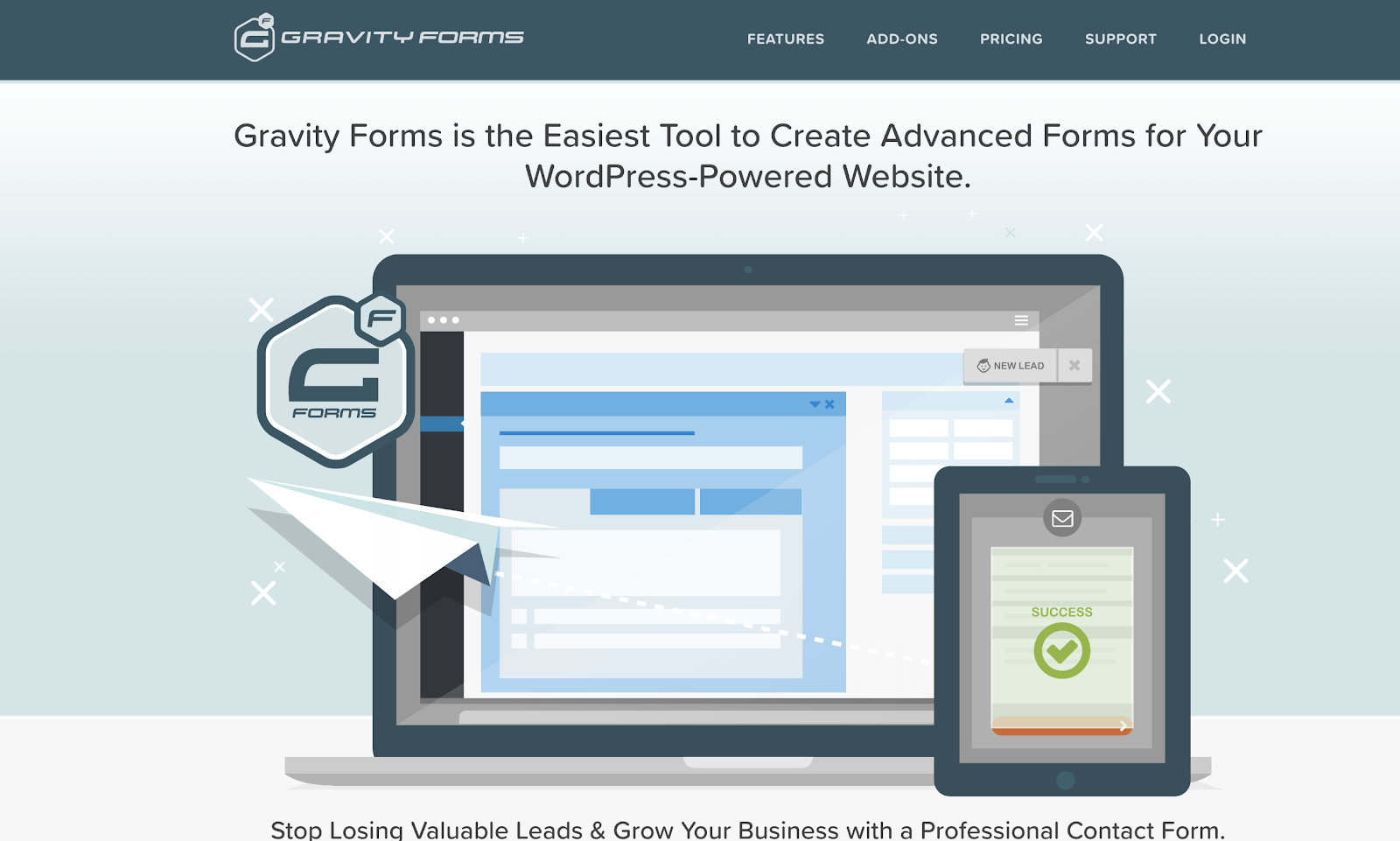 Gravity Forms is the most powerful WordPress form tool I've used, though it's a bit complex compared to the other ones. Use this one if you're on WordPress and want a highly customizable form that can integrate with anything.
7. Survey Anyplace
Survey Anyplace isn't your typical form, though you can still use them for the same purposes as any other form builder — purposes like lead generation, registration, customer feedback, and more.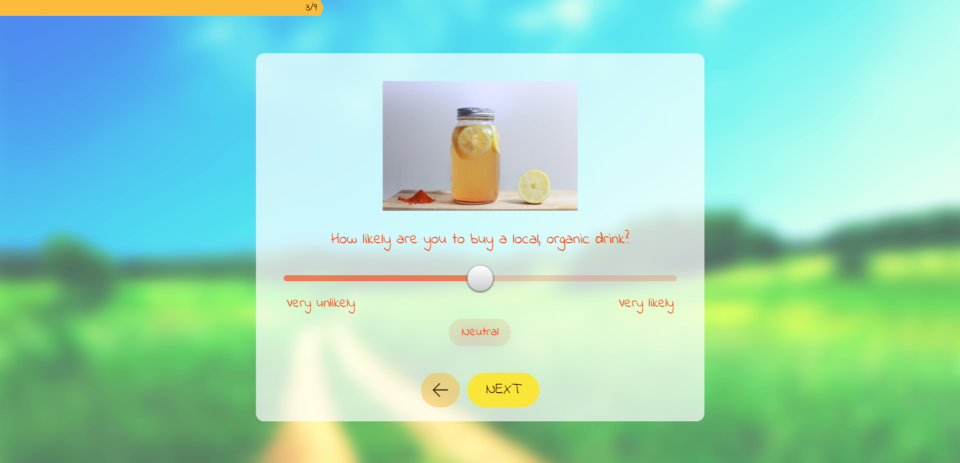 This tool is different because they create fun and interactive quizzes and surveys to create more engaging ways to interact with your audience.
8. Contact Form 7
Contact Form 7 is one of the most popular WordPress plugins available, and in fact, it comes standard with many popular WordPress themes.
That said, it's quite simple. It's a contact form, and it does what it says it will do, and not a ton of extra stuff. If you want a simple contact form, this is it. If you want anything more complex, try another tool.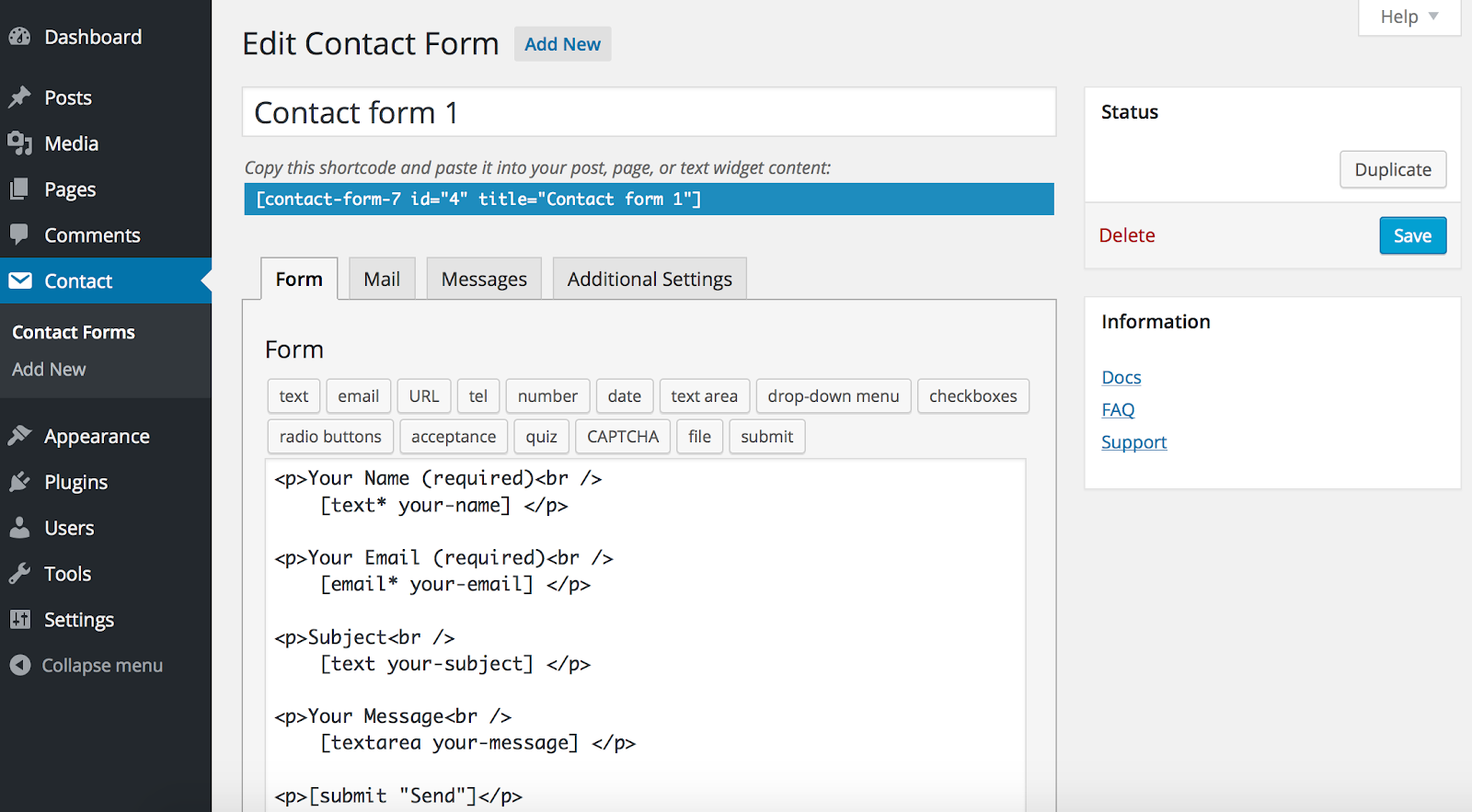 9. Wufoo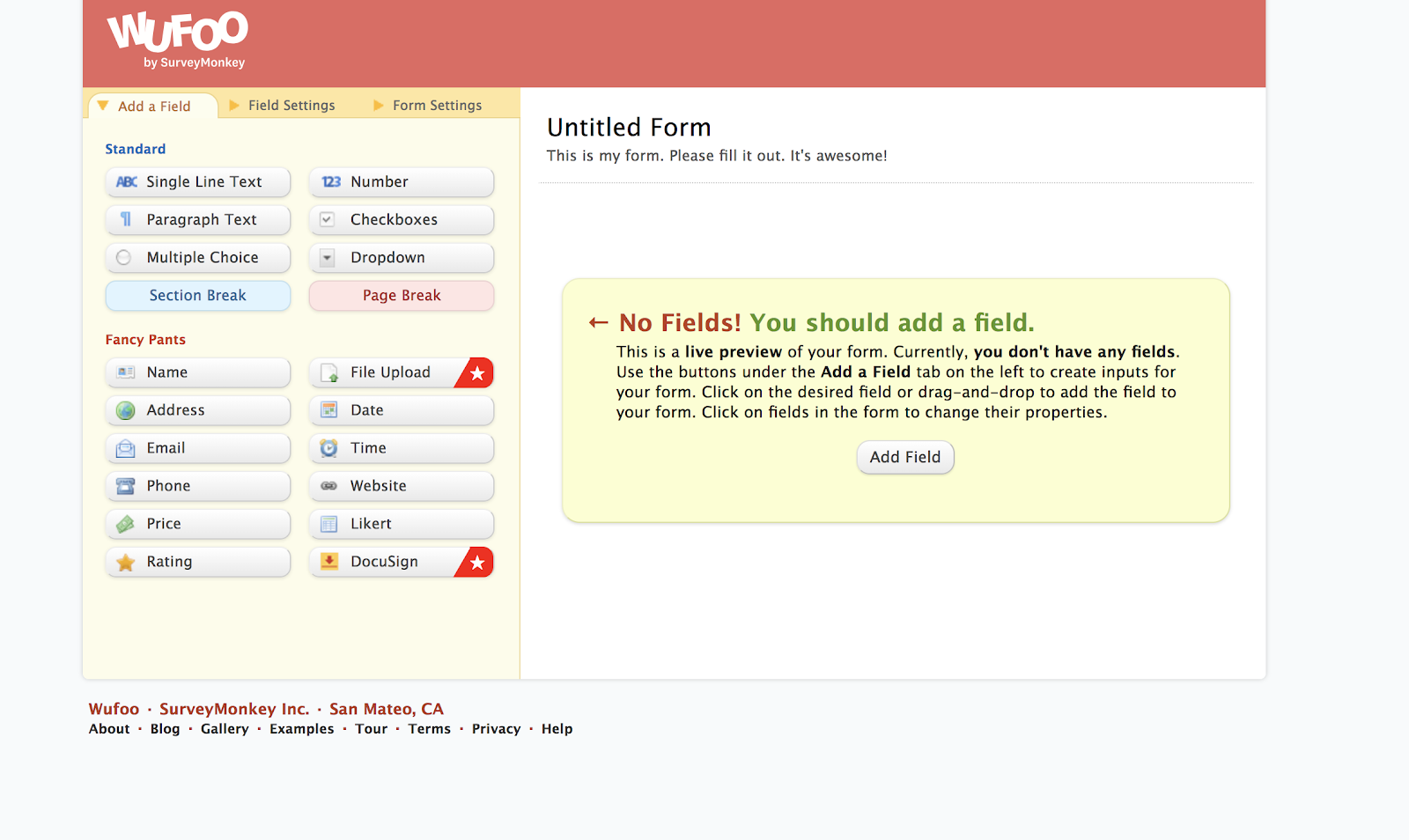 Wufoo is a Survey Monkey owned form builder. It's super easy to use and has a drag and drop editor (you can use it without a login, as well), but I've found it hard to make forms that look really good and are well designed. Maybe it's just me, but it seems like this one is easy to create stuff out of the box, but tougher to really customize anything.
10. Conversational Form
Conversational Form is a different spin on the traditional static form, and instead, is much more like a chatbot. It's a form you talk to. With "conversational marketing" being the current saveur du jour, this could be a fun one to test out.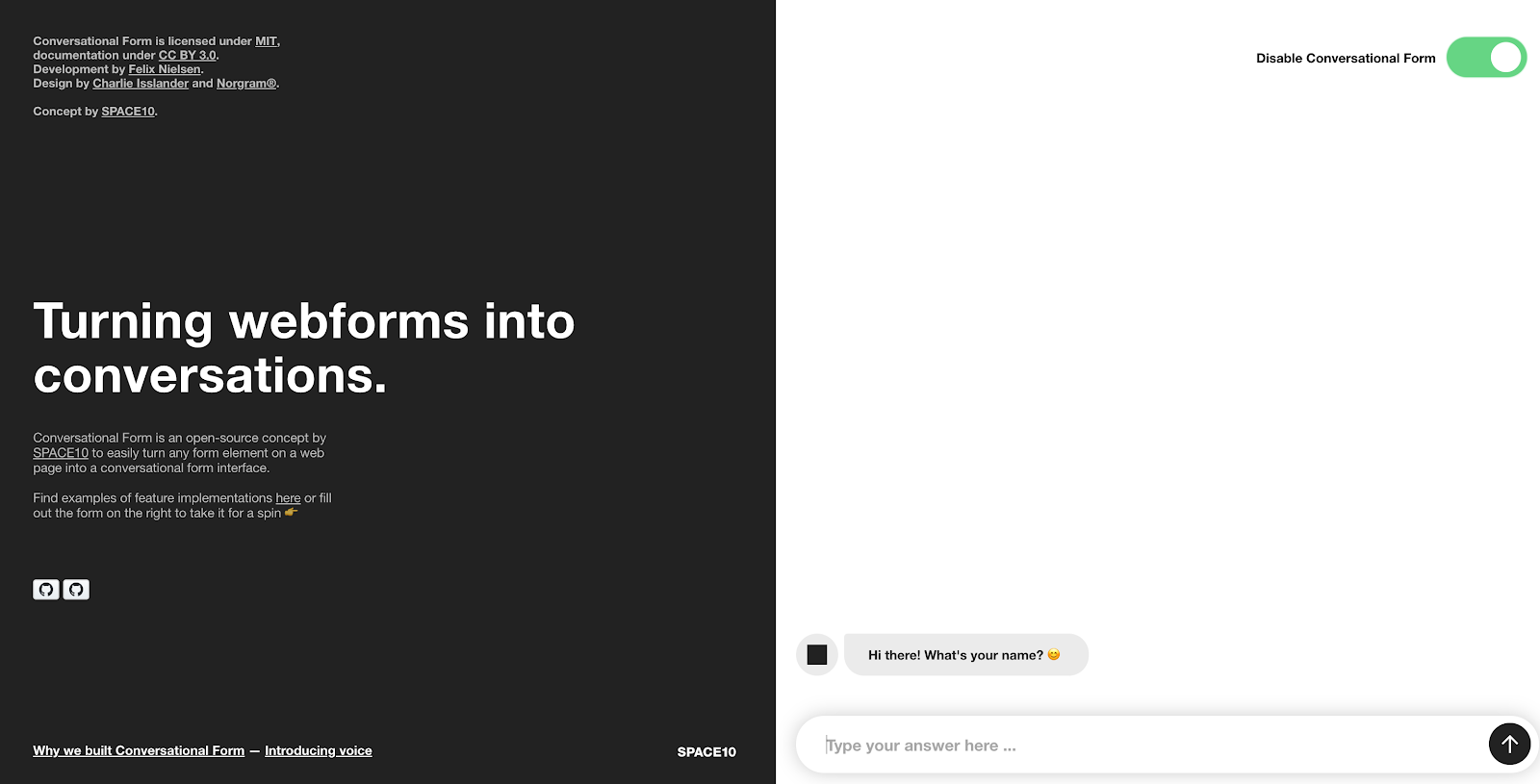 11. 123 Form Builder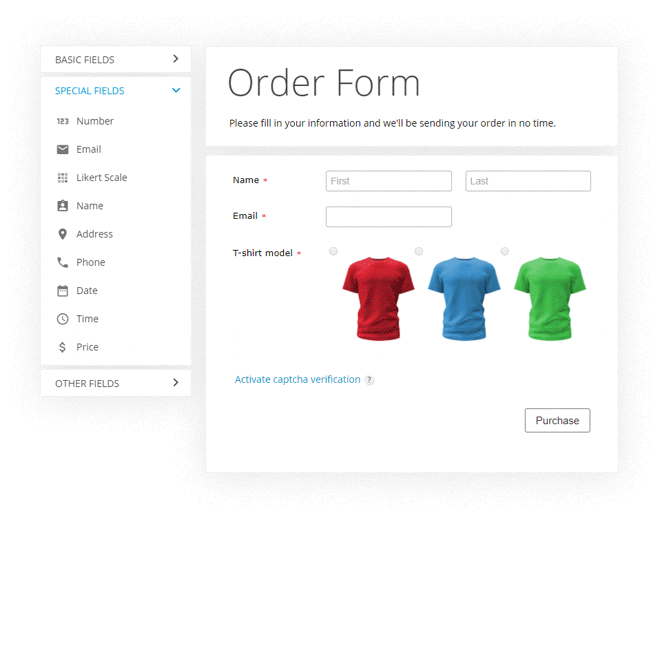 123 Form Builder is easy to use, versatile and has tons of ready to go templates for any cause (HR forms, registration forms, customer satisfaction, etc.)
12. Form Assembly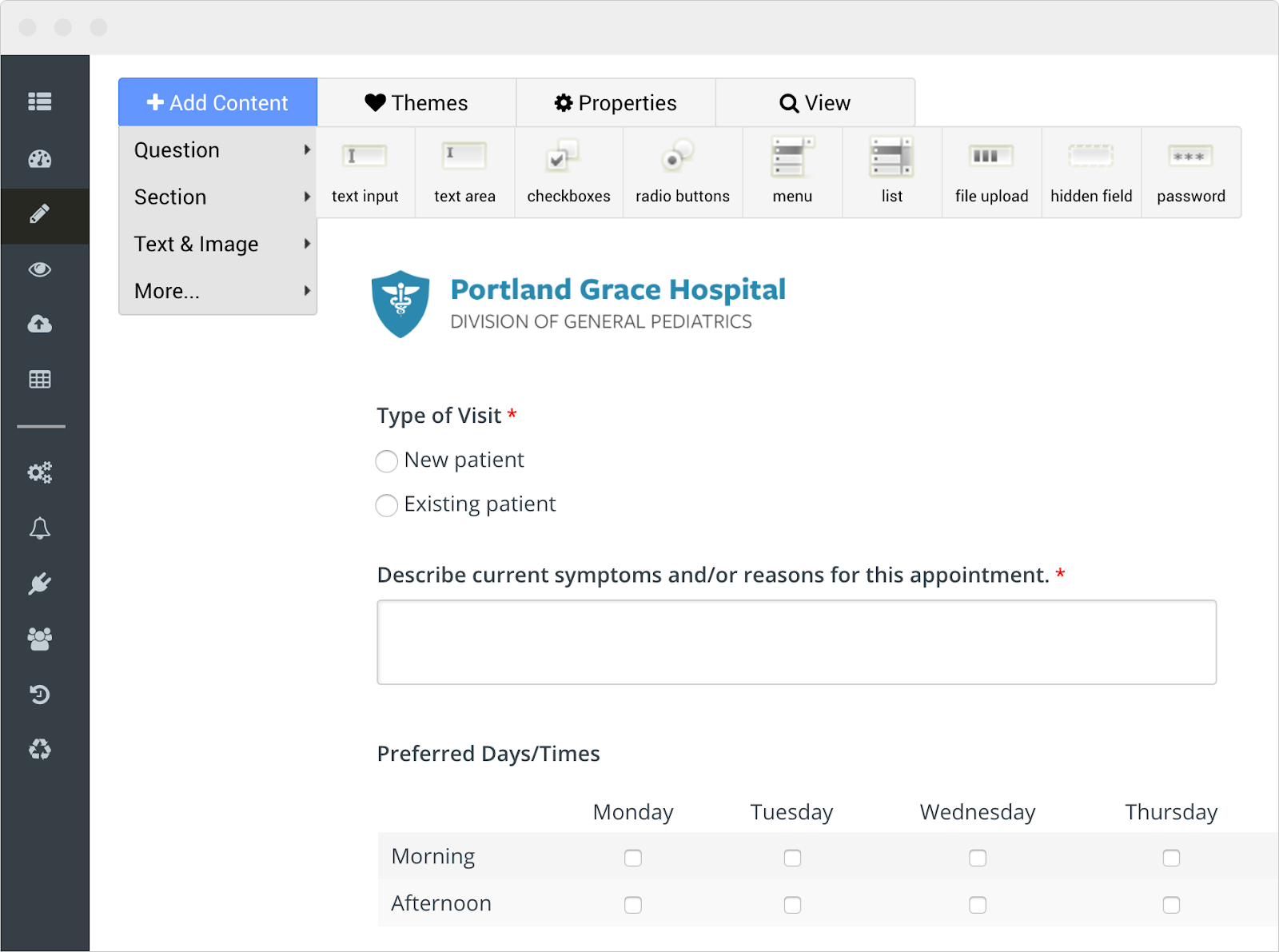 Form Assembly is an enterprise solution. Very powerful, but quite pricey, especially when you consider many on this list are free. Not the easiest to try out and start using, so if you're a startup, maybe opt for one of the lighter weight products.
13. Qualaroo
Qualaroo isn't technically a "form" in the same way that most on this list are. By that, I mean you don't statically embed it on your page and have people put in their information. Qualaroo is an on-site polling tool, oftentimes used for user research or user experience work.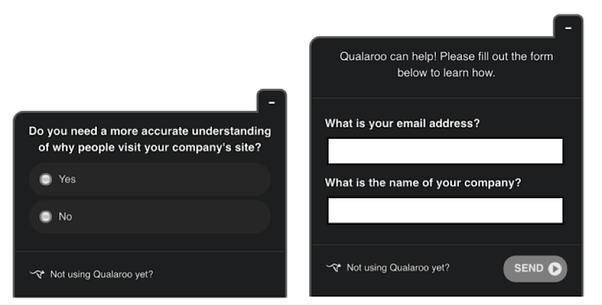 Image Source
But you can also collect customer feedback, leads, or whatever else on Qualaroo as well. For that reason, I consider it a form builder.
14. SurveyMonkey
SurveyMonkey isn't a typical forms tool either. As the name suggests, it is a survey creator. However, with surveys, you're still collecting information, and they can still serve many of the same purposes that a form builder can (just away from your website).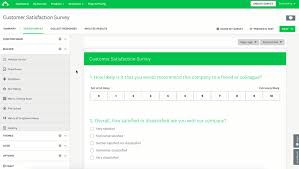 15. PaperForm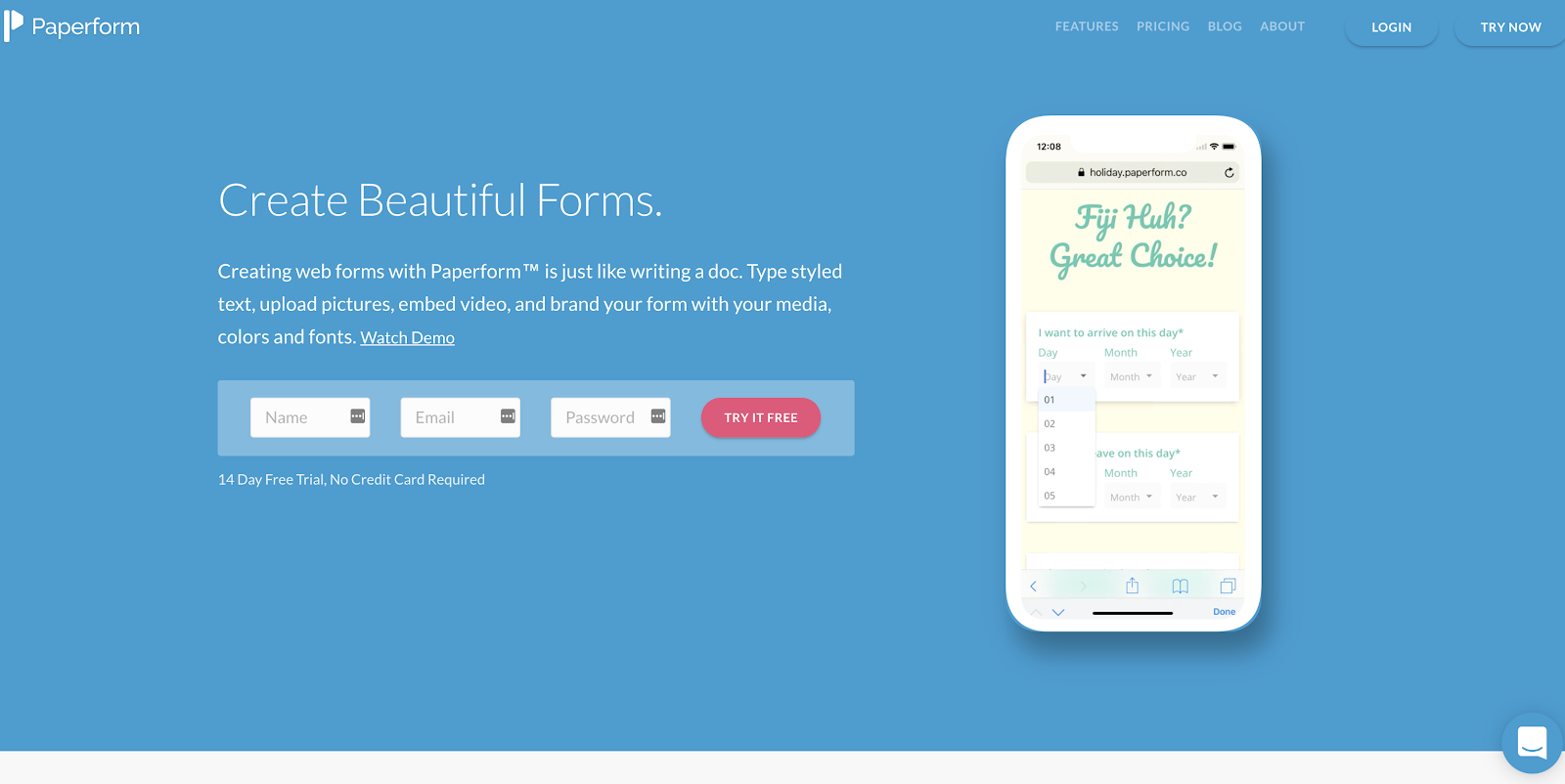 PaperForm is another solution that differentiates on style. You can create really nice looking forms here, and you can do so really easily.
Type styled text, upload pictures, embed video and brand your form with your media, colors and fonts.
16. PerfectForms
PerfectForms is another enterprise solution. They don't even have a price on their website (that I can find), but they do offer a free trial. But if you need a robust solution with powerful integrations and a good WYSIWYG editor, this could be it.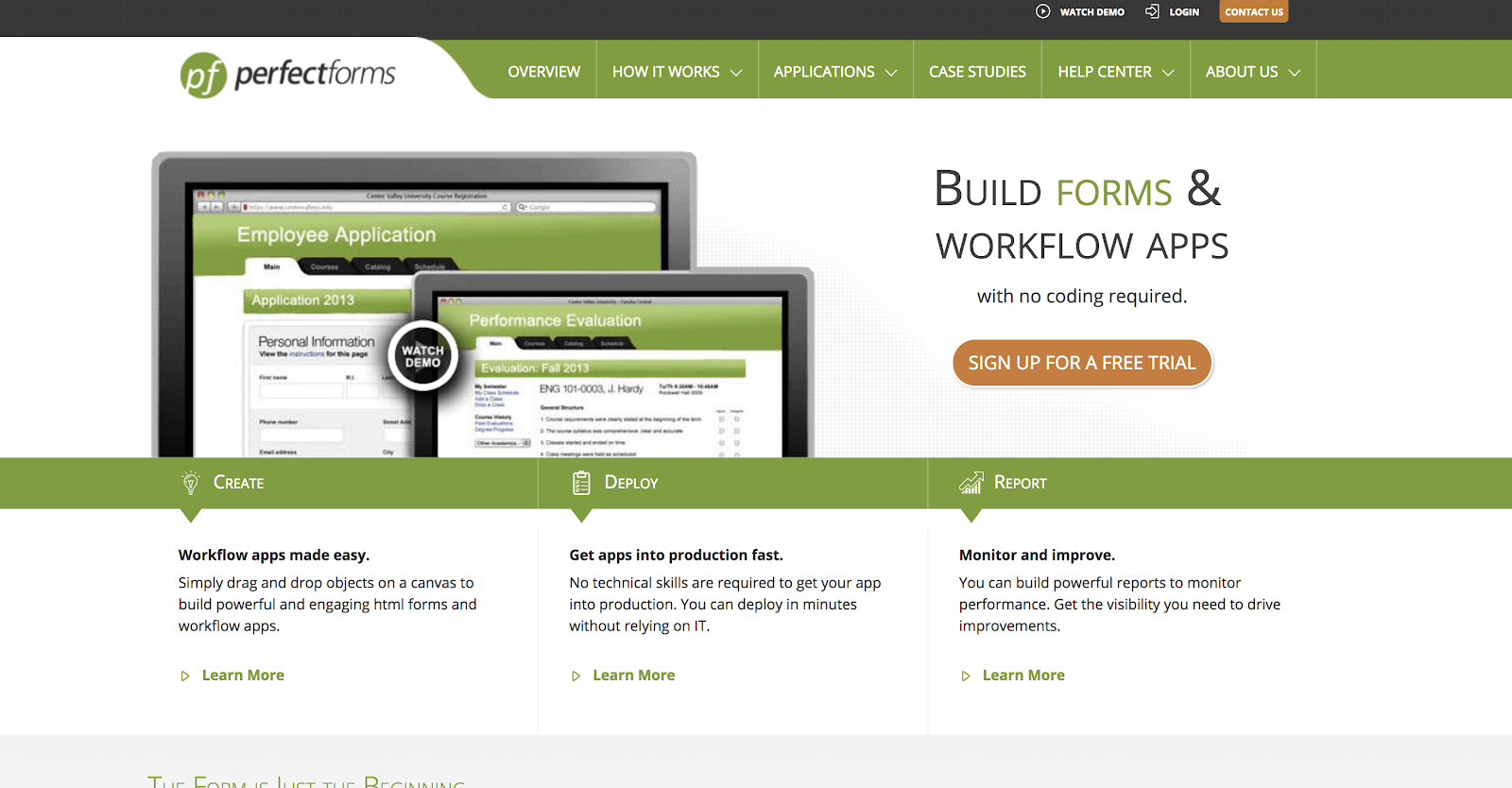 17. Device Magic (mobile forms)
Device Magic is a mobile forms tool. It's for those that work off-premise and need to collect information, usually on a phone or an iPad.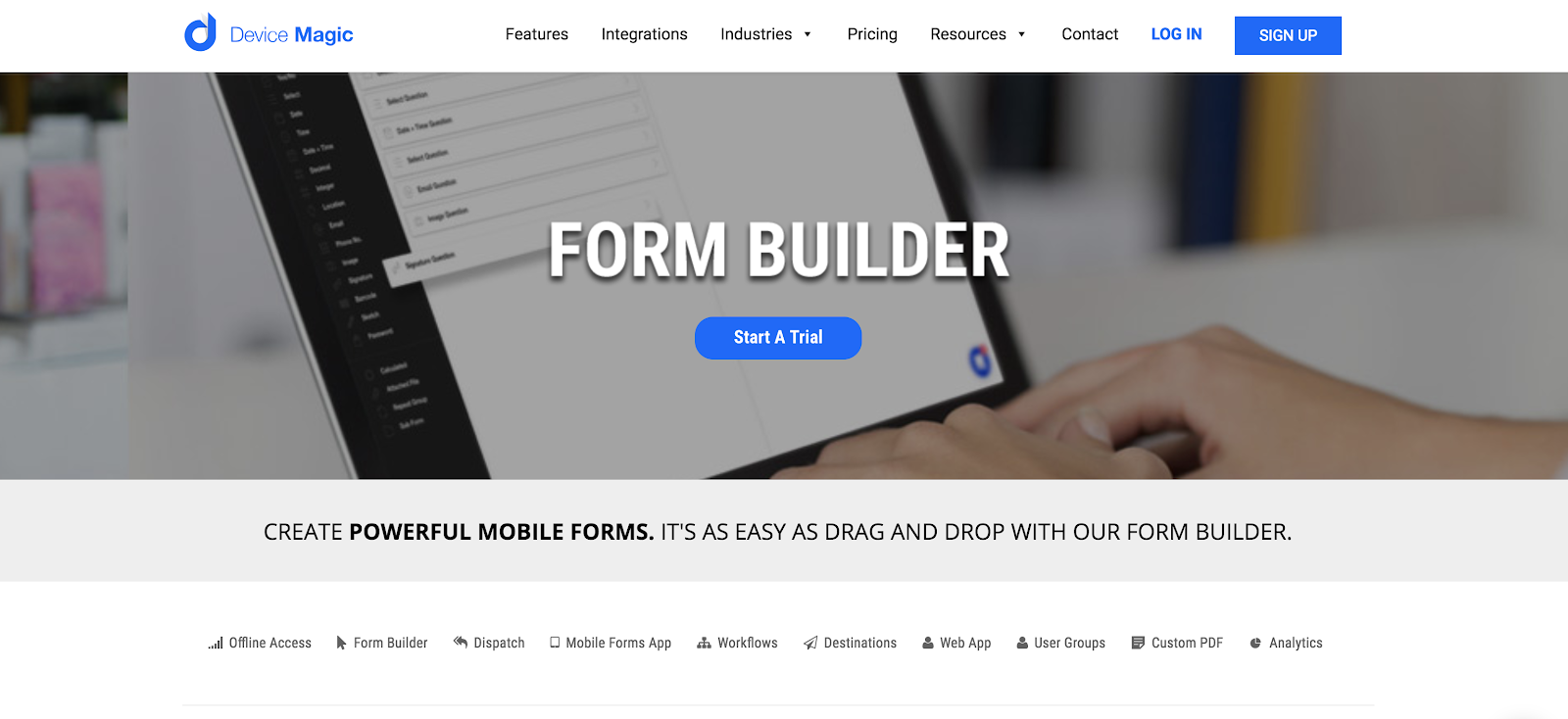 18. EmailMeForm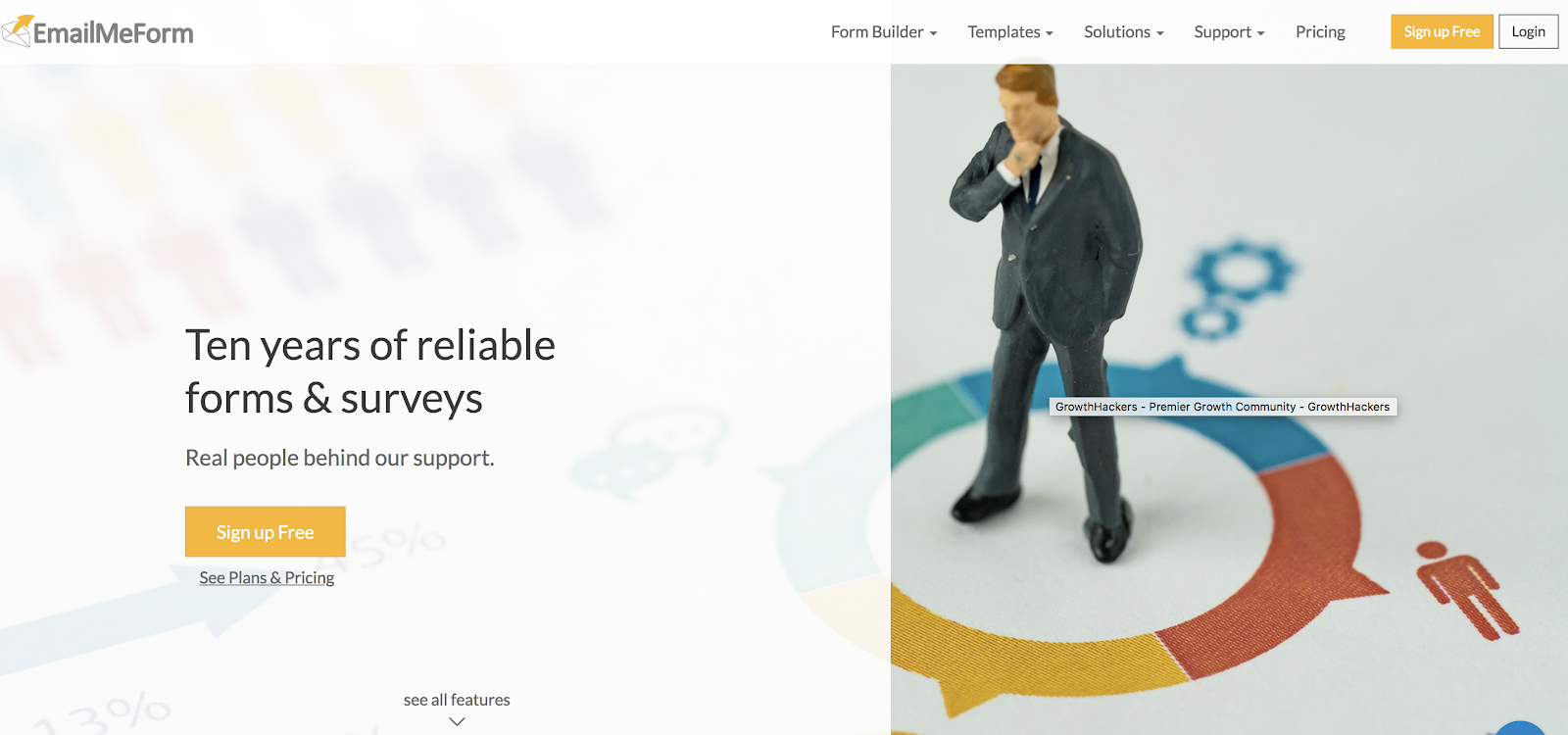 EmailMeForm is a feature rich form and survey builder with great support and a really helpful blog (this post on form analytics in Google Analytics is great, though you can also use Woopra for that.).
Conclusion
There are many, many form builders out there. Some are great for marketing and lead generation, like HubSpot. Some are great for market research and surveys, like TypeForm or SurveyMonkey. Some are perfect for those who work on the road, like Device Magic.
With any solution, Woopra's Customer Analytics can track who fills out form fields, how far they make it through the form process, where they came from and what they did next.
Using this data in Journey Reports will allow you to optimize your forms to encourage the highest completion rates and long-term success.
Whatever your case, hopefully, you can walk away now and start trying one of these out and most offer free trials or a freemium version.
Let us know if we missed any good ones!
Learn more about customer journey analytics, product analytics, and customer analytics.