Customer Journey Analytics for Automotive
One platform to know what car shoppers are searching for, who they are, how campaigns convert over time and so much more!
Personalize the Customer Experience and Fuel Operational Efficiency
Whether you're a brick and mortar dealership with an online presence or operate entirely in the digital world, creating a better customer experience should be among your top priorities.
With visitors engaging in more channels than ever before, to optimize this experience you must first be able to visualize it. Woopra tracks visitors from their first touch to help you see how channels like website, chat, social, email, text and support influence the customer experience and, ultimately, ROI. 
Journey Reports
Create Connected Experiences Across Digital Channels
Visitors browse and build cars on your site or app, but they often leave without requesting a quote or test drive. Others begin the quote process and then abandon it. Journey reports enable you to pinpoint what's hindering these visitors from taking the next step so that you can optimize the experience and book more appointments.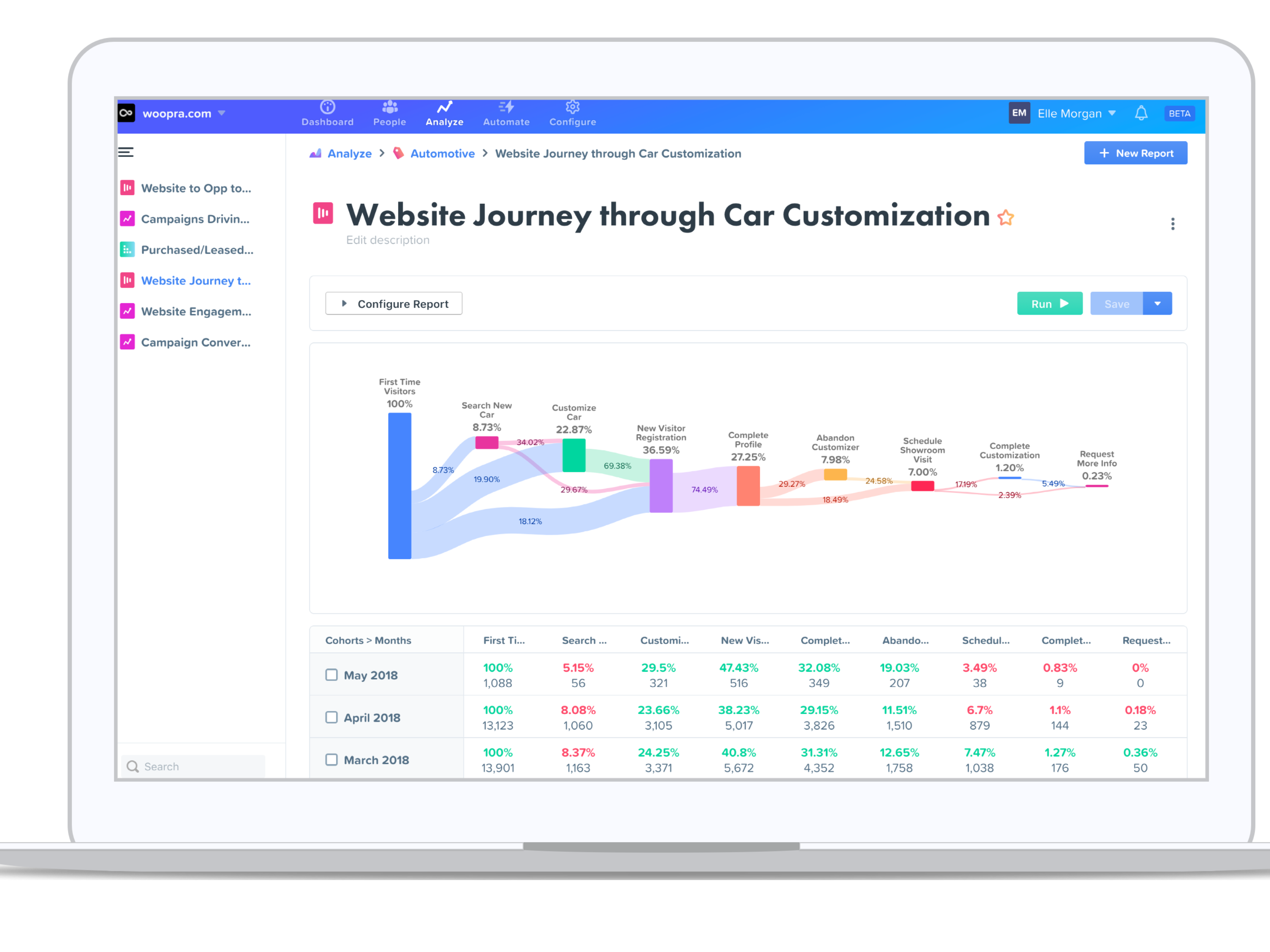 Automation
Engage Current and Potential Customers in Real-Time
Notify customers via text when their car is ready for service. Trigger a personalized live chat message based on website browsing behavior. Send personalized emails to notify prospects when their dream car is in stock or offer a promotion! Stay connected with your customers and build experiences that will keep them coming back for years to come.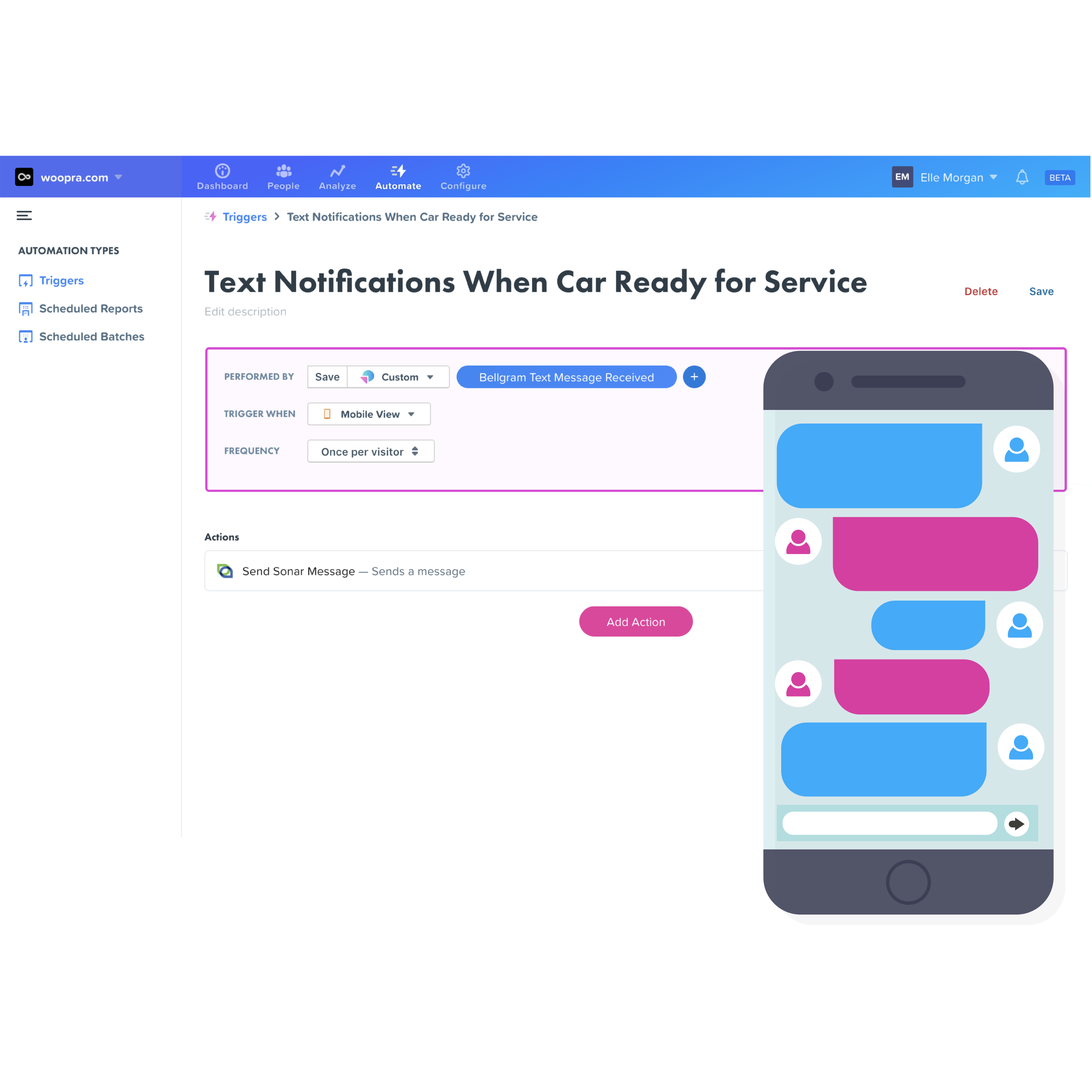 Engineered to deliver comprehensive insights of your entire digital presence
Every Touchpoint in One Platform
Spend more time with the right opportunities with real-time behavioral data.
Omni-Channel Analytics
Close the loop between online activity and in-store sales.
Cross-Device Campaign Attribution
Prove digital advertising ROI.
Unified Customer Profiles
Real-Time Sales and Support Insight
As data syncs to Woopra, Customer Profiles populate a true to life view of user interactions, down to the individual-level. See what pages a visitor has viewed, the forms they've submitted, the car they've built, if they submitted a support ticket or had a chat conversation and more! Know who your visitors are and the actions they take to have informed conversations and boost efficiency.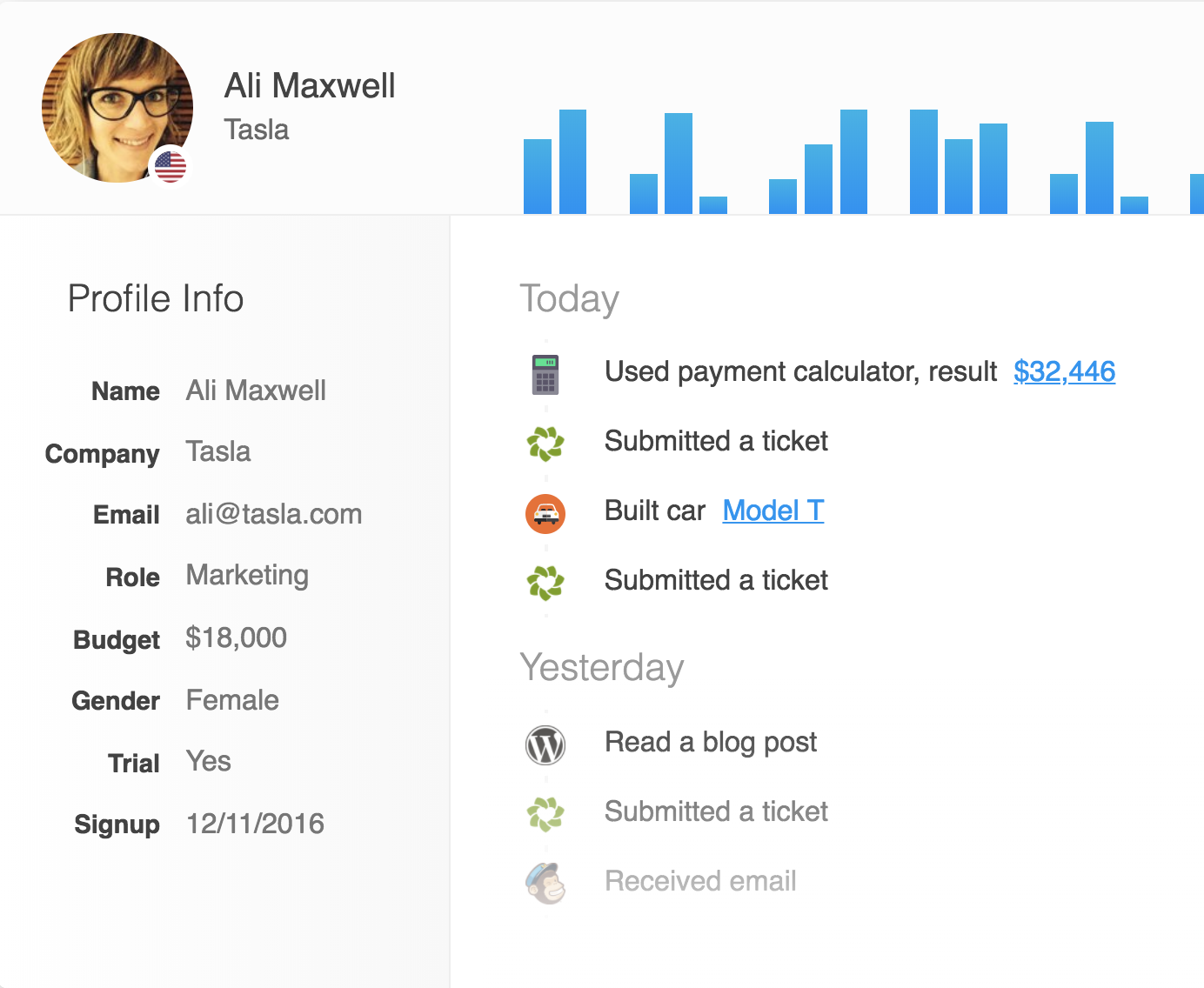 Retention Reports
Measure Retention to Increase Customer Lifetime Value
Woopra's Retention Reports tell you if users continue to do important actions such as make purchases, come in for service, or even open your emails. Finally understand if users are engaged enough with your offerings to keep coming back.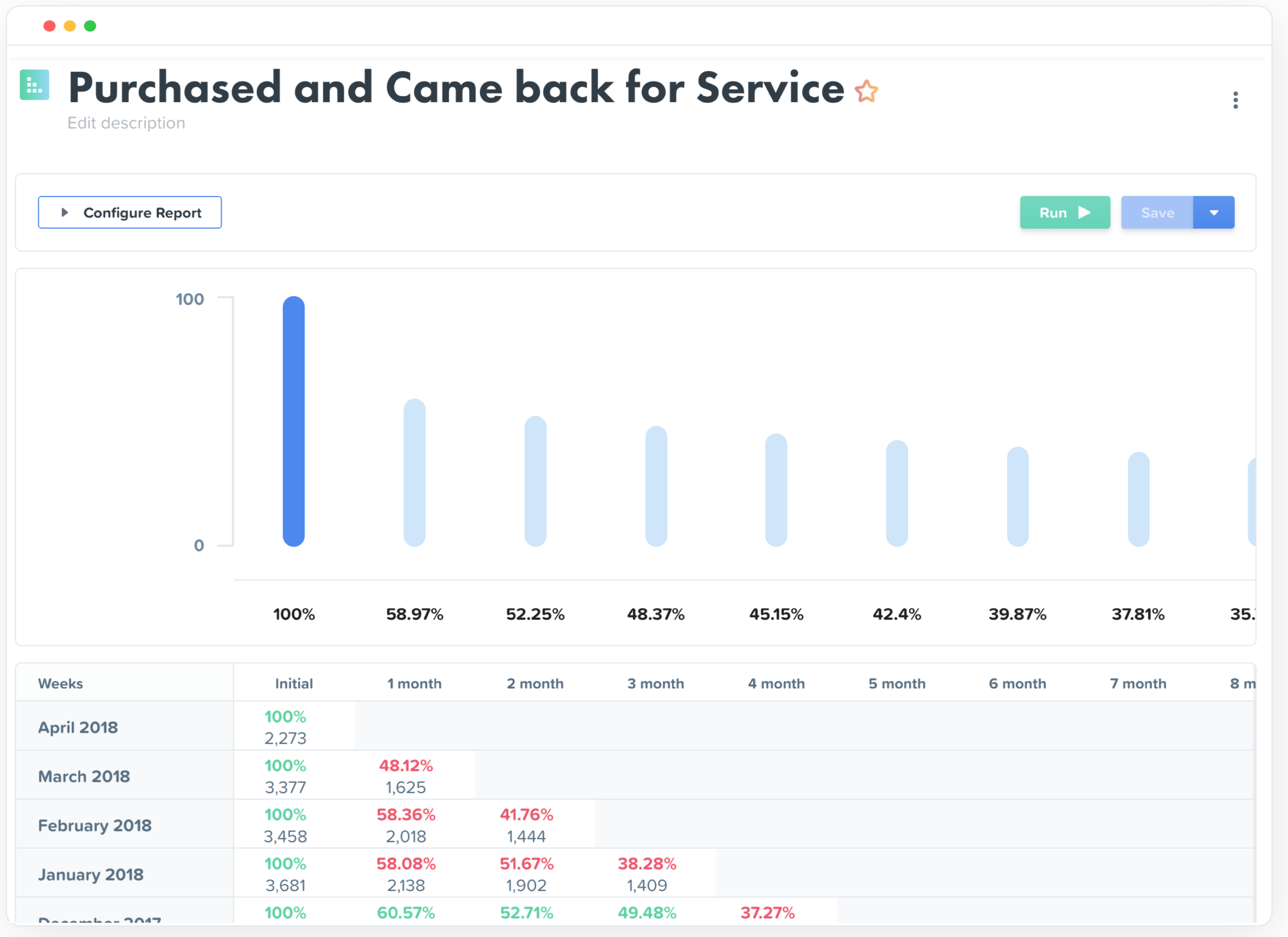 Trends Reports
You can't improve what you can't measure.
Woopra's Trends reports show the growth of a particular action over time. See how many daily unique people visit your website, which vehicles are trending, how much revenue was generated by customer type or car model and more! Zoom into any audience and open up entirely new views of the who, the what and the how in your data.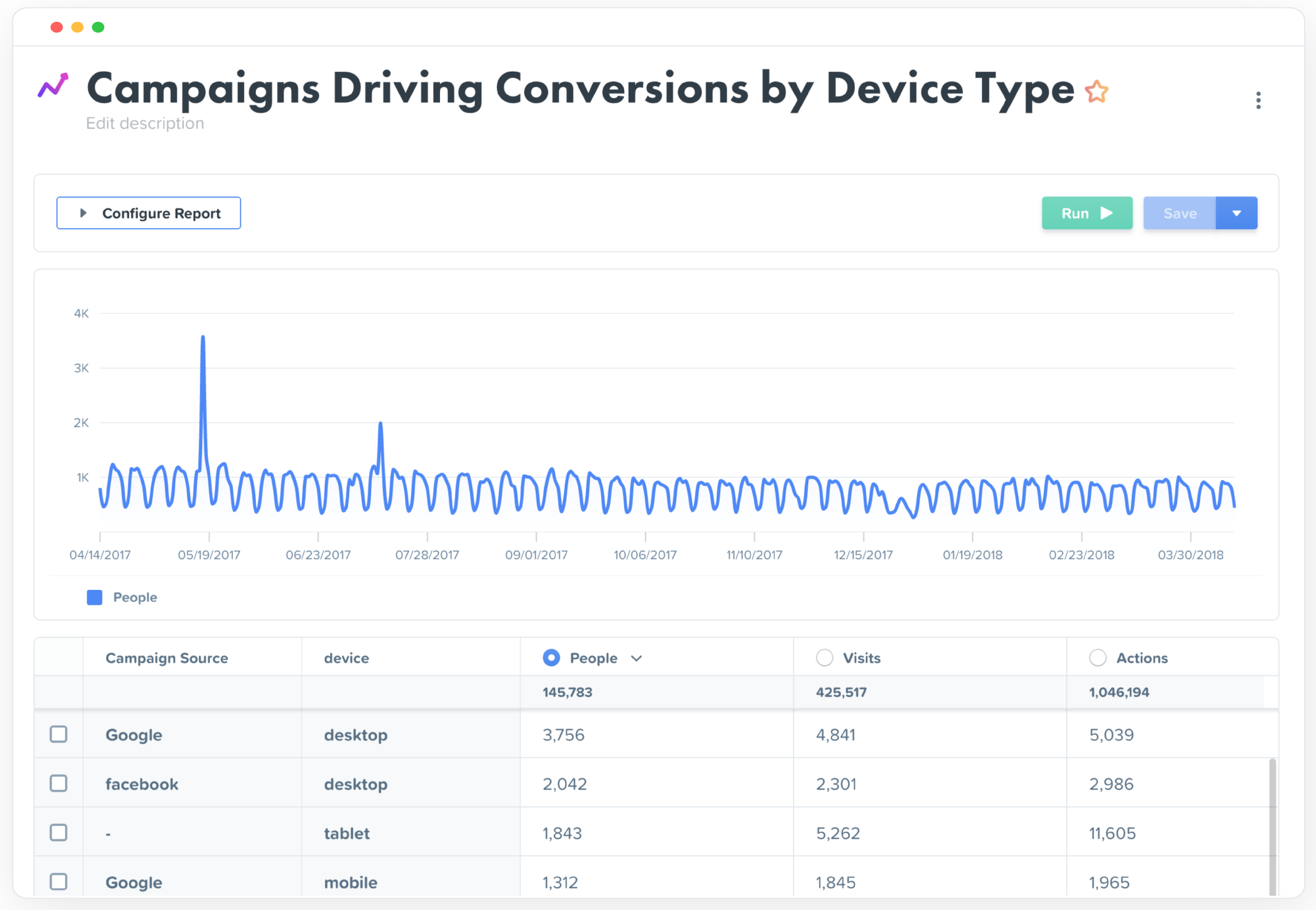 Types of Questions you can answer with Woopra:
Where am I losing my potential customers?
Which marketing campaigns drive the highest ROI?
How are my local campaigns performing compared to OEM campaigns?
Which car models are most popular right now?
How are customers finding out about us?