With an emphasis on free product versions, self-service, and limited salesperson intervention, product led growth puts the spotlight on the product itself.
For inspiration on properly implementing a product led growth strategy, here are 10 real-life examples of brands that have pulled it off brilliantly.
Calendly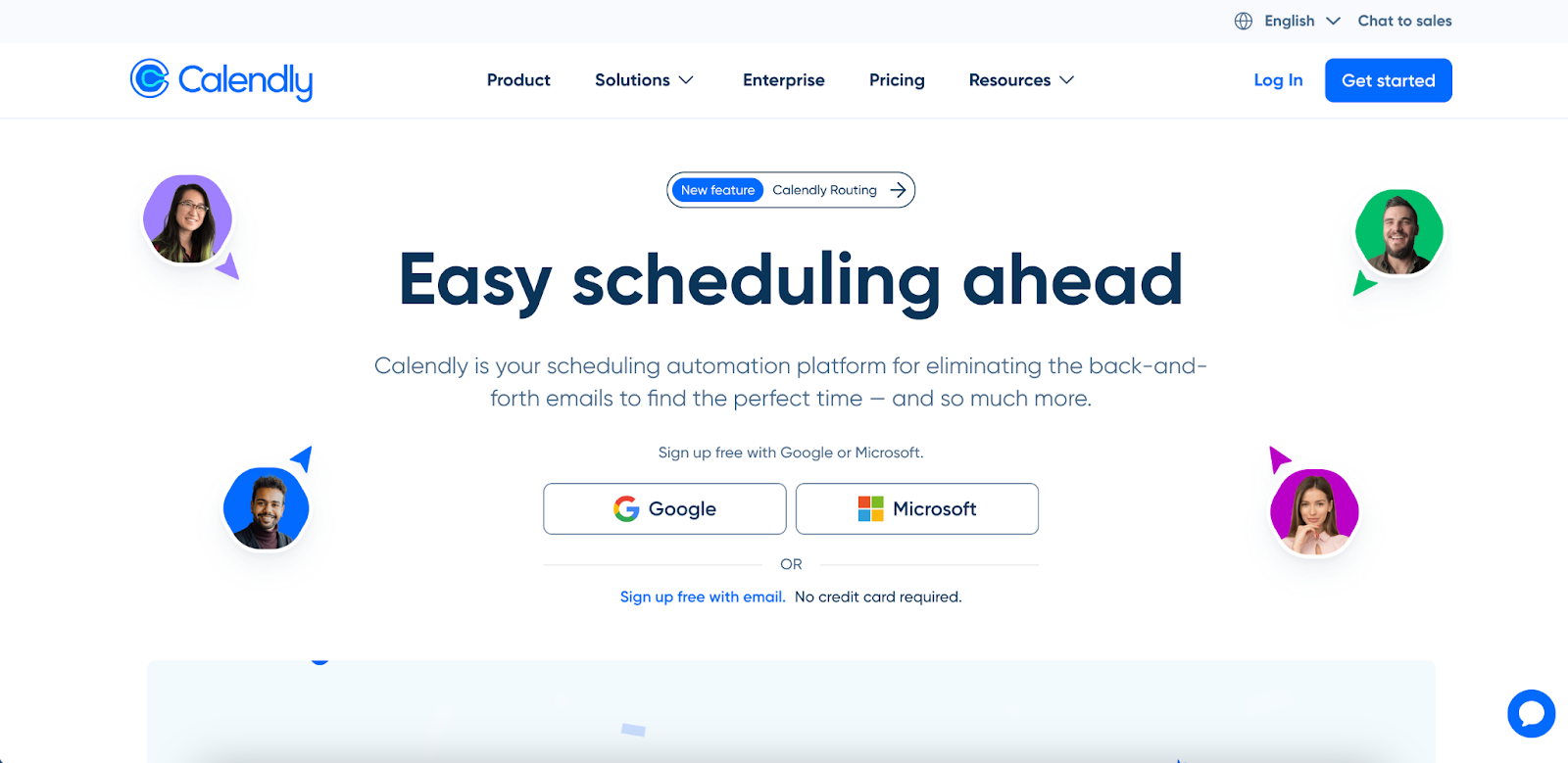 Source: Calendly
One of the main selling points of product led growth, or a PLG strategy, is making it super simple for leads to sign up for a product without any back-and-forthing with a salesperson (like you typically find with sales led growth).
The goal is to let them seamlessly learn about a product and understand its core benefits and features without booking a demo.
And, in many cases, a product led growth strategy will include a free version, where a potential new customer can take it for a spin and try it before they buy.
Calendly checks all the boxes, allowing leads to quickly learn the ins and outs of this online appointment scheduling software.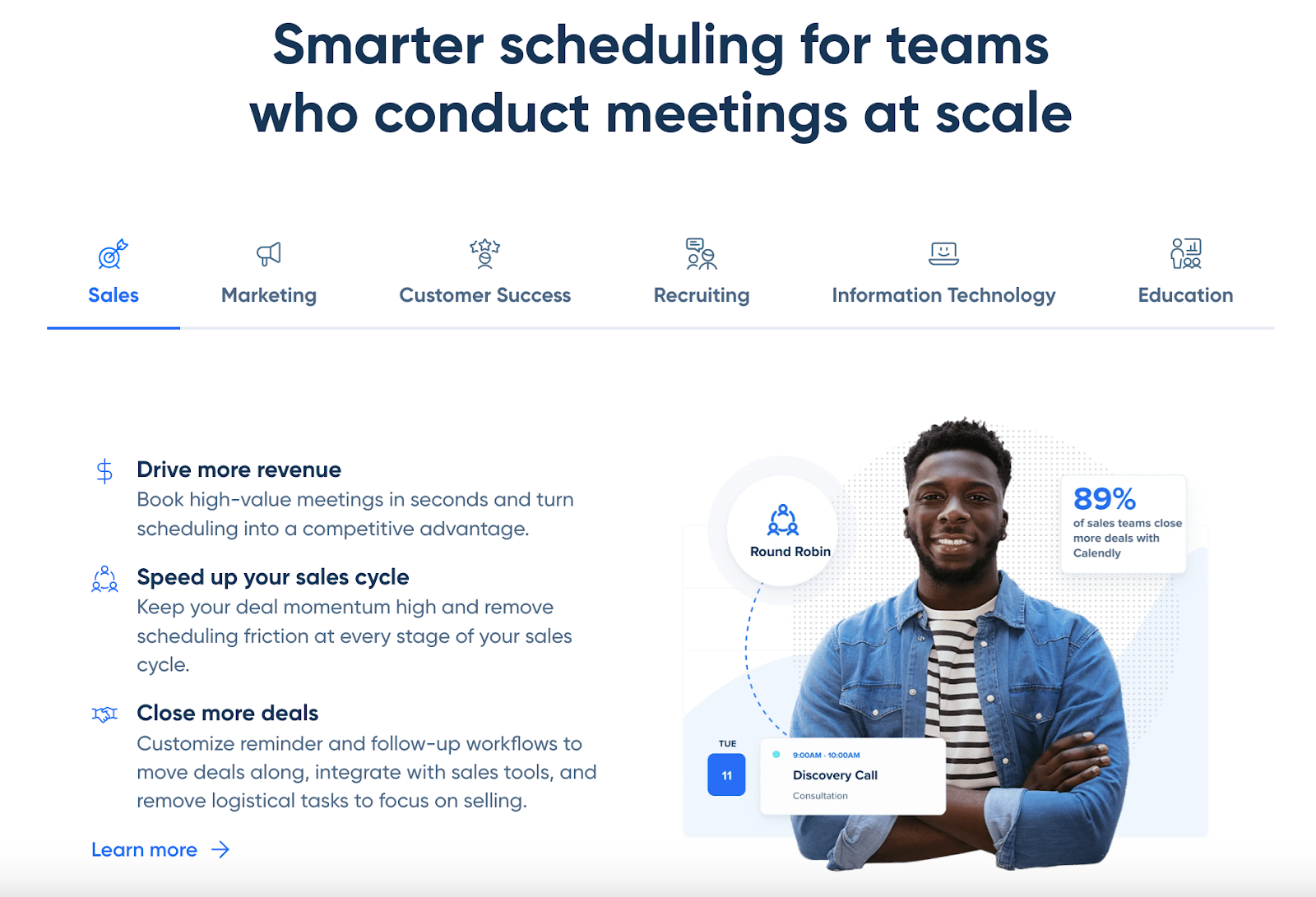 They do a great job of showing off Calendly's features.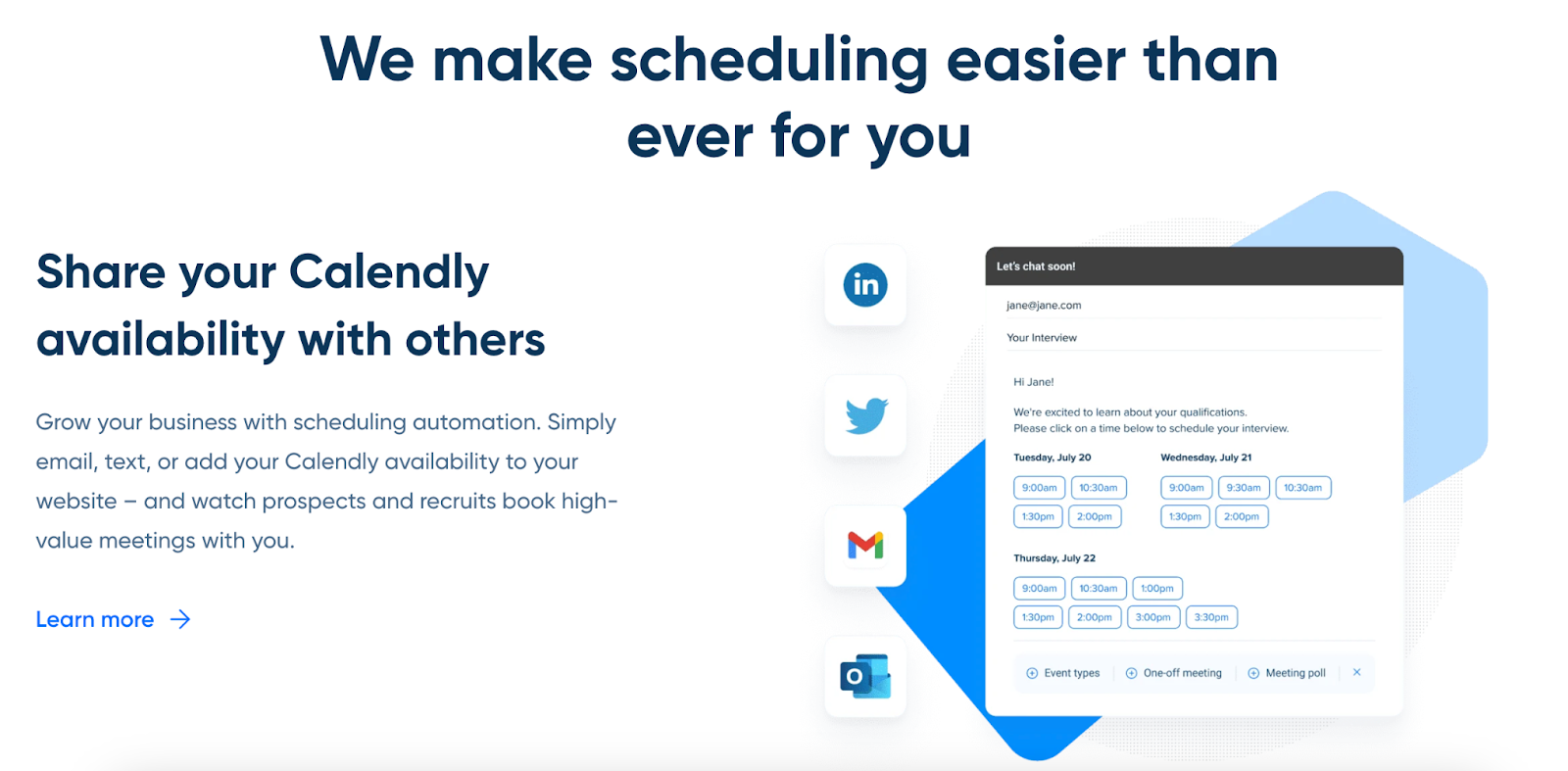 And most importantly, product managers make it incredibly easy to sign up for a free trial, with multiple CTAs in their product led approach.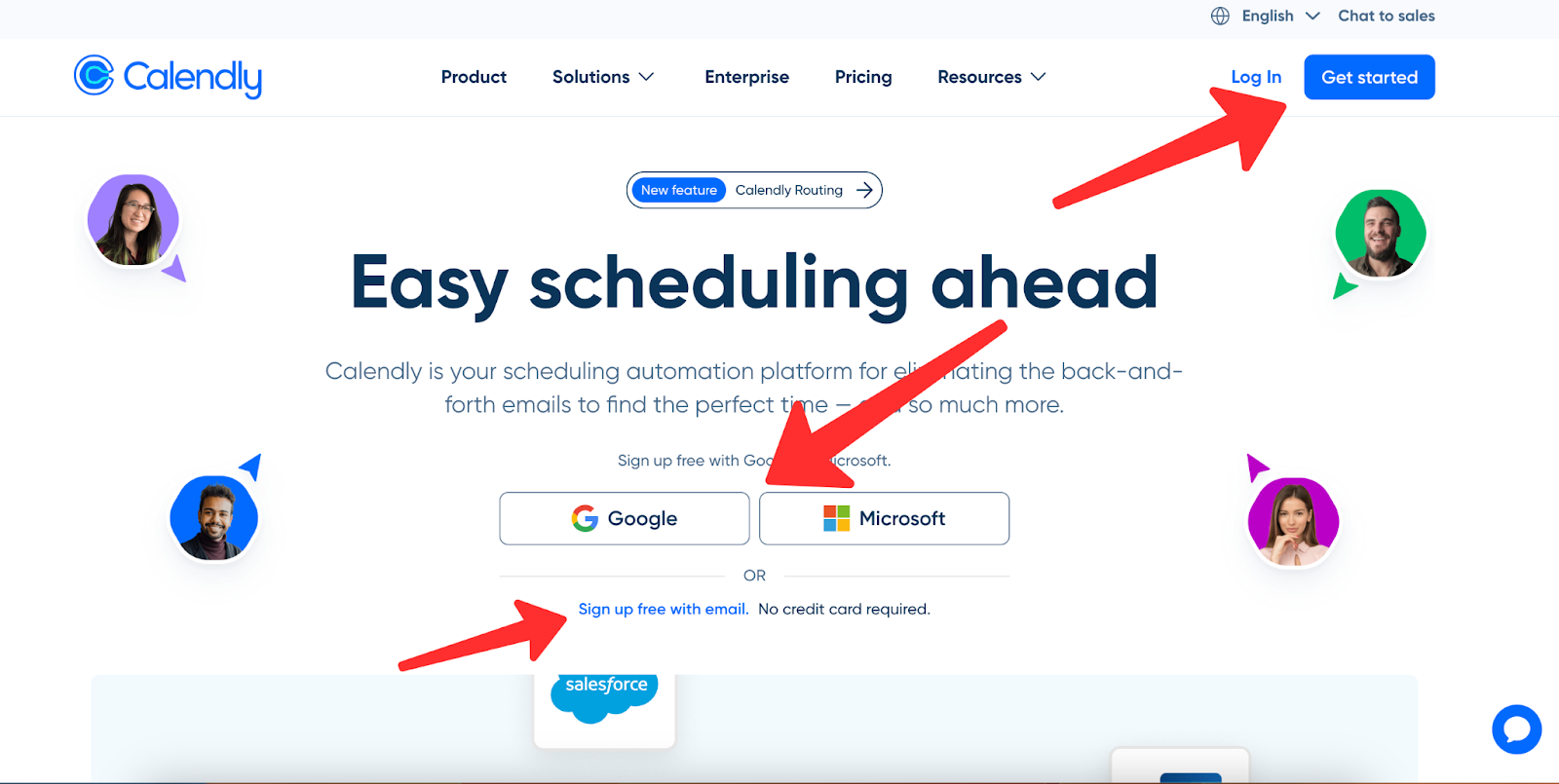 And once a product qualified lead clicks on the sign-up page, they get a concise rundown on what's included and can easily sign up for free with no credit card required.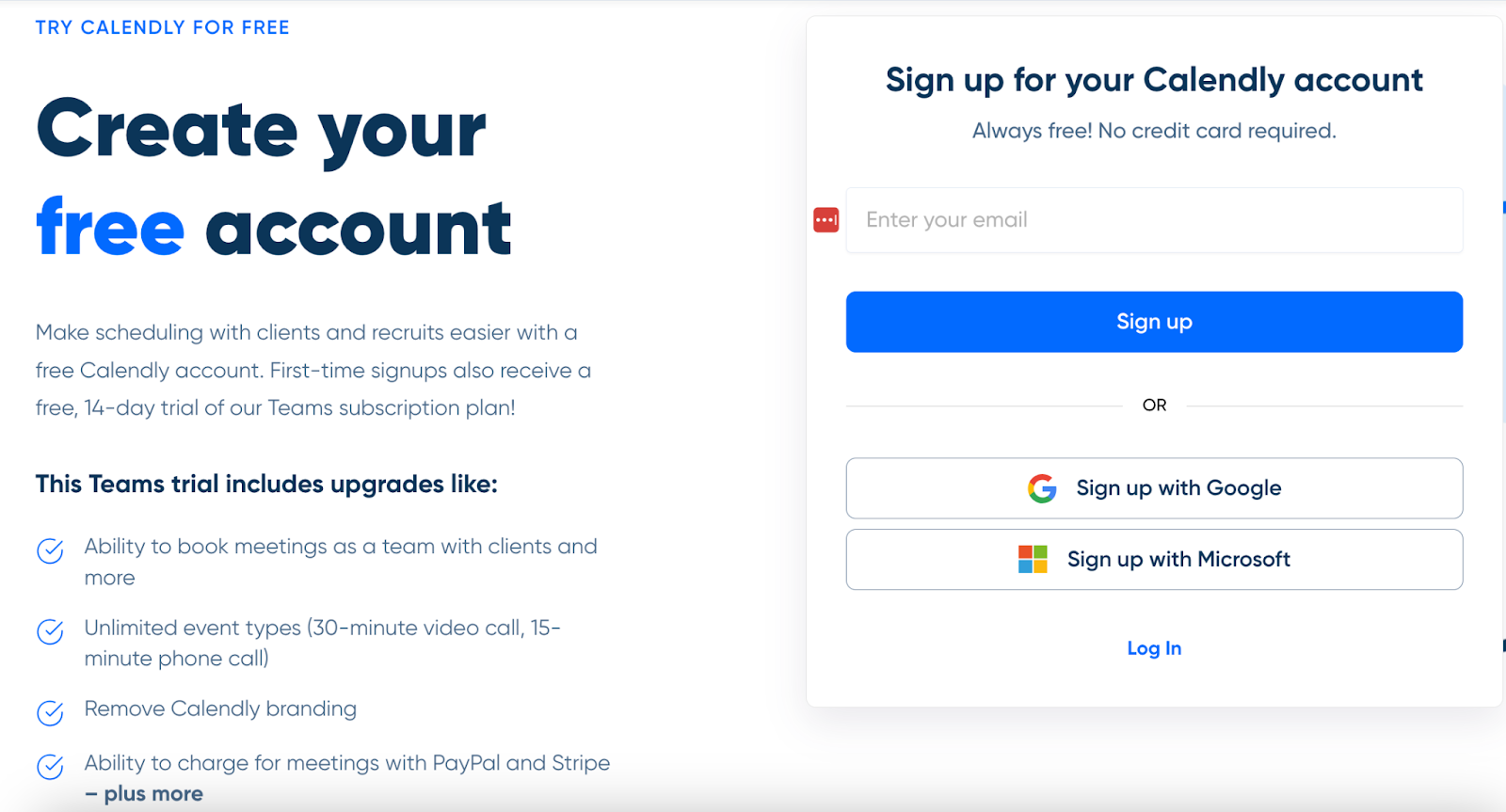 So in this regard, Calendly itself is basically doing product marketing without their marketing team having to do anything directly.
Zoom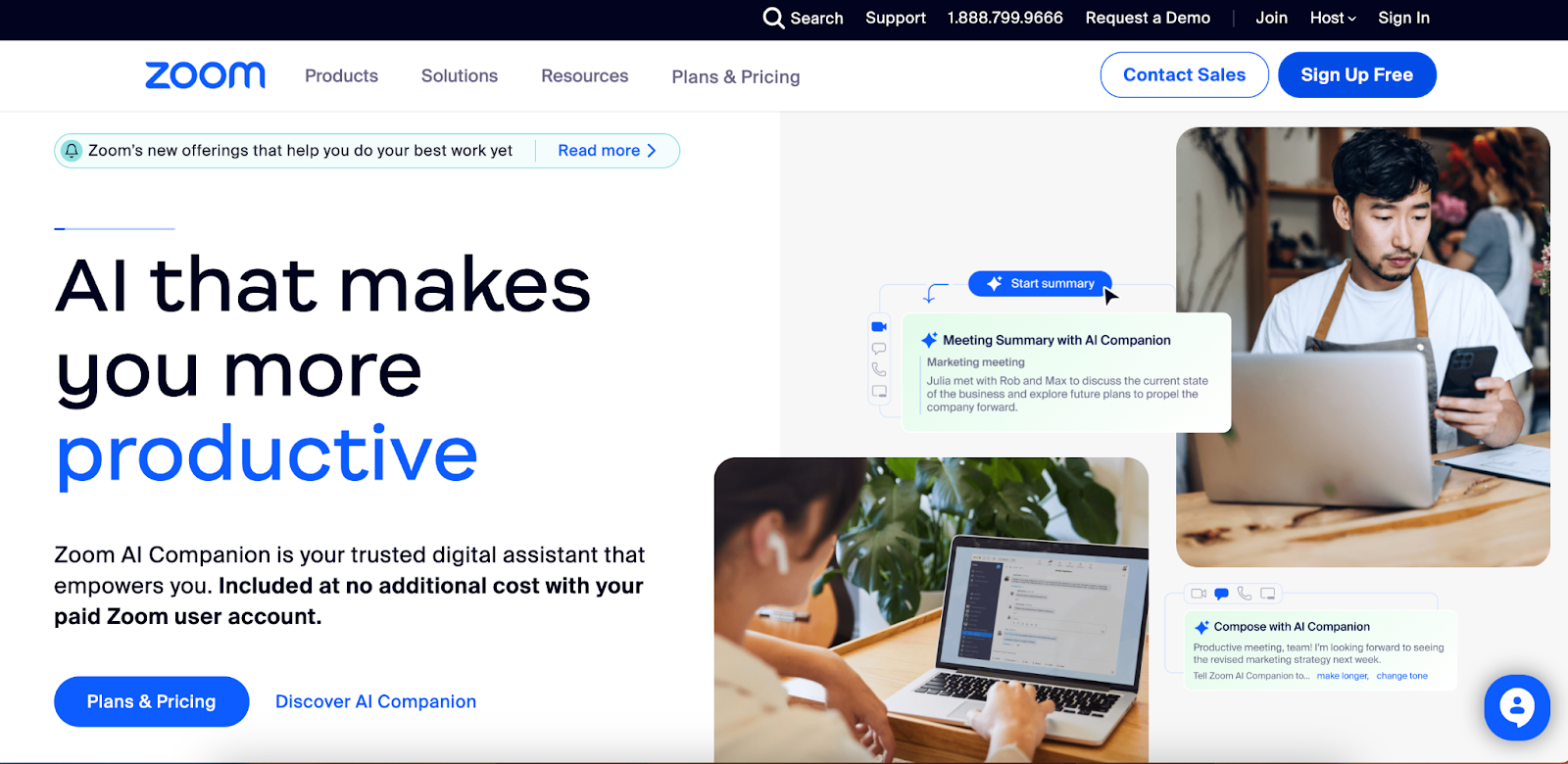 Source: Zoom
Zoom has a reputation for being one of today's most user-friendly communications platforms.
And the intuitiveness, simplicity, and hassle-free nature of their software is something they capture perfectly in their product led growth model.
Right off the bat, Zoom's product management team lets leads know they can sign up for free and learn about plans and pricing.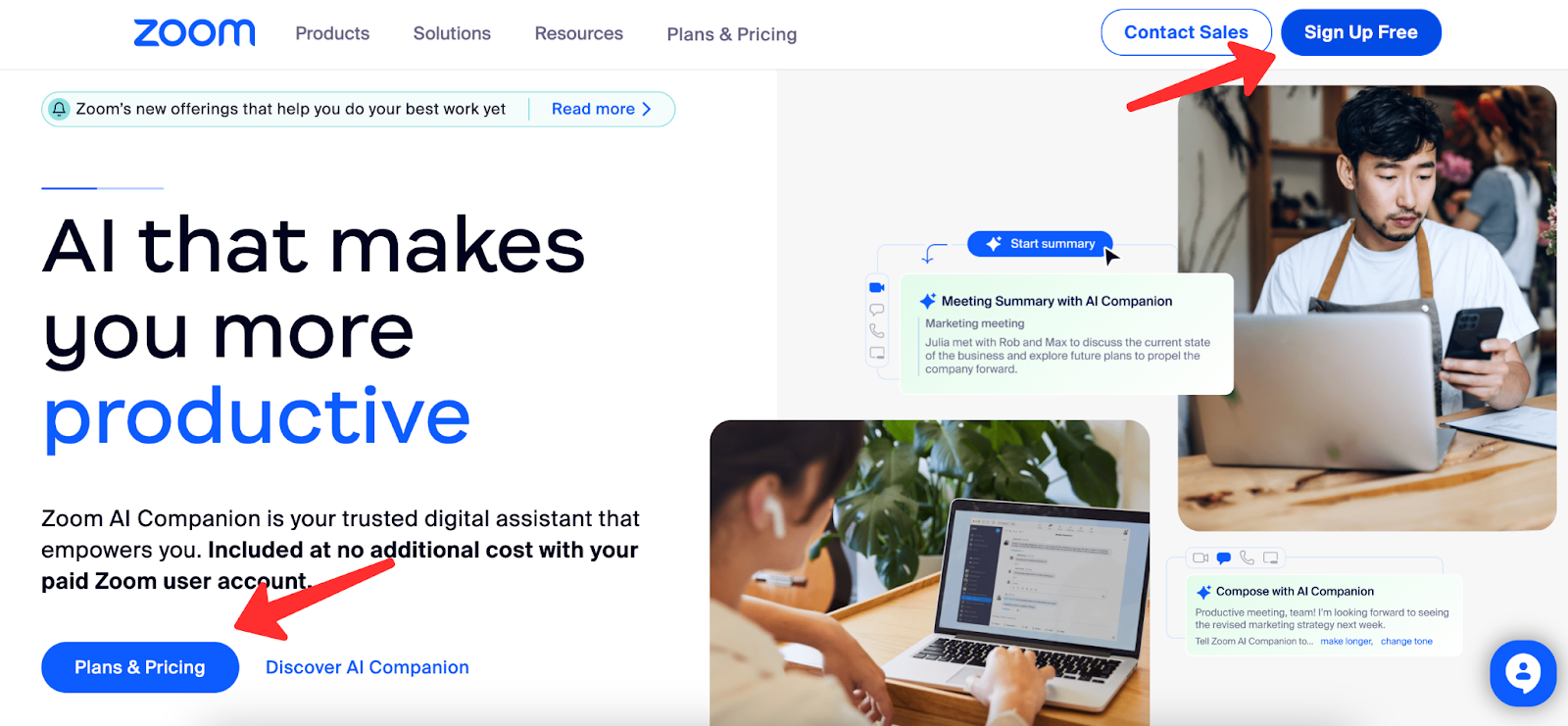 If someone clicks on "Sign Up Free," they're taken to this page where they can see exactly what's offered with a free Basic account.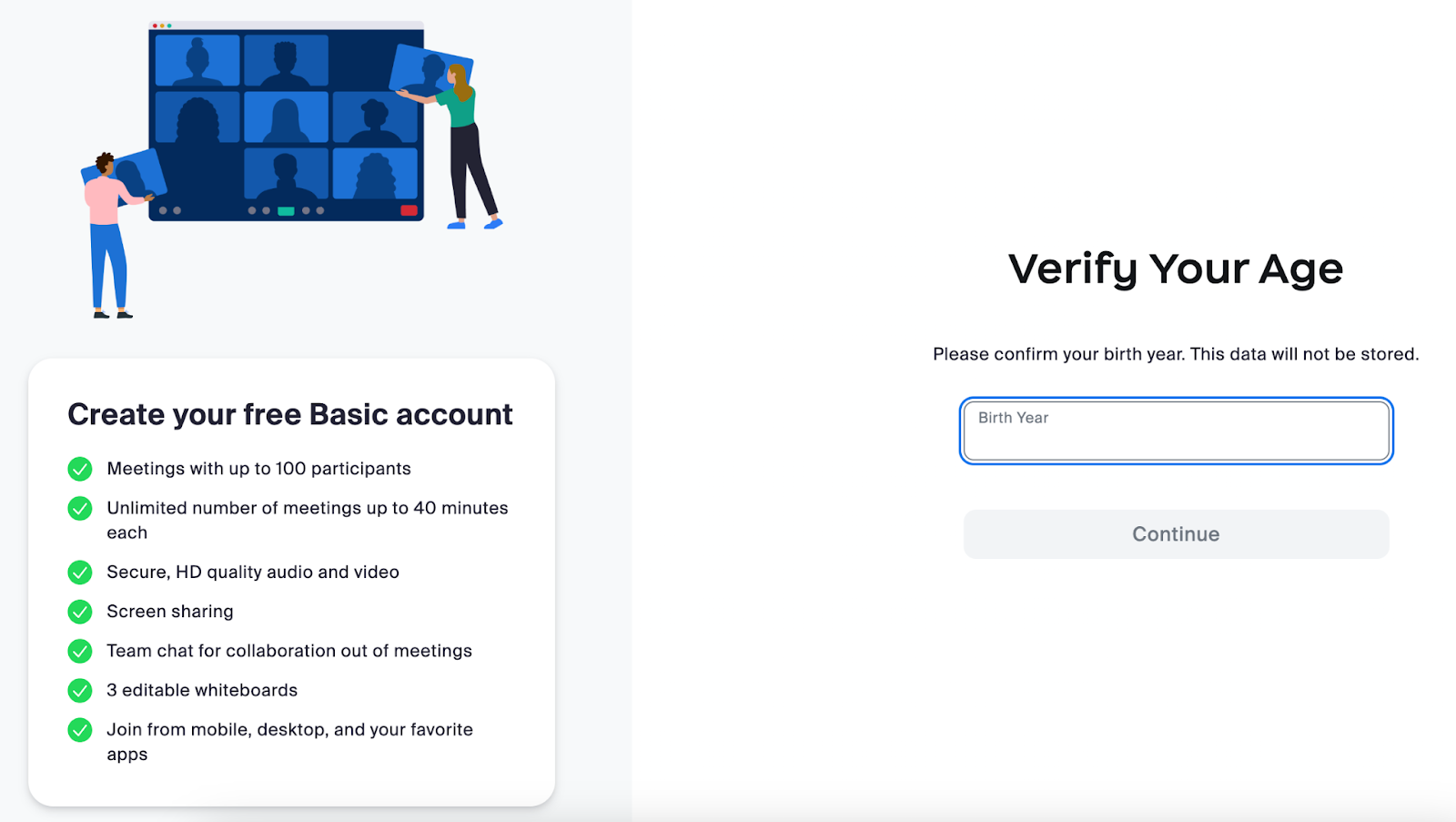 Or, if they click on "Plans and Pricing," they see something similar, along with an overview of the other paid plans that Zoom offers.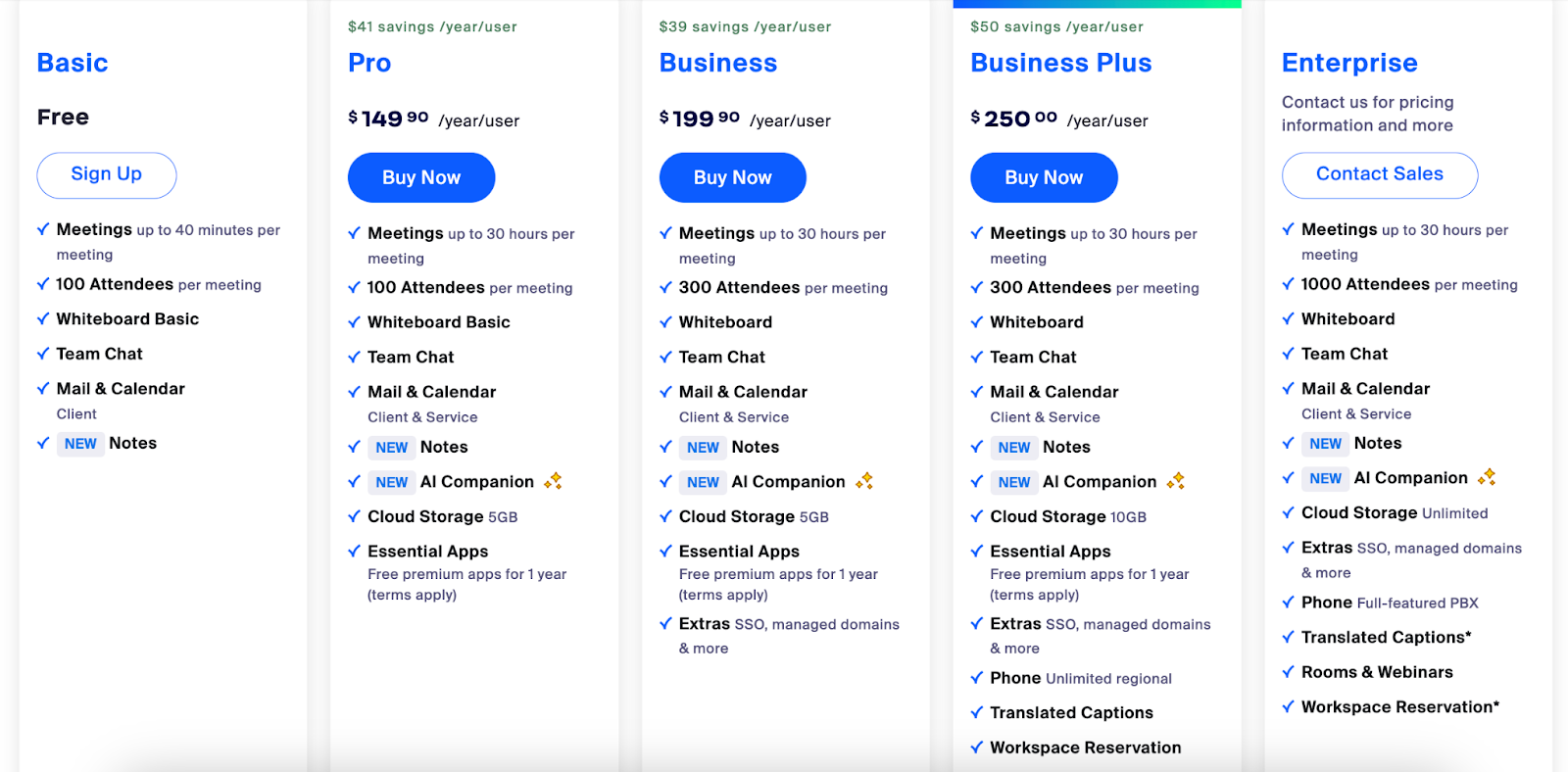 So without the need to speak with anyone from the sales team, a potential product owner can get their bearings.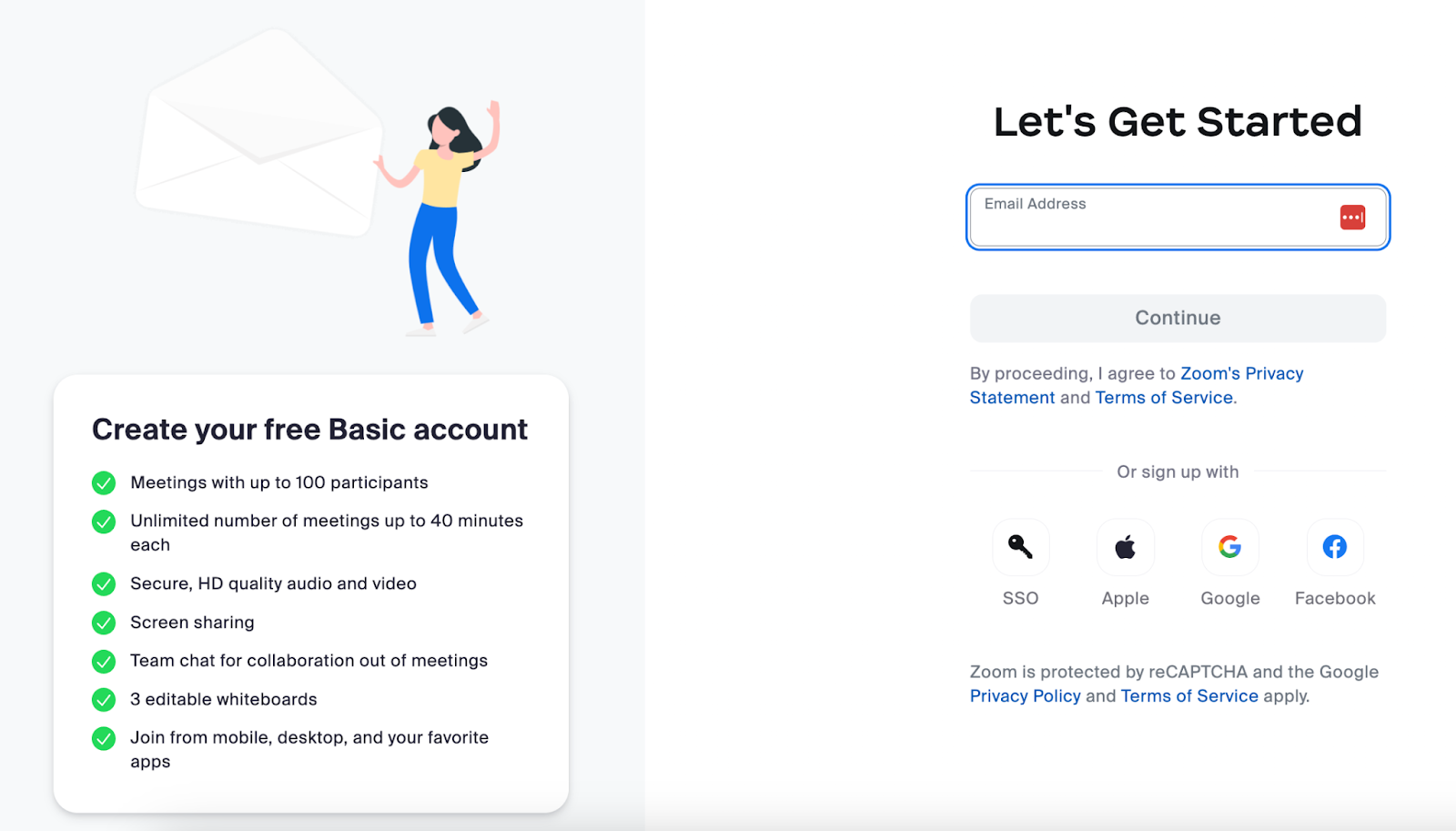 If someone wants to go ahead and sign up, they can conveniently do so by entering their email and some other basic information.
This makes for silky smooth, user onboarding without the need for extensive human assistance.
That, combined with a clear overview of product features and benefits, makes Zoom one of the best product led growth examples we've seen.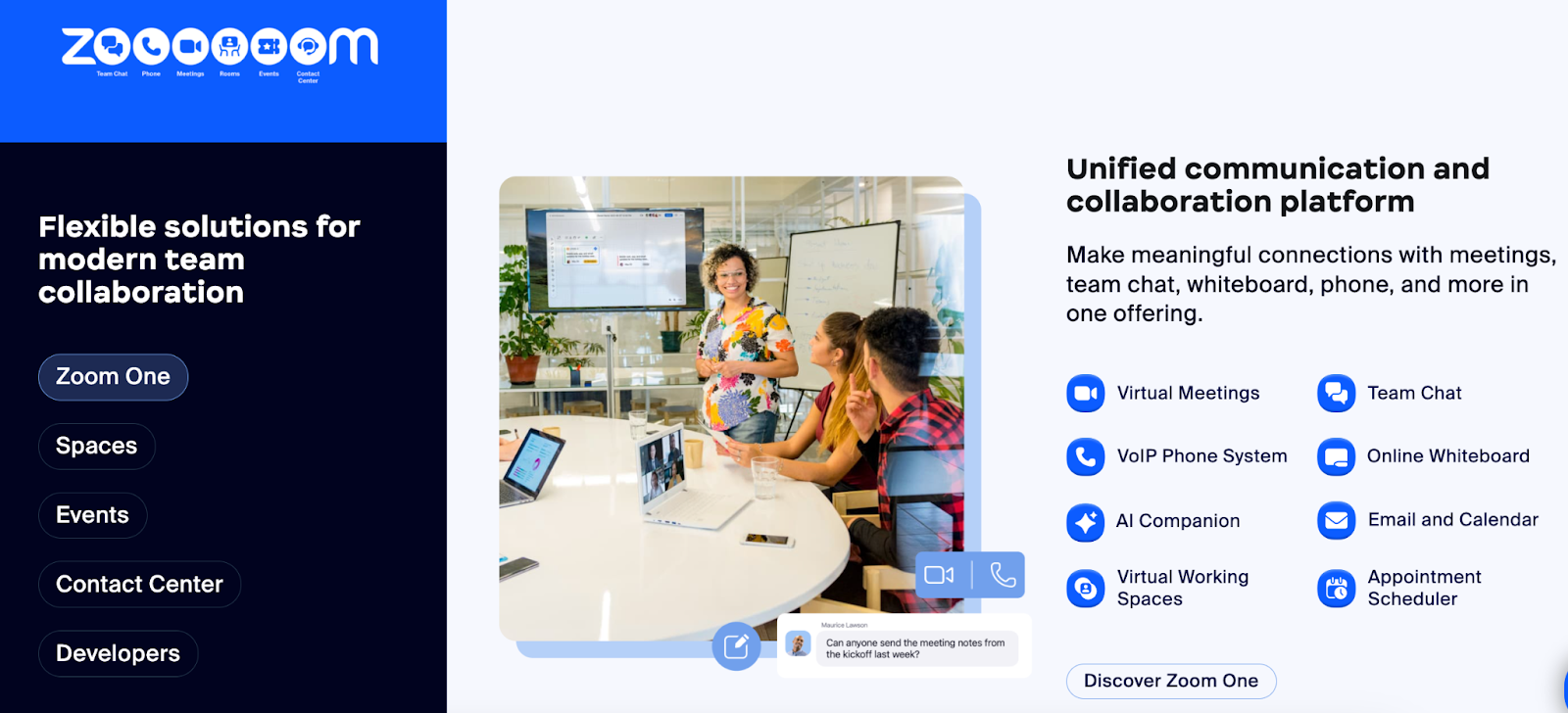 Slack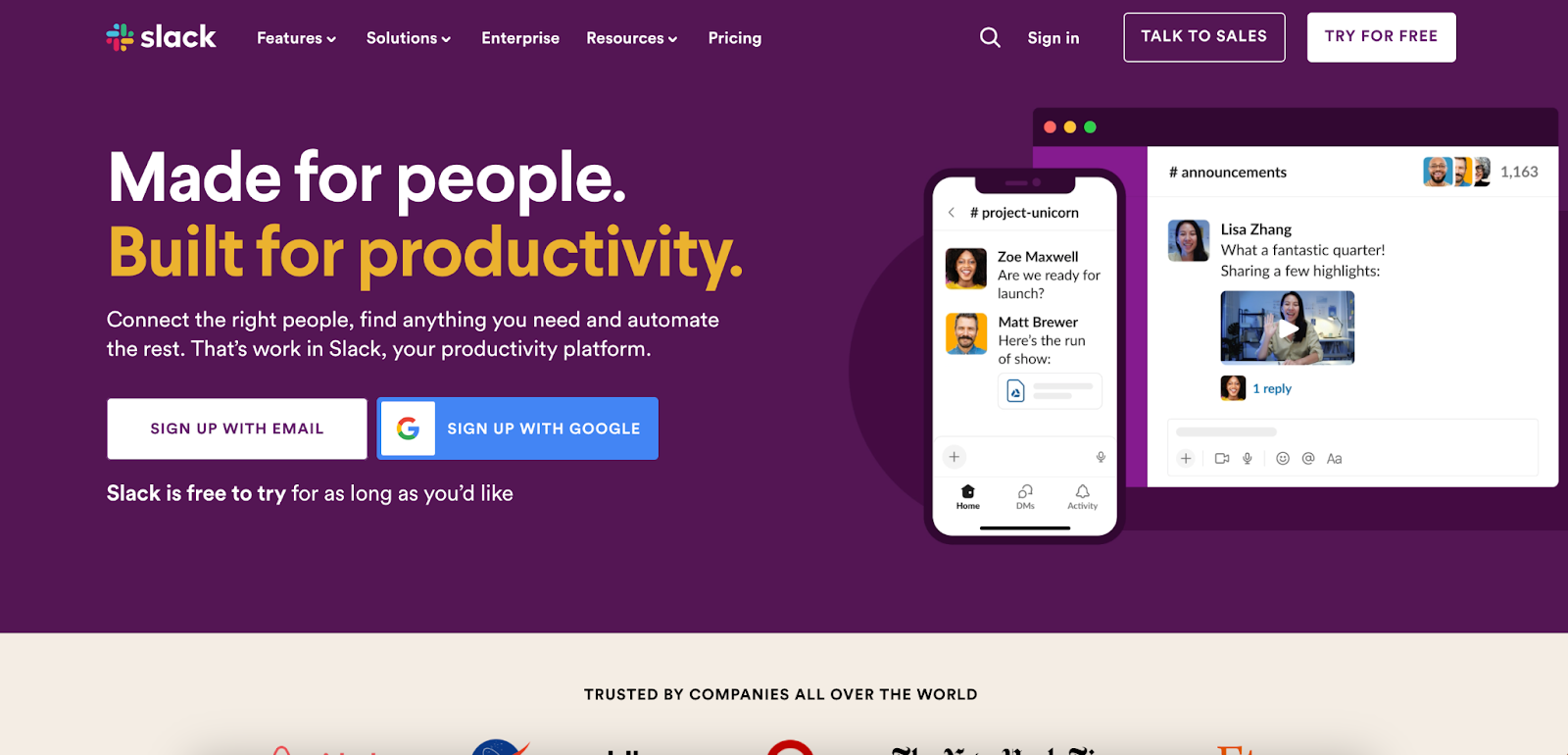 Source: Slack
Slack doesn't waste any time letting leads know they can try their product for free and they make it super simple to do so.
Without having to scroll whatsoever, leads can click on the "Try for Free" CTA at the top.
Or they can click the "Sign up with Email" or "Sign Up with Google" CTAs just below that.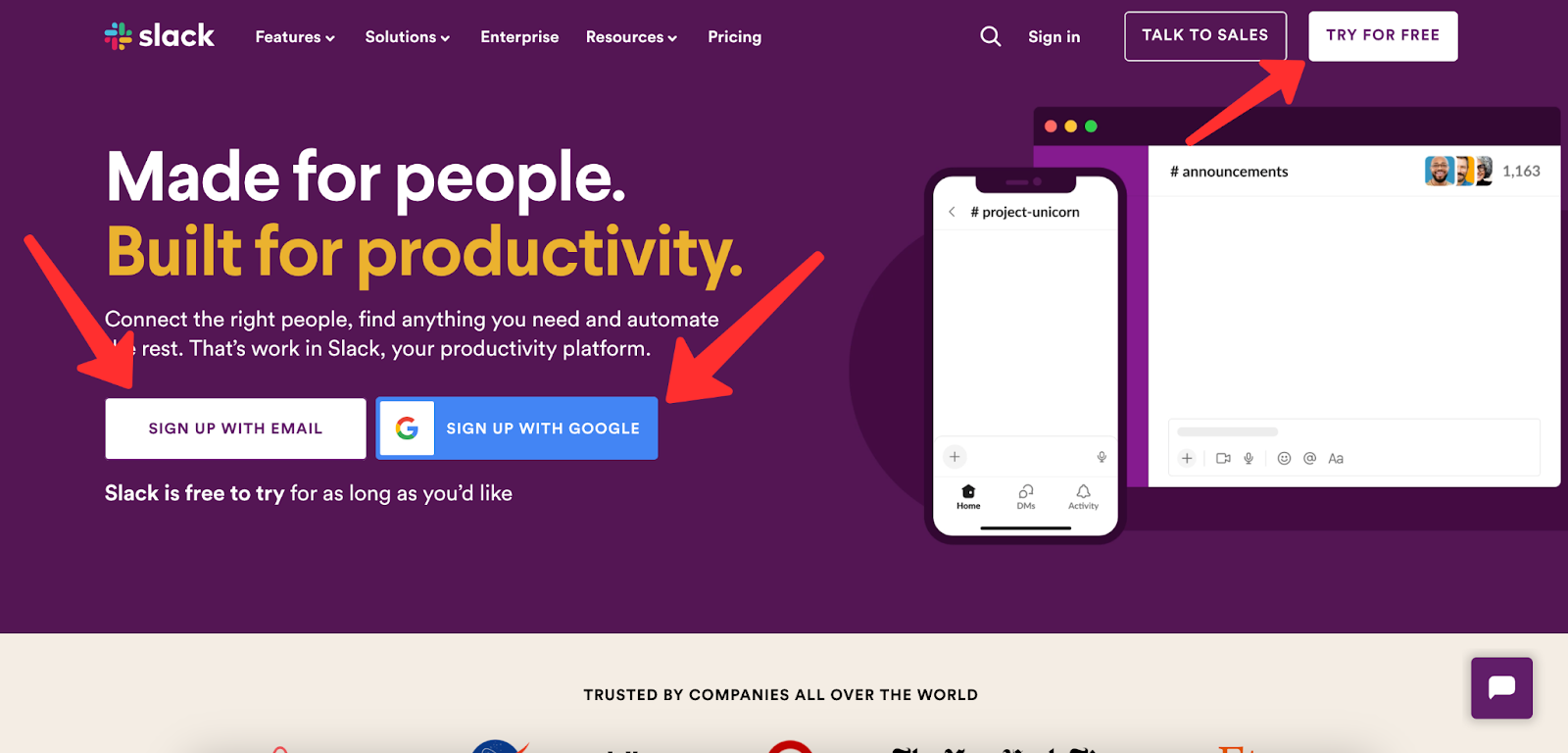 The emphasis on a free version of the product, specifically saying "Slack is free to try for as long as you'd like" is a staple of an effective PLG strategy.
And this is something that Slack infuses into the customer journey right out of the gate.
Besides that, they supply potential users with resources to understand what they can do with Slack and the benefits of product usage.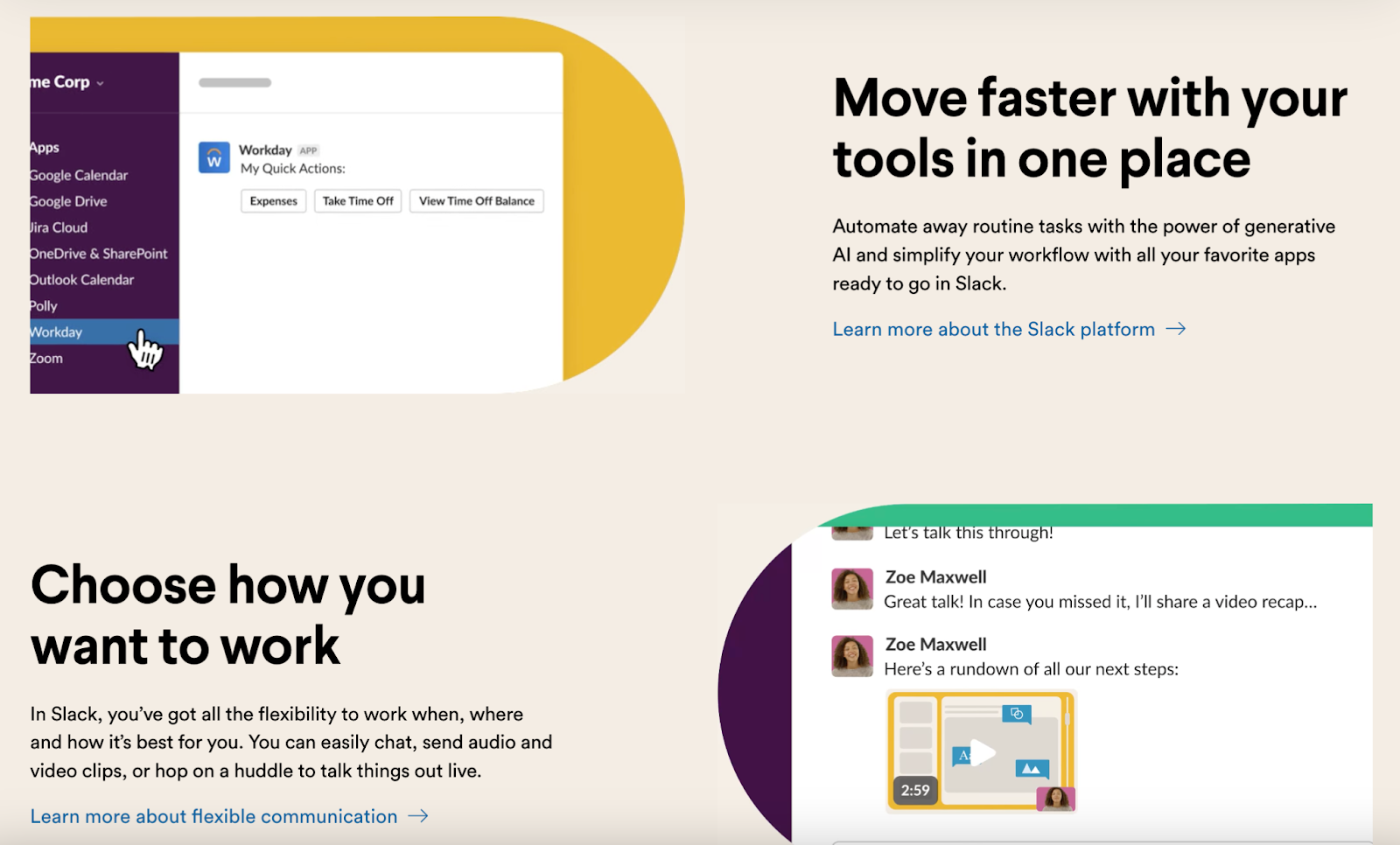 So with zero human intervention, leads can see how Slack supports customer needs and allows them to try out the free version with no unnecessary friction points.
And for the leads that want to see how the free version stacks up against the paid options, they can simply click here.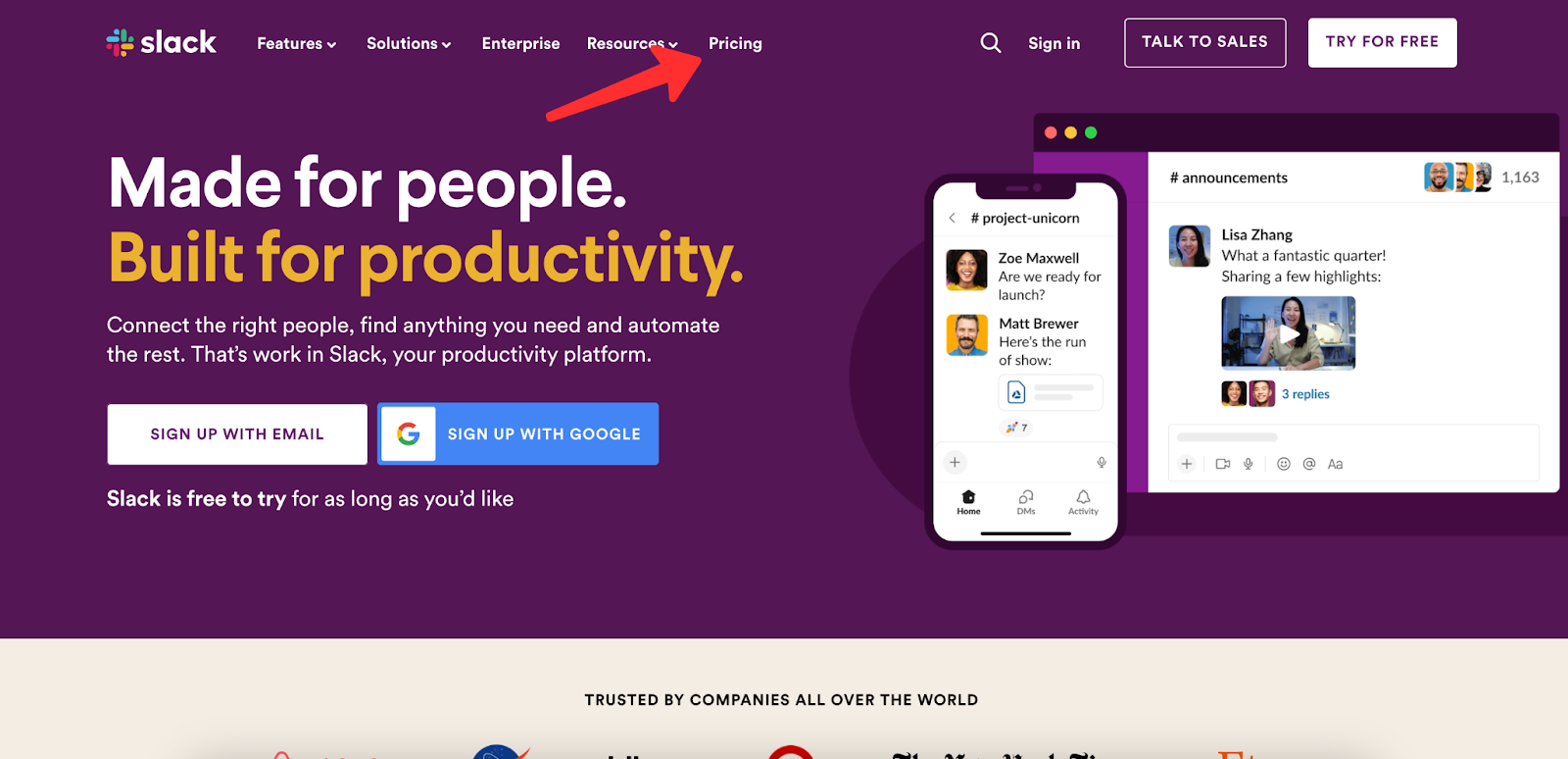 Then they get a full overview.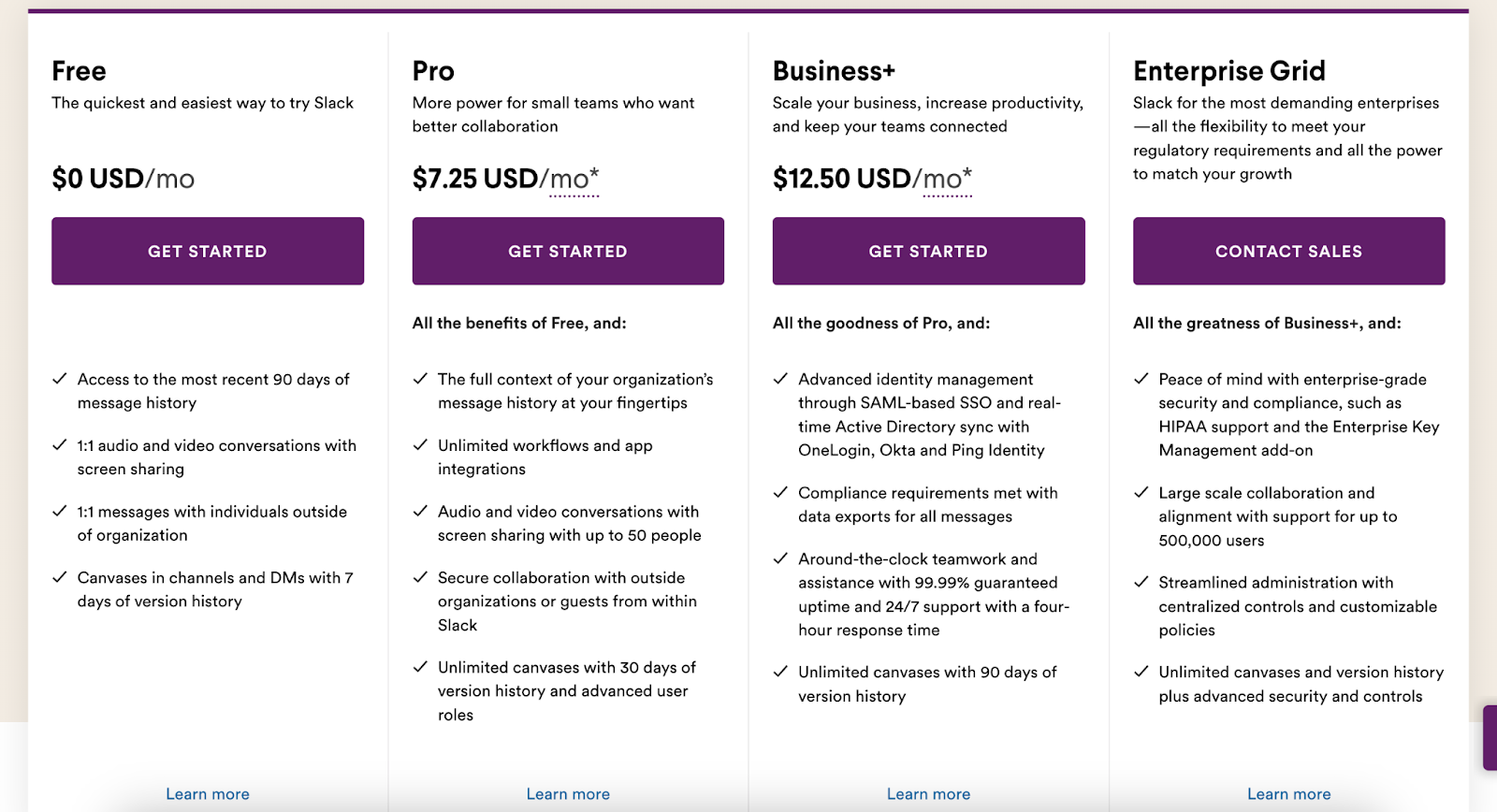 And as Slack continuously monitors user behavior with product analytics, they're able to zero in on each product led growth metric, keep refining their offerings, streamline product development, improve customer support, and lower their customer acquisition cost.
But "knocking down the first domino" mainly involves an effective PLG strategy.
Survey Monkey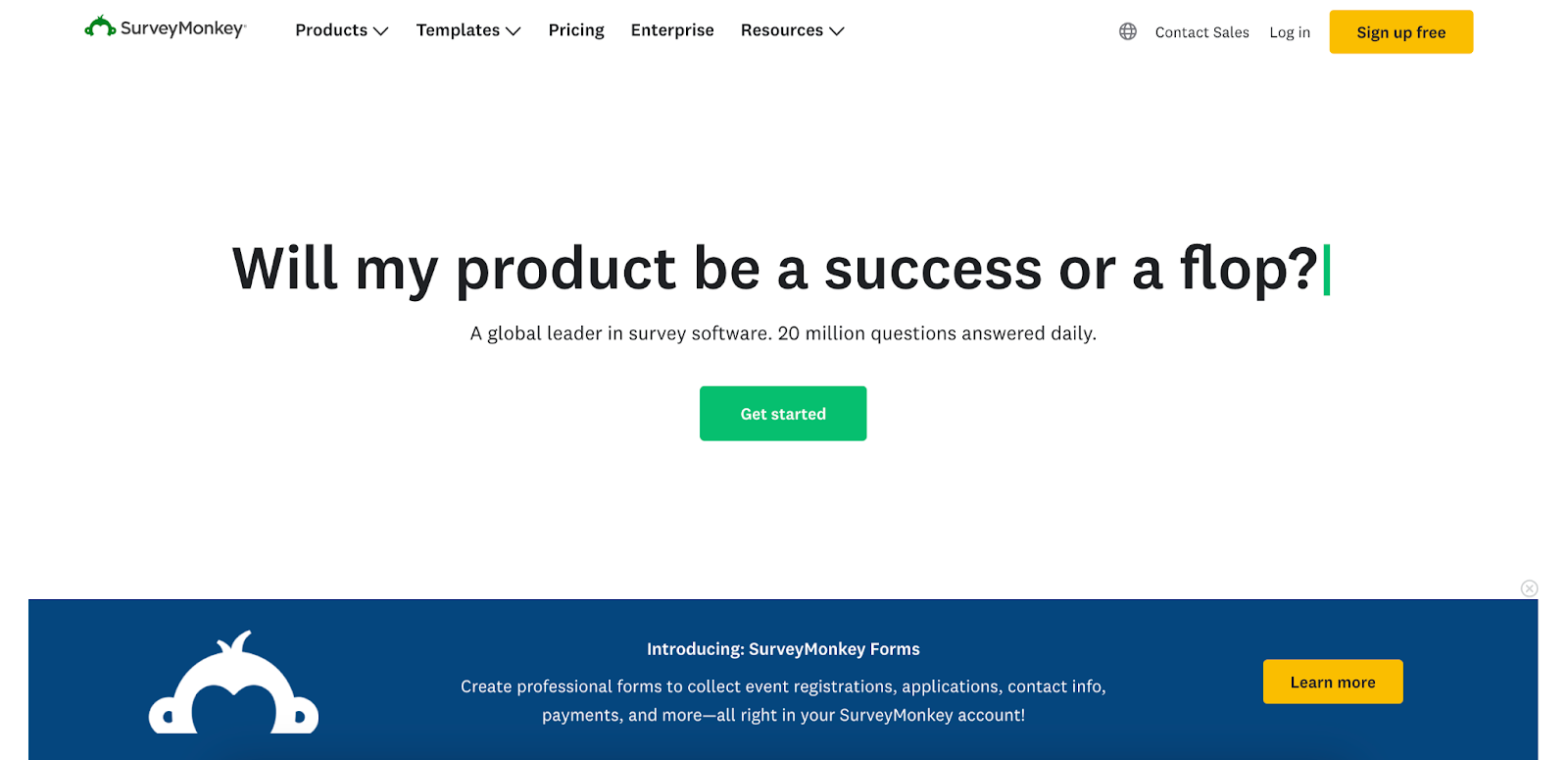 Source: SurveyMonkey
A big reason why product led growth companies are so successful is because they reduce the time-to-value down to minutes.
While sales led growth and marketing led growth can certainly be effective, they tend to take longer and require more actions for a lead to convert.
By eliminating many of the complexities of the sales process with a PLG strategy, product management can shrink the time-to-value down to where a customer can sign up for a product, start using it, and almost immediately begin to get value.
Case in point, SurveyMonkey.
As soon as a lead lands on their website, they can instantly sign up for free through the "Sign up free" or "Get started" CTAs.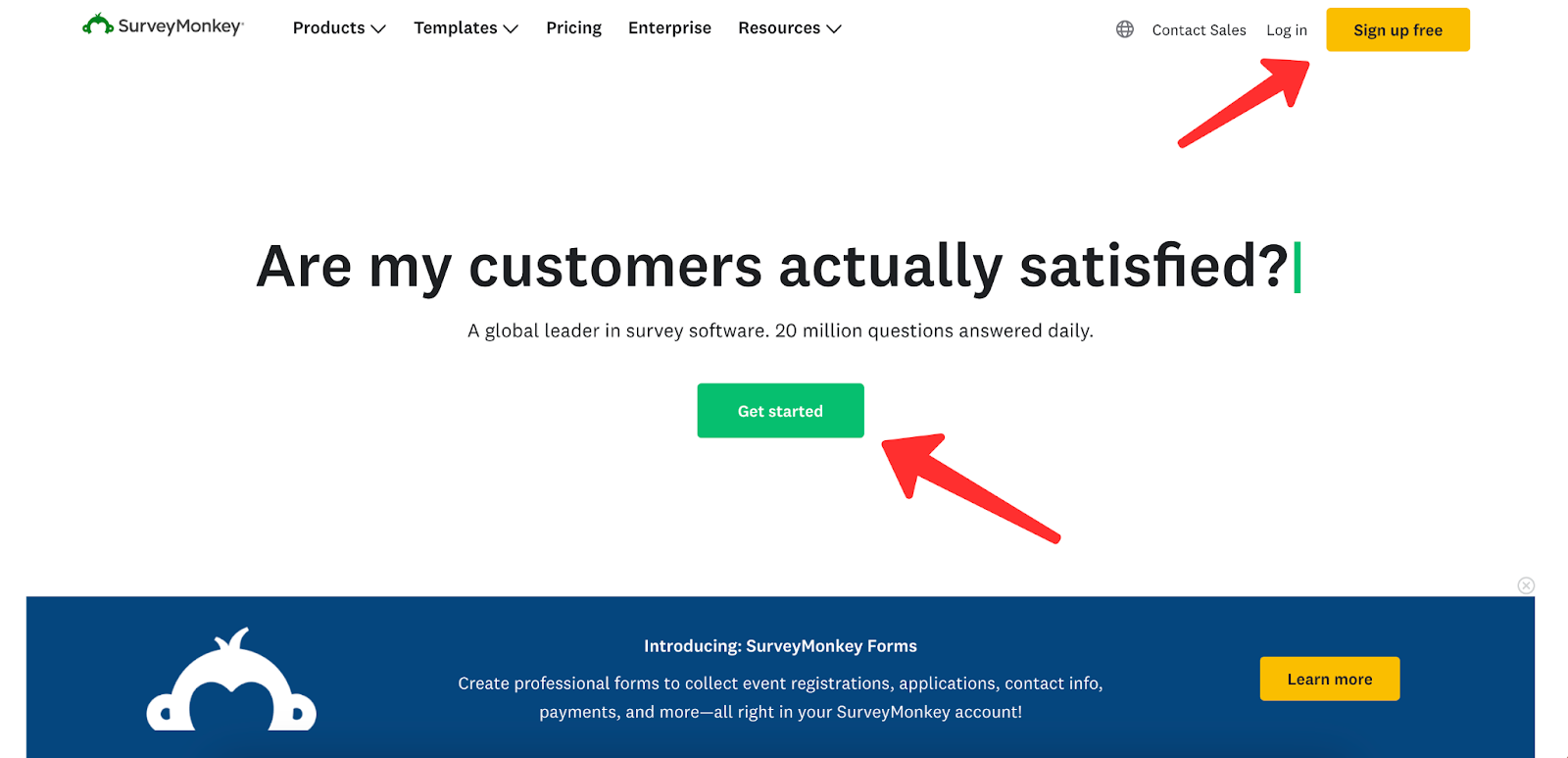 Or, if they'd like to get an introduction and see SurveyMonkey in action, they can click the "Learn more" CTA.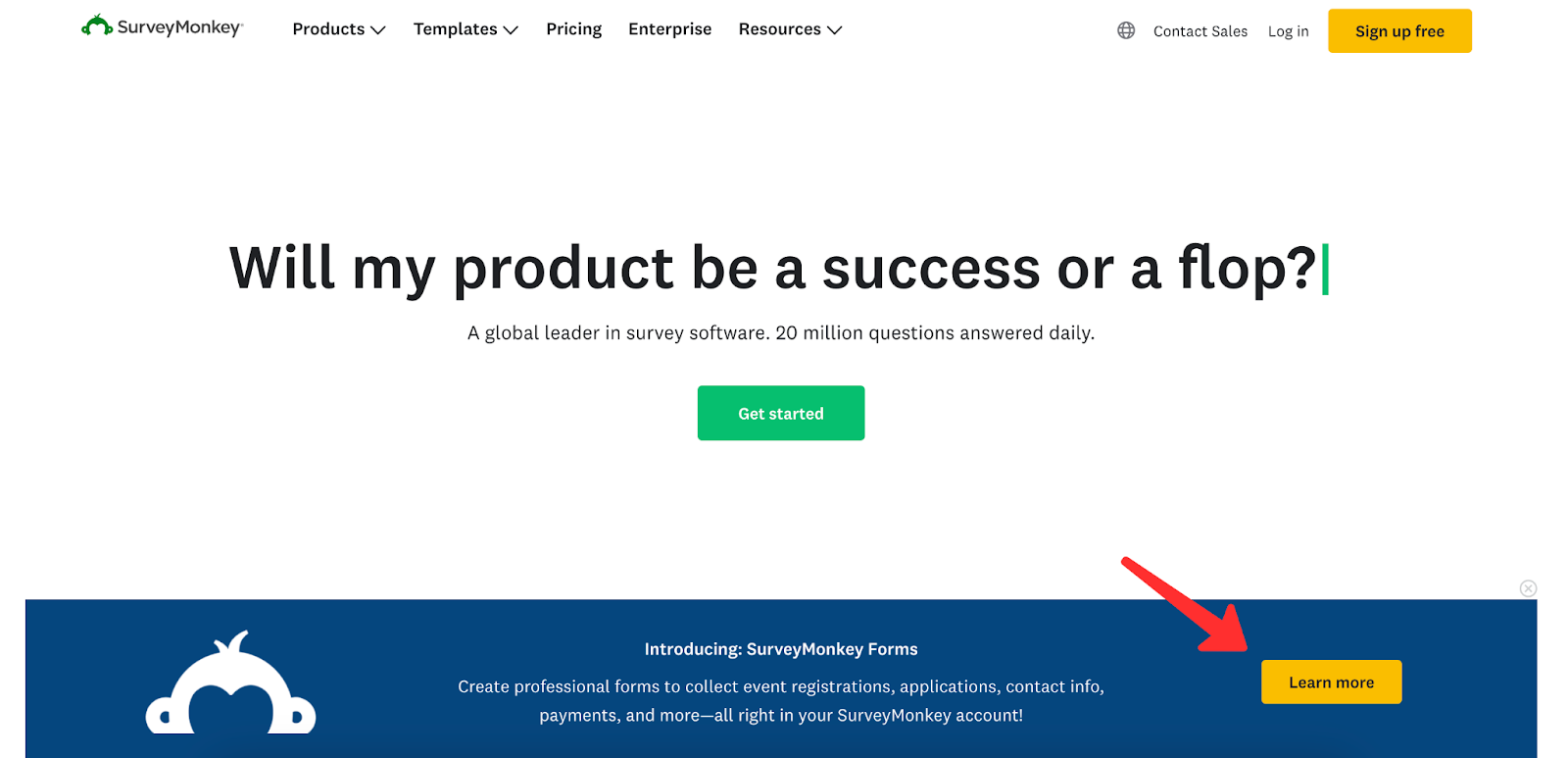 Further, a quick scroll down the homepage provides additional information and shows off SurveyMonkey's customer acquisition credentials.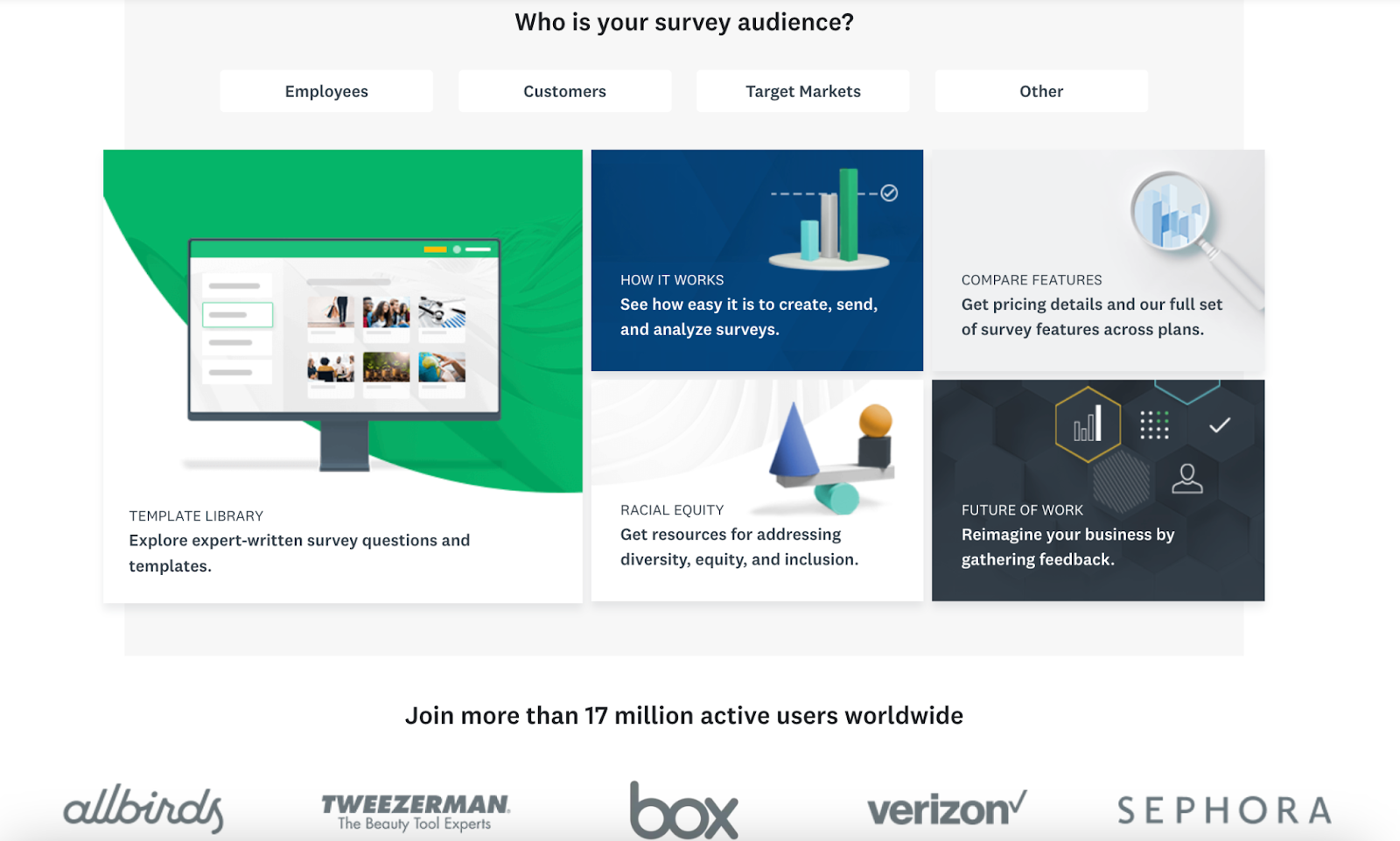 There's also information on pricing with the features customers get with the free version versus paid options.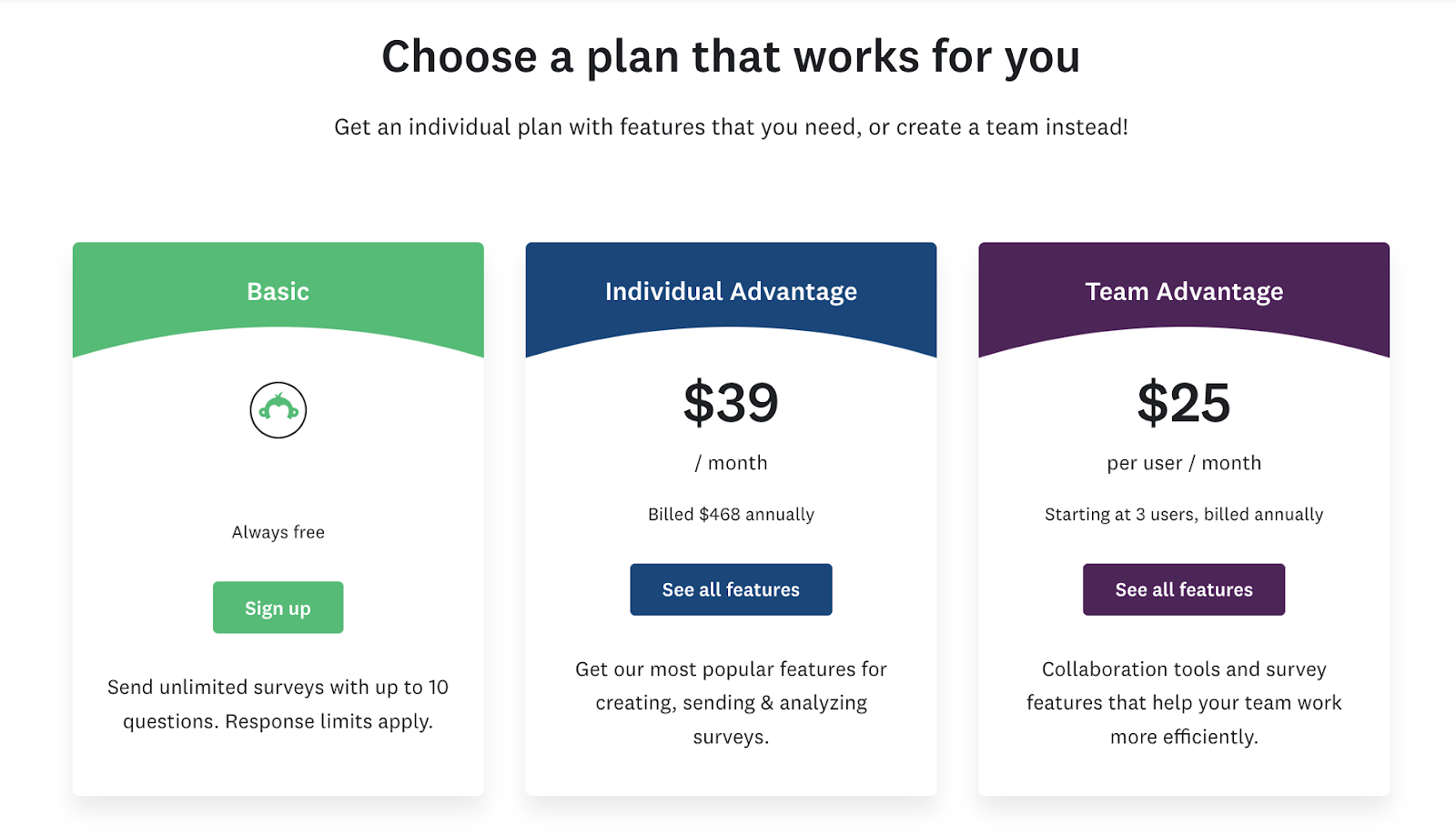 And to tie it all together, SurveyMonkey lets leads try out sample survey templates for full user engagement immersion that's completely self-serve.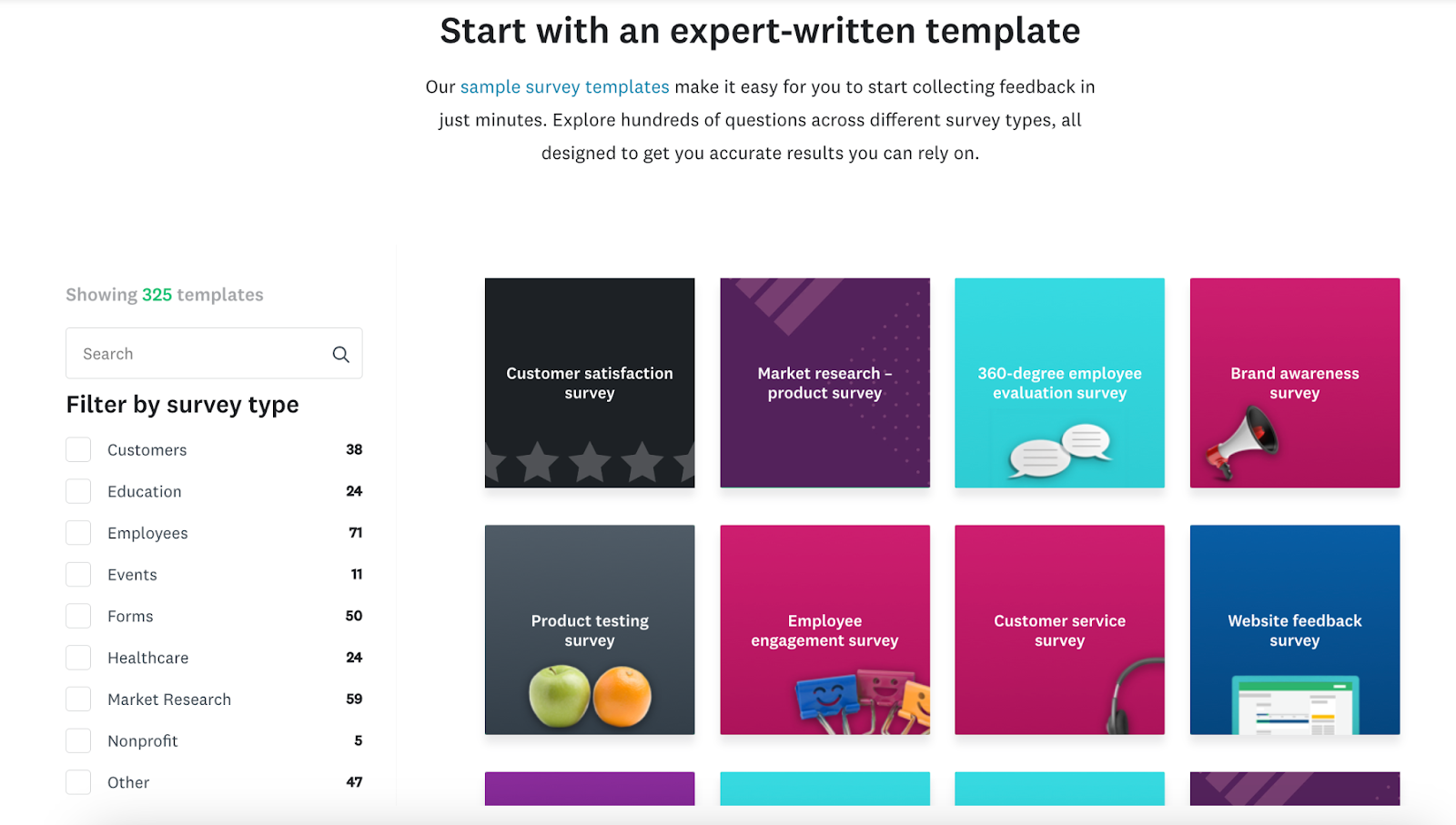 Zendesk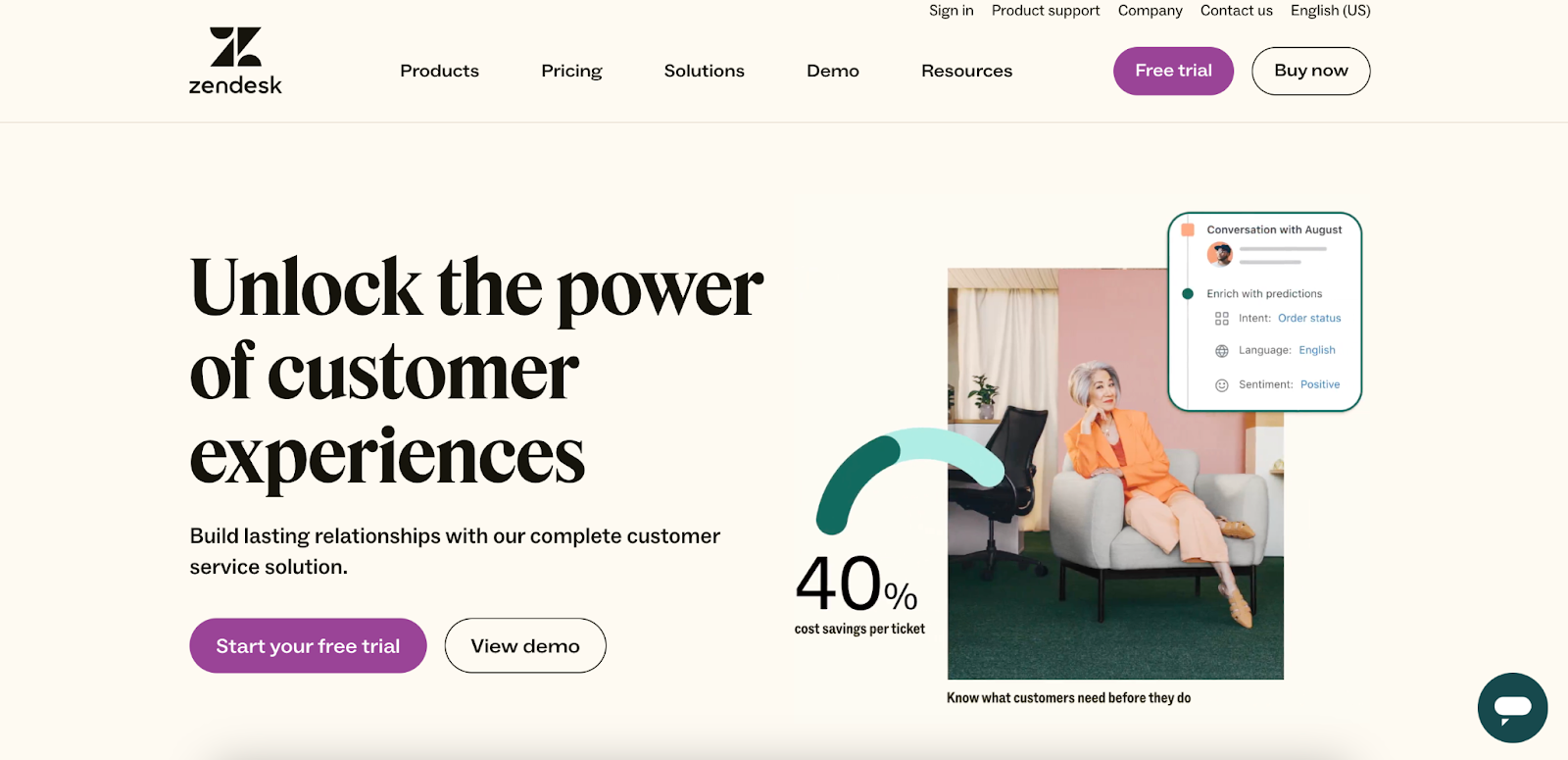 Source: Zendesk
Again, the key to a winning PLG strategy is to let users sign up and begin using a product with little to no salesperson intervention.
And it's hard to pull that off much more flawlessly than how Zendesk does here.
In fact, a few seconds after a visitor lands on their homepage, this popup appears saying "Take Zendesk for a spin," which allows leads to conveniently see a self-guided demo.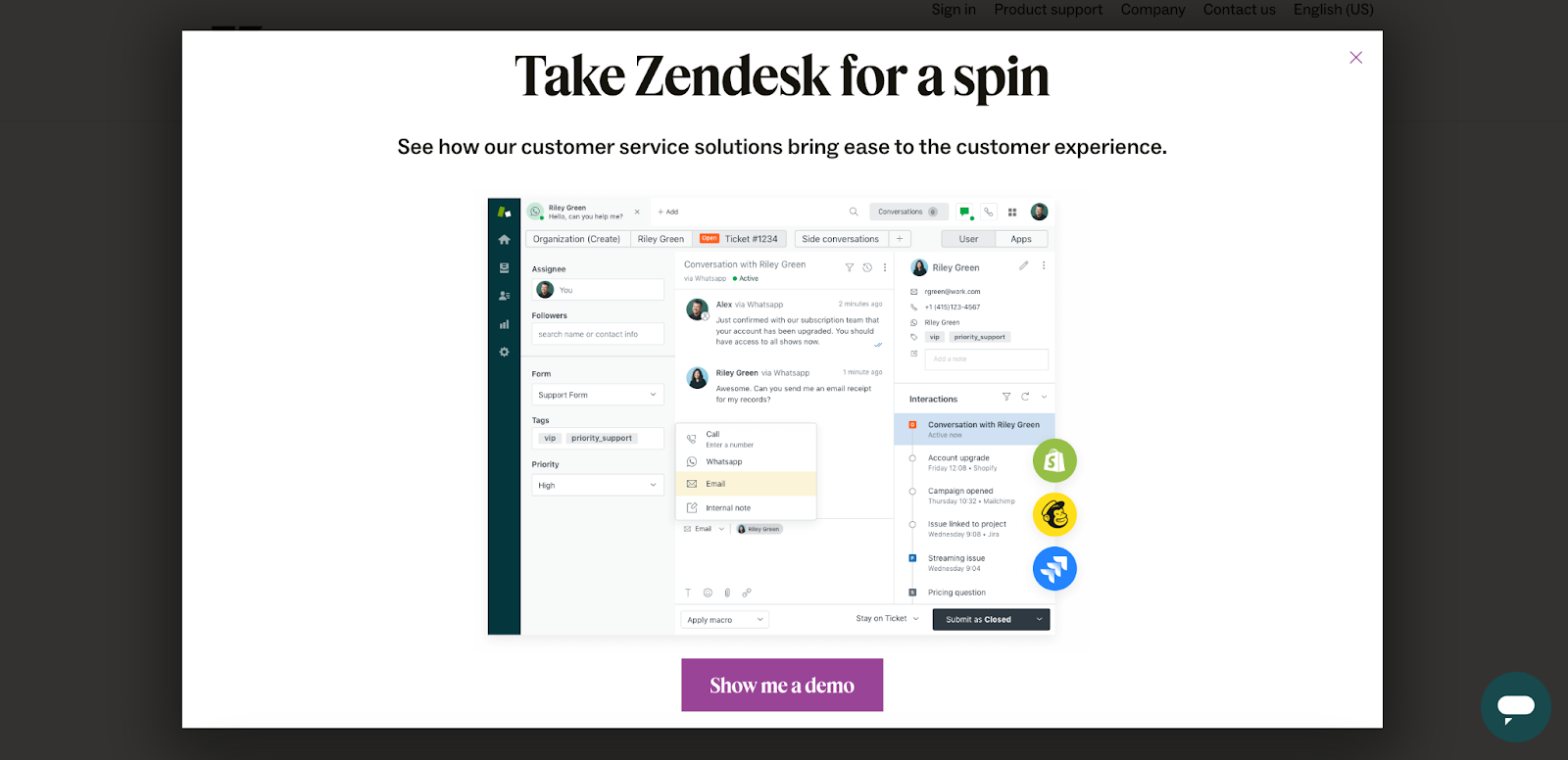 Or, if someone clicks out of the popup, they can still view the demo by clicking here.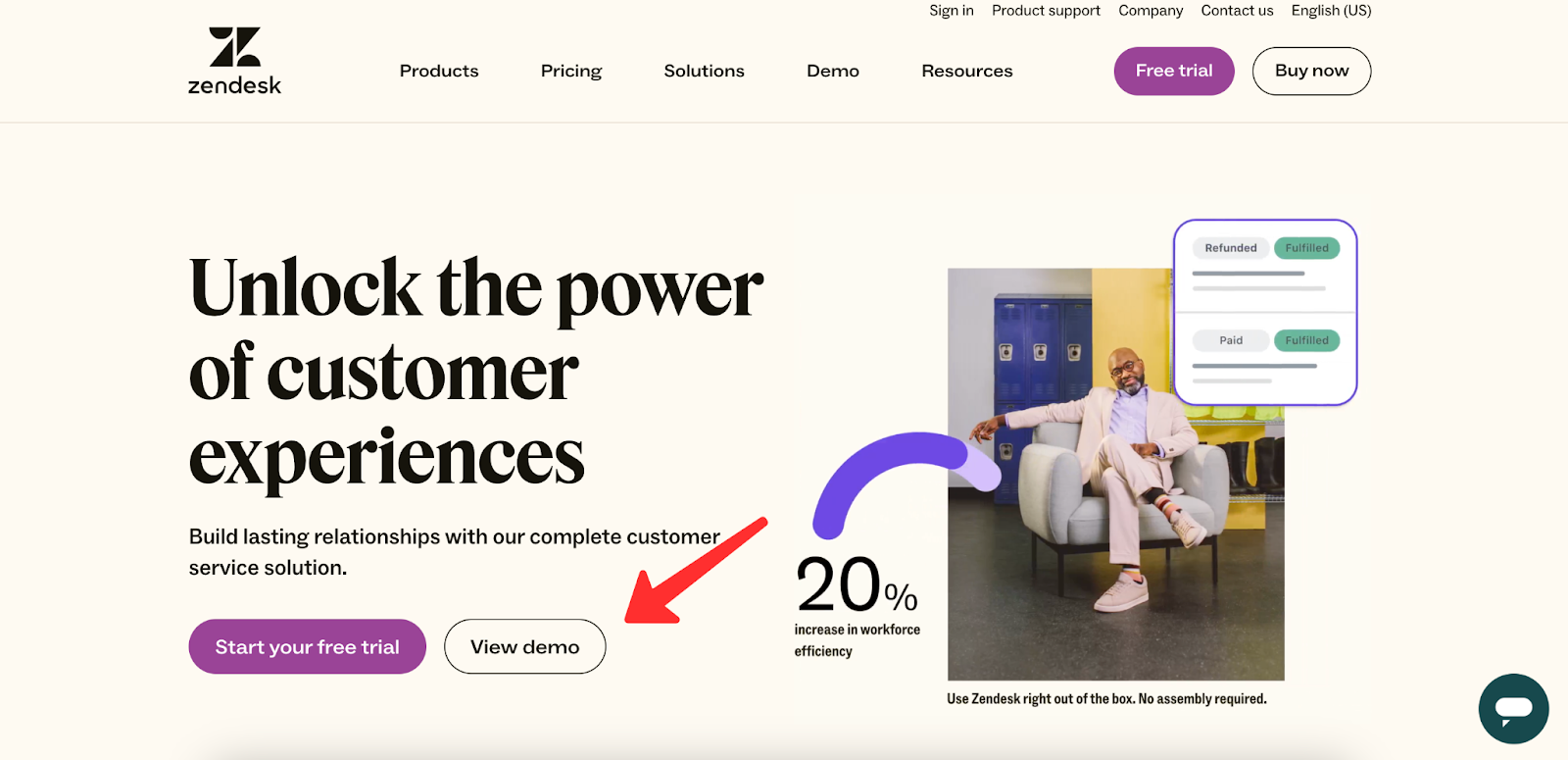 Beyond that, a visitor can conveniently take a product tour and choose the specific way they'll be using Zendesk, including for consumers, businesses, or employees.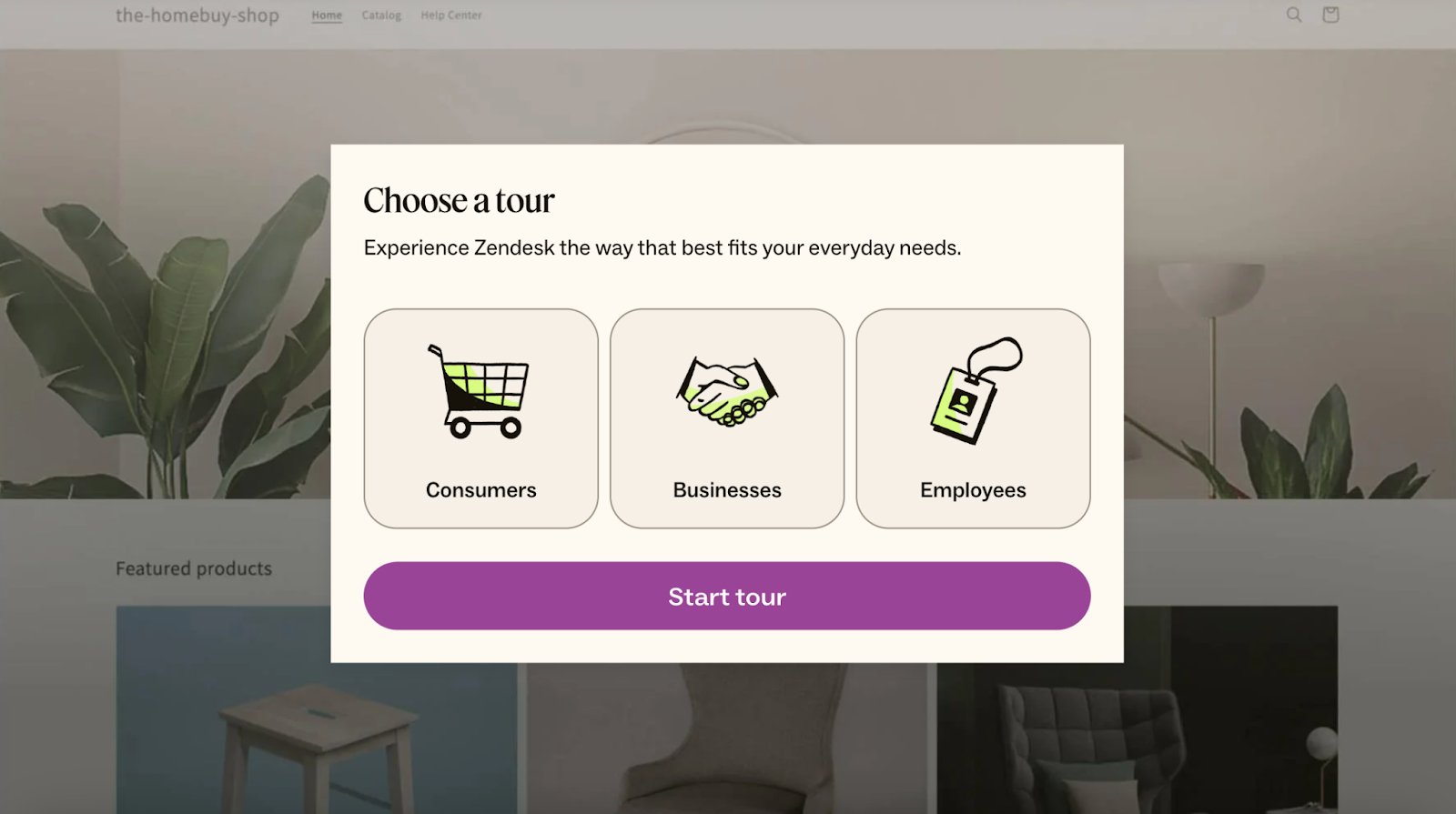 Once they're ready to try the platform, they can find a CTA for doing so at multiple conspicuous locations throughout the website.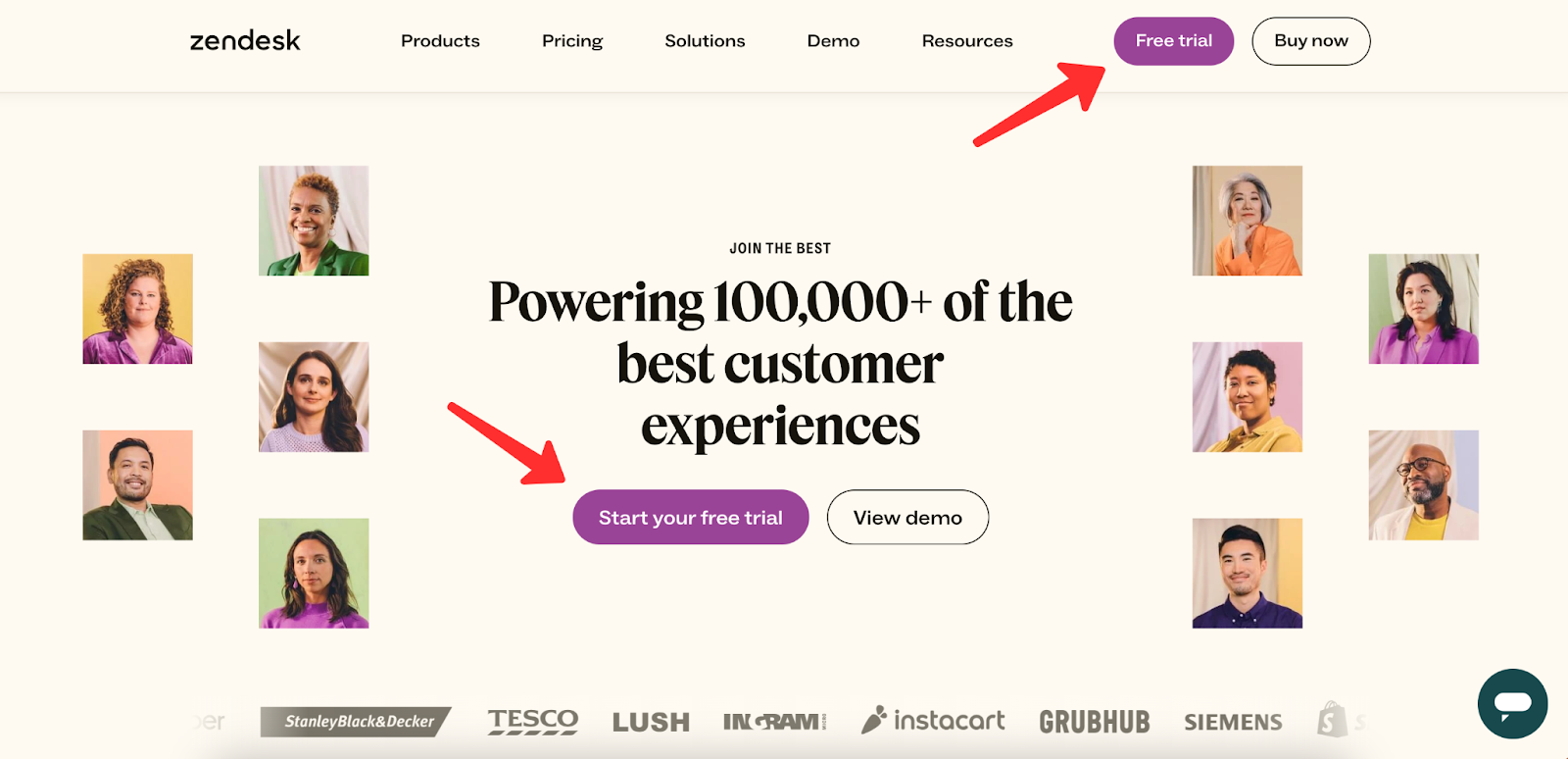 When it comes to encouraging users to try a free version of a product before committing to a paid plan and making it ridiculously easy to do so, Zendesk is one of the best in the business.
Canva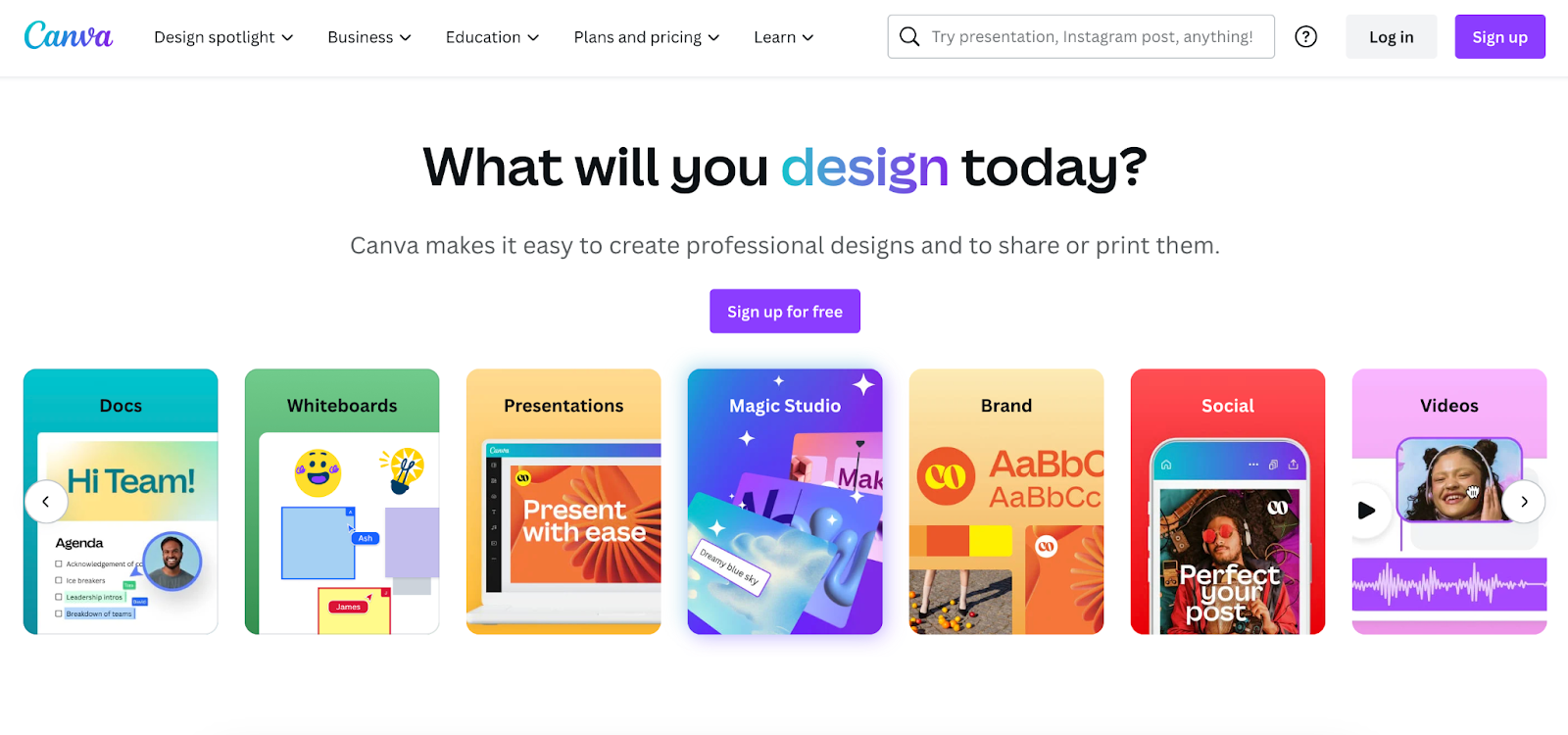 Source: Canva
In a previous post, we wrote about having a product-first company, where we mentioned that simply getting people to use a product is half the battle.
Even if it's a free version, as long as you provide genuine value, the product will usually sell itself.
That's a huge part of an excellent product experience, customer satisfaction, rapid growth, customer retention, and more. All of the elements needed for long-term success and revenue growth.
One company that really stands out in this aspect of product led growth is Canva, which does an amazing job of letting customers seamlessly use numerous features for free, while subtly pushing for the paid option.
Say, for example, someone is using Canva to make a video.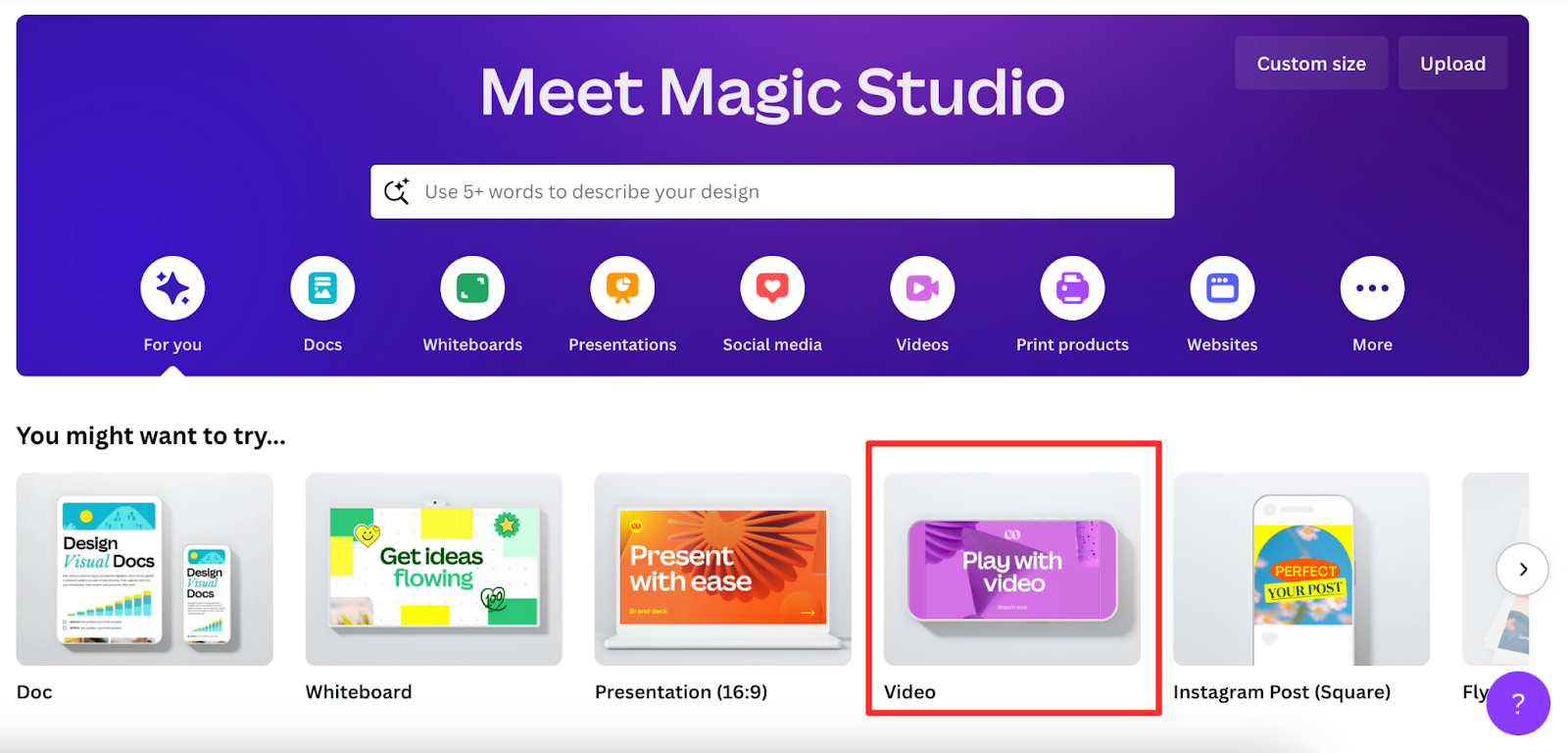 They can access many features for free, but if they want a higher-end element like a professional video template, they can buy it through the Pro plan.
So if they liked this template, they would click on it…
…and be prompted to try Canva Pro free for 30 days.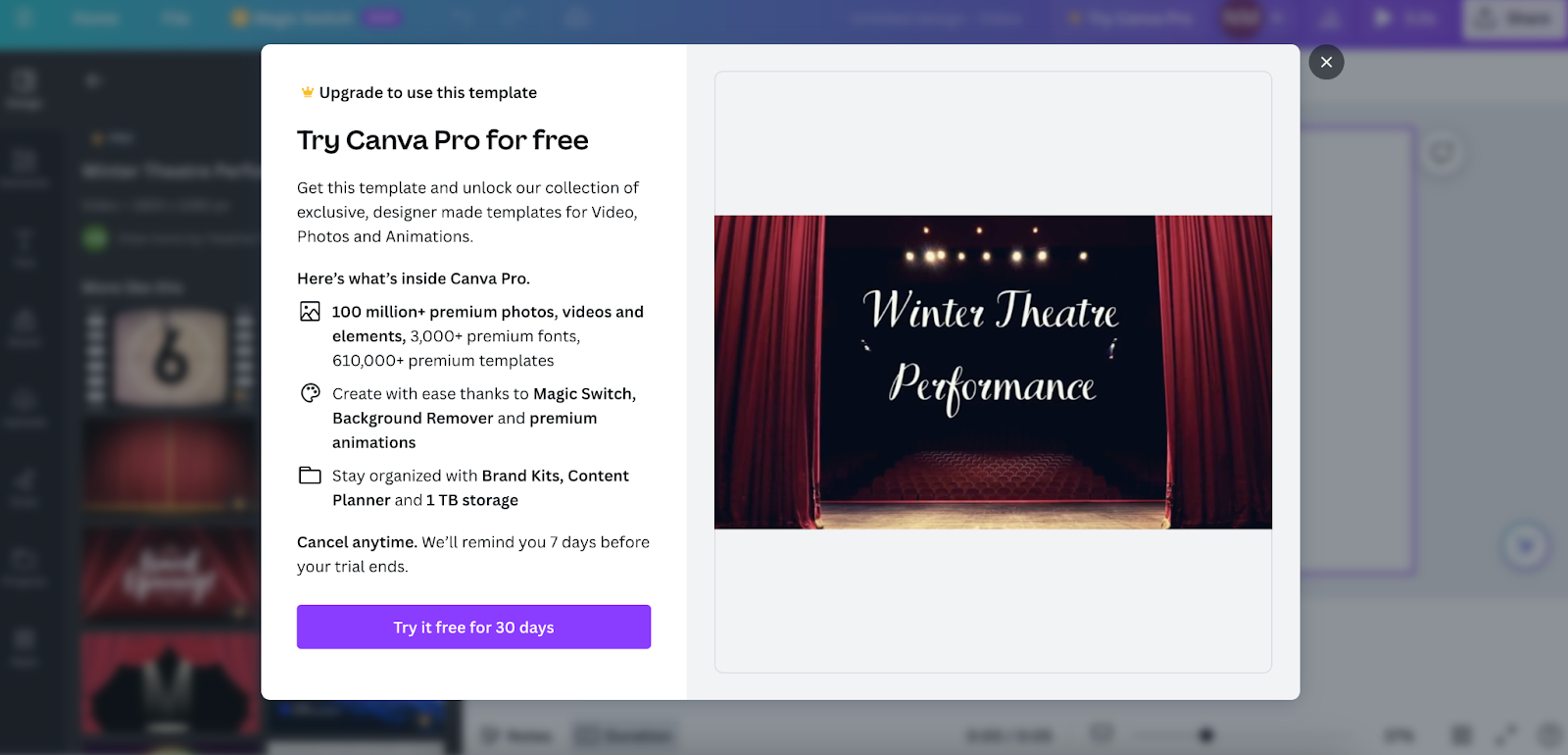 And, of course, for leads who are just considering using Canva, the product manager makes it super easy to sign up for free here.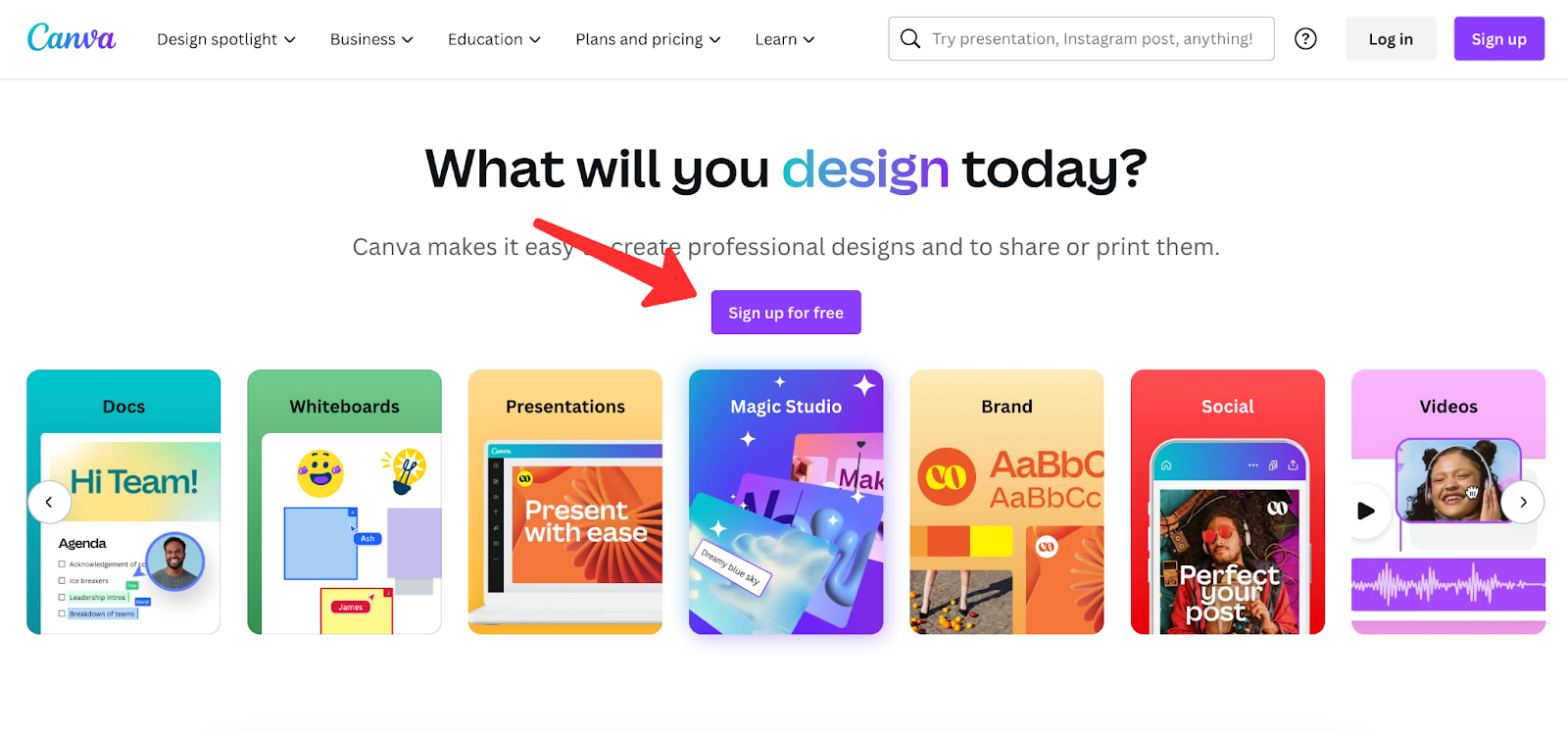 So you can see why Canva has such a quality user experience and a high customer success rate.
Ahrefs
Another brand that excels at getting people to use their product to show its value and ultimately set the stage for a conversion is SEO tool Ahrefs.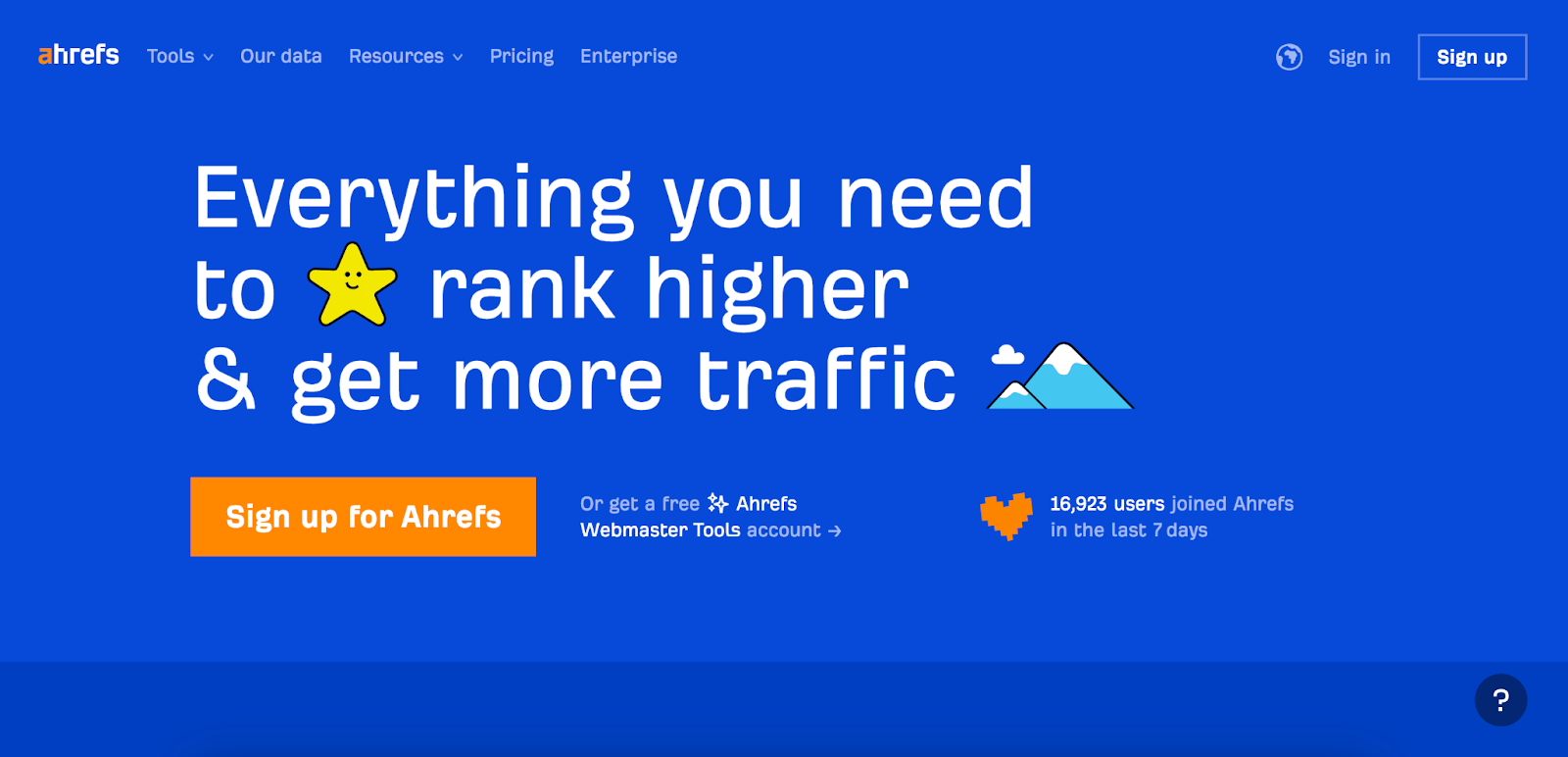 Source: Ahrefs
They follow all the fundamentals a PLG company should, such as offering a free version of their product, providing a seamless self-guided tutorial, and helping prospects fully understand the benefits of using Ahrefs.
But one particular area where product management succeeds is "baking" free tool usage directly into the user experience and overall customer journey.
It starts before leads even arrive on the Ahrefs site in the search engine results.
Here they can instantly find the Backlink Checker, Free SEO Tools, and the Free Keyword Generator.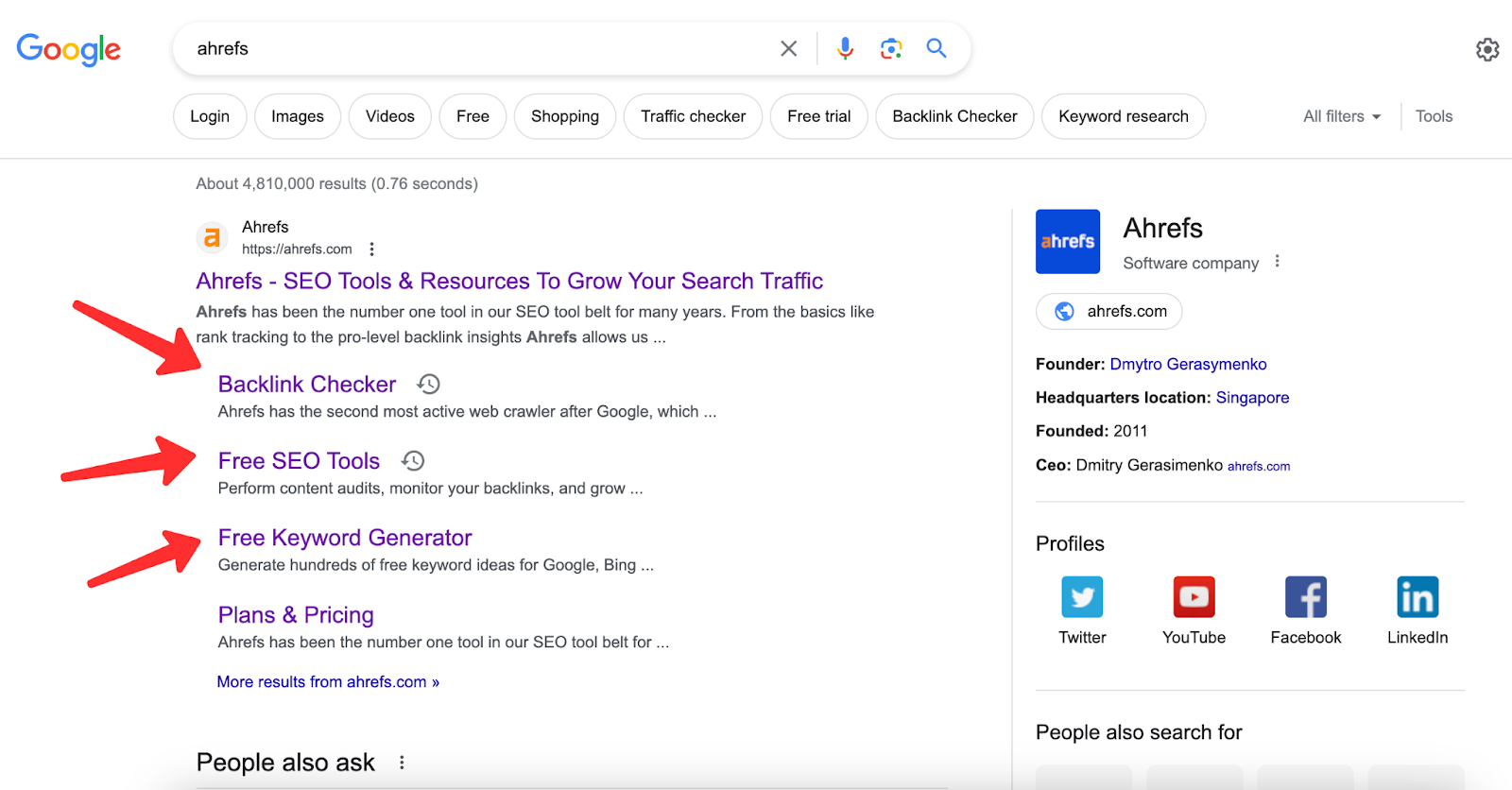 Let's say someone wanted to get some keyword ideas for blog content.
They could use the Free Keyword Generator to quickly grab some topics, as well as determine keyword difficulty, search volume, and more.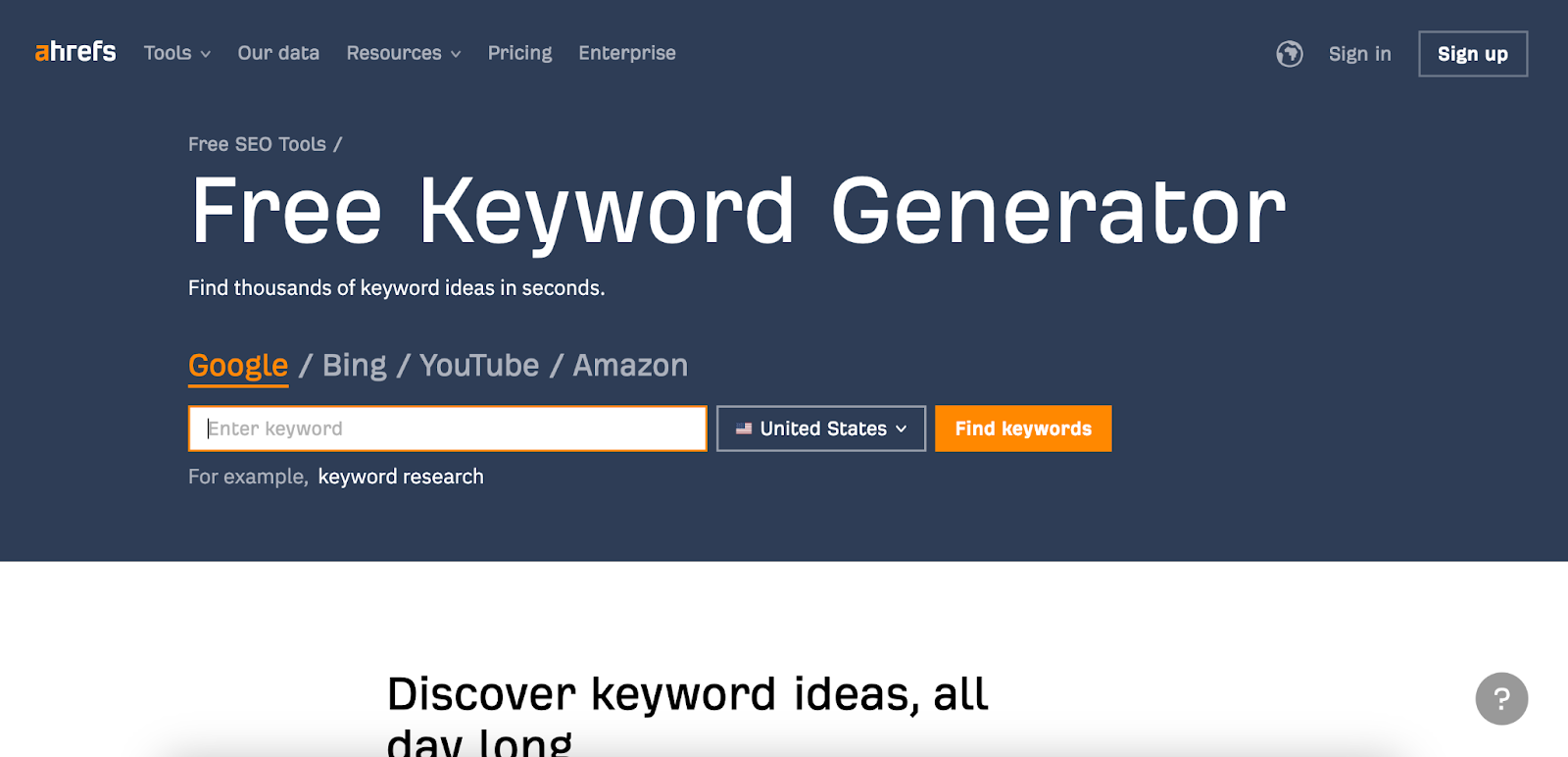 Here's what pops up for "product led growth."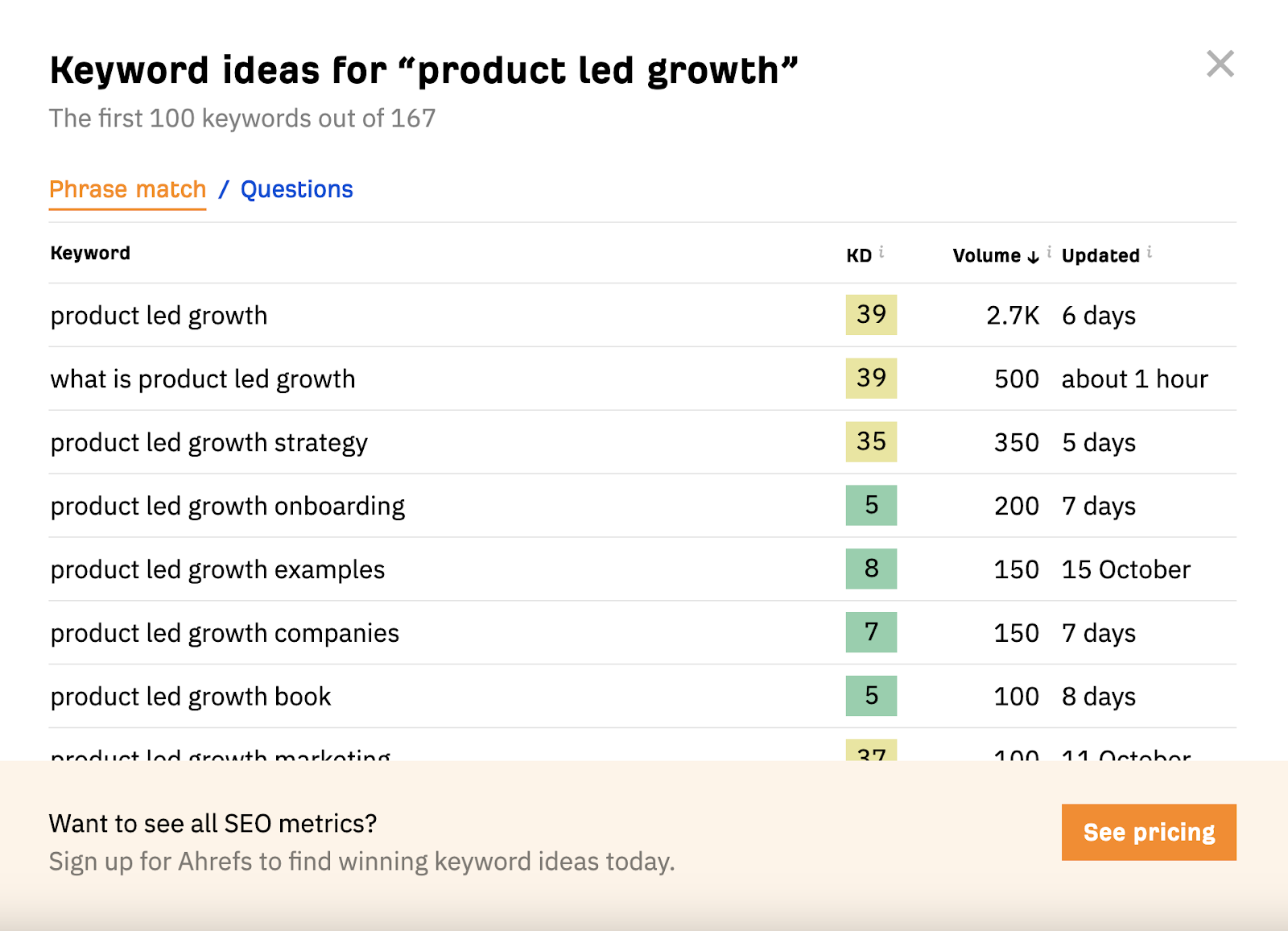 This is one of the most seamless examples of weaving product usage into the customer journey — something that's contributed to Ahrefs being a top product led company.
In fact, you can think of them as a product led growth company that essentially uses the product itself as a marketing tactic.
And they have the perfect formula for progressing users through the product led growth flywheel, as illustrated here. ​​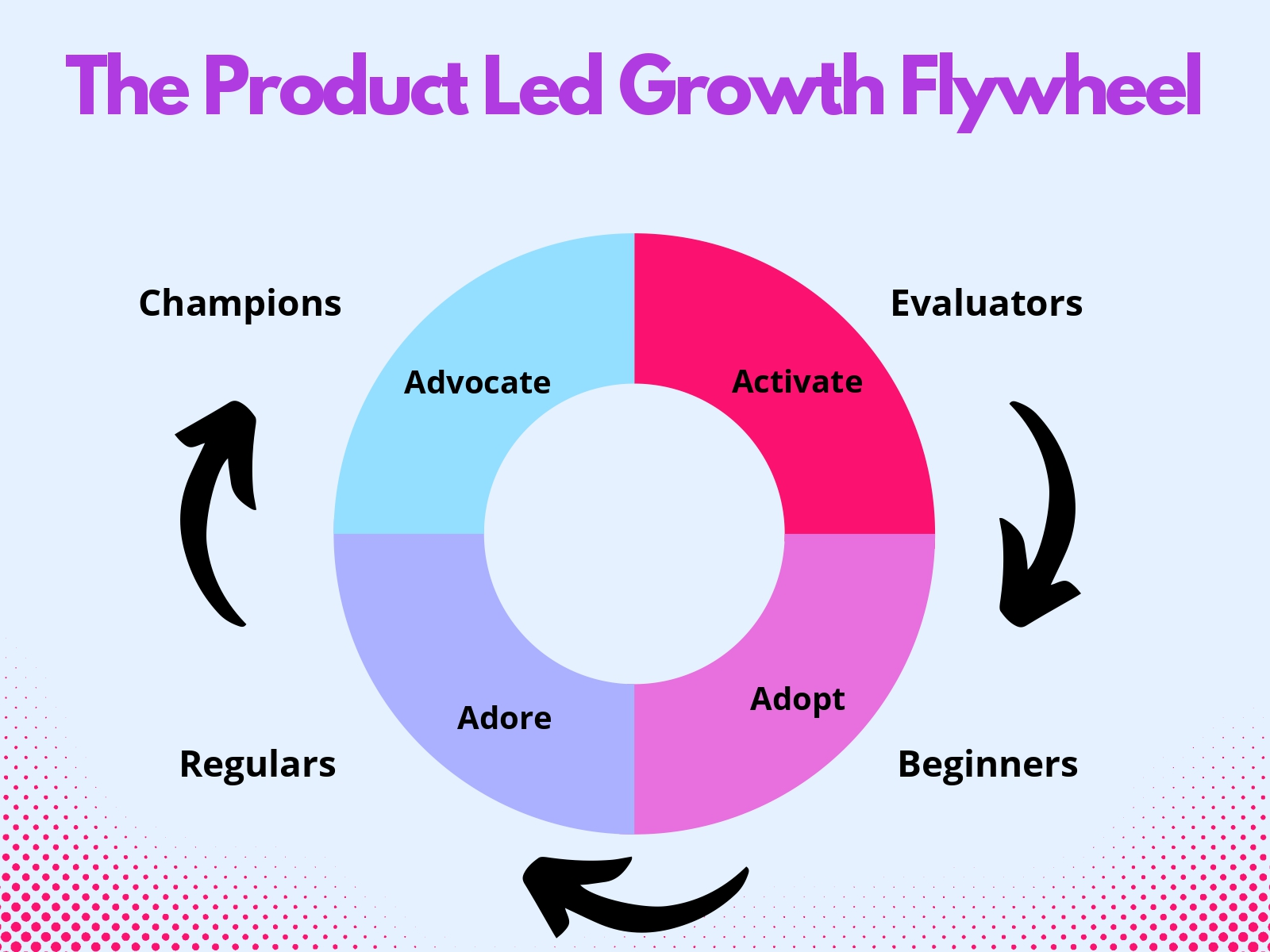 Source: Toplyne
Shopify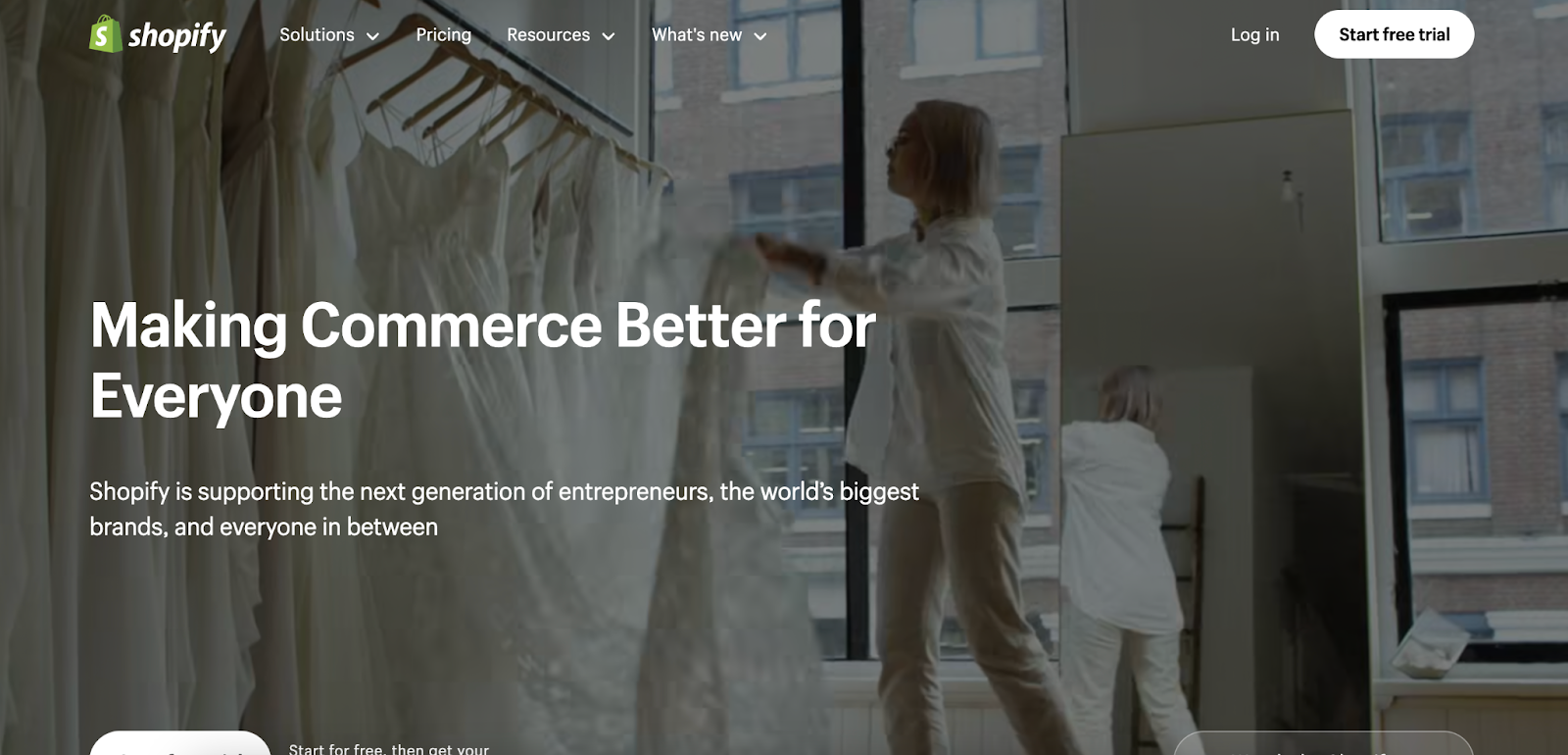 Source: Shopify
Again, offering a free trial version with easy sign-up is good and a staple of product led growth.
But an even better way to demonstrate product value and get more people on board is to encourage them to use free features without having to sign up whatsoever.
This is something Ahrefs does well. And the same is true for Shopify's product management team.
Just look at the free tools they offer without requiring visitors to fork over even as much as an email address.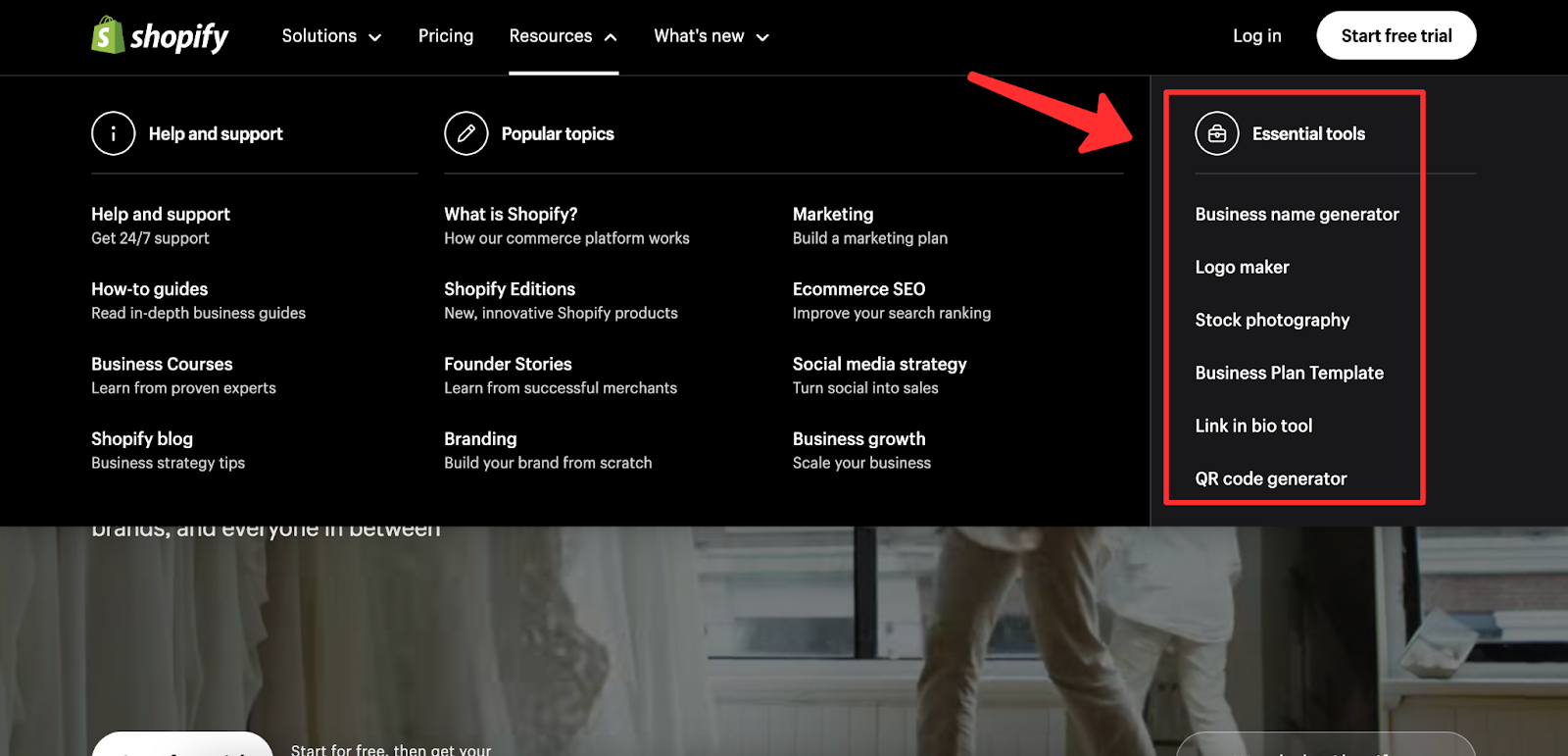 Take Shopify's Business name generator, for instance.
All someone has to do is enter a bit of information about their business…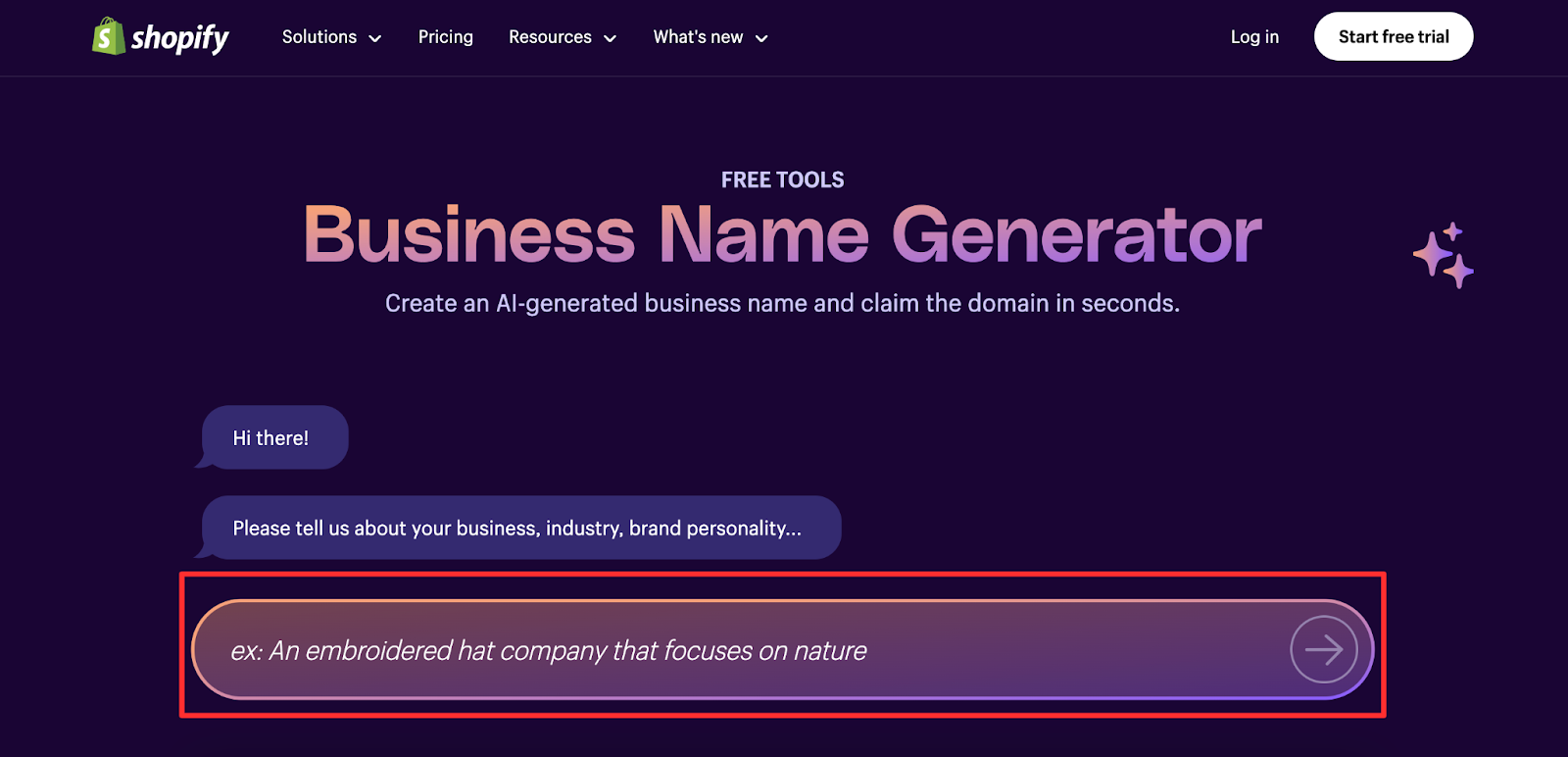 …and in seconds, Shopify gives them numerous great ideas.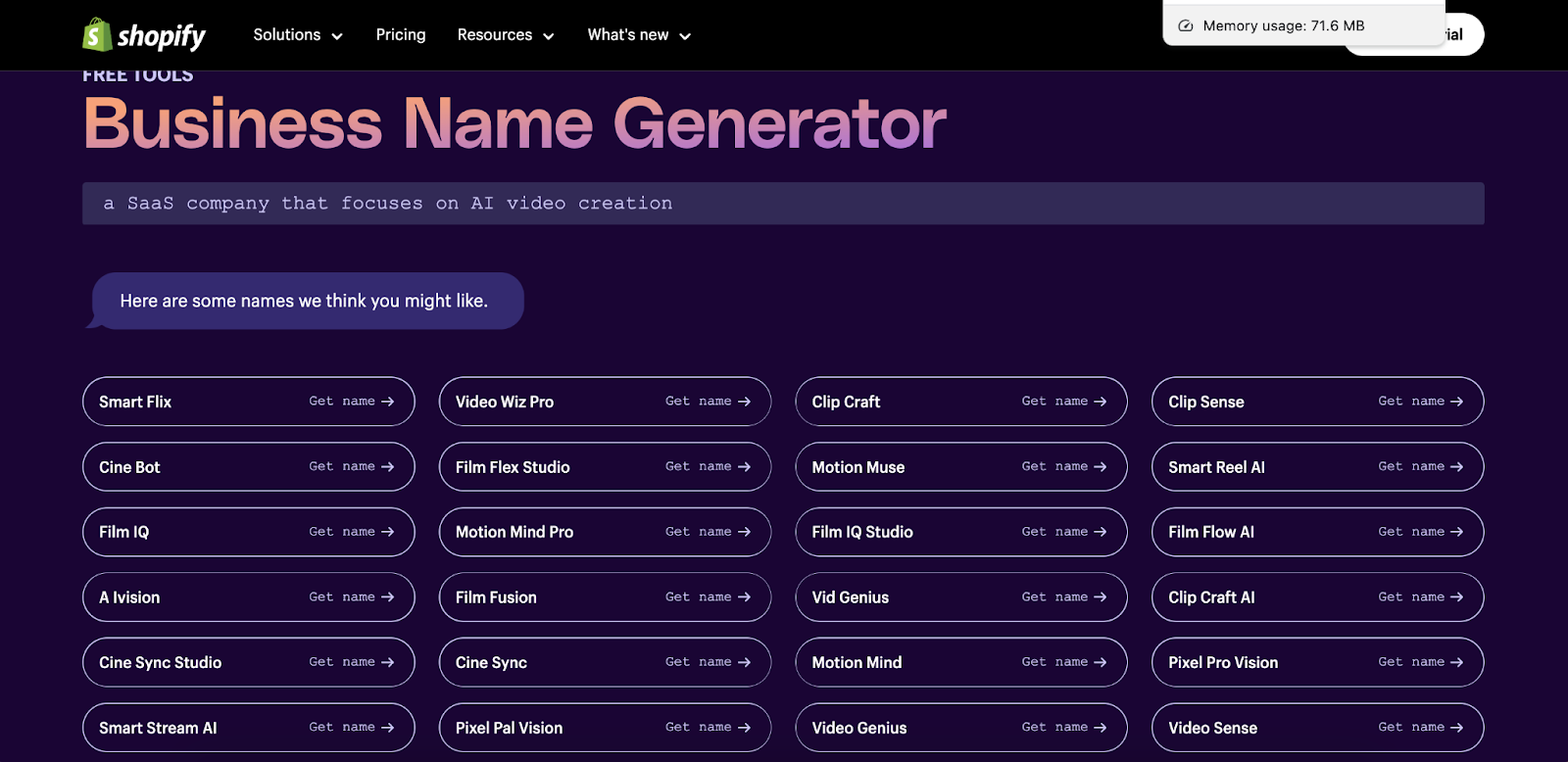 After getting comfortable with Shopify and seeing the positive user experience this platform delivers, many people will then sign up for the free version. And a portion of those users will eventually go on to become paid users.
But it's the initial free tools that allow Shopify to get their foot in the door.
Dropbox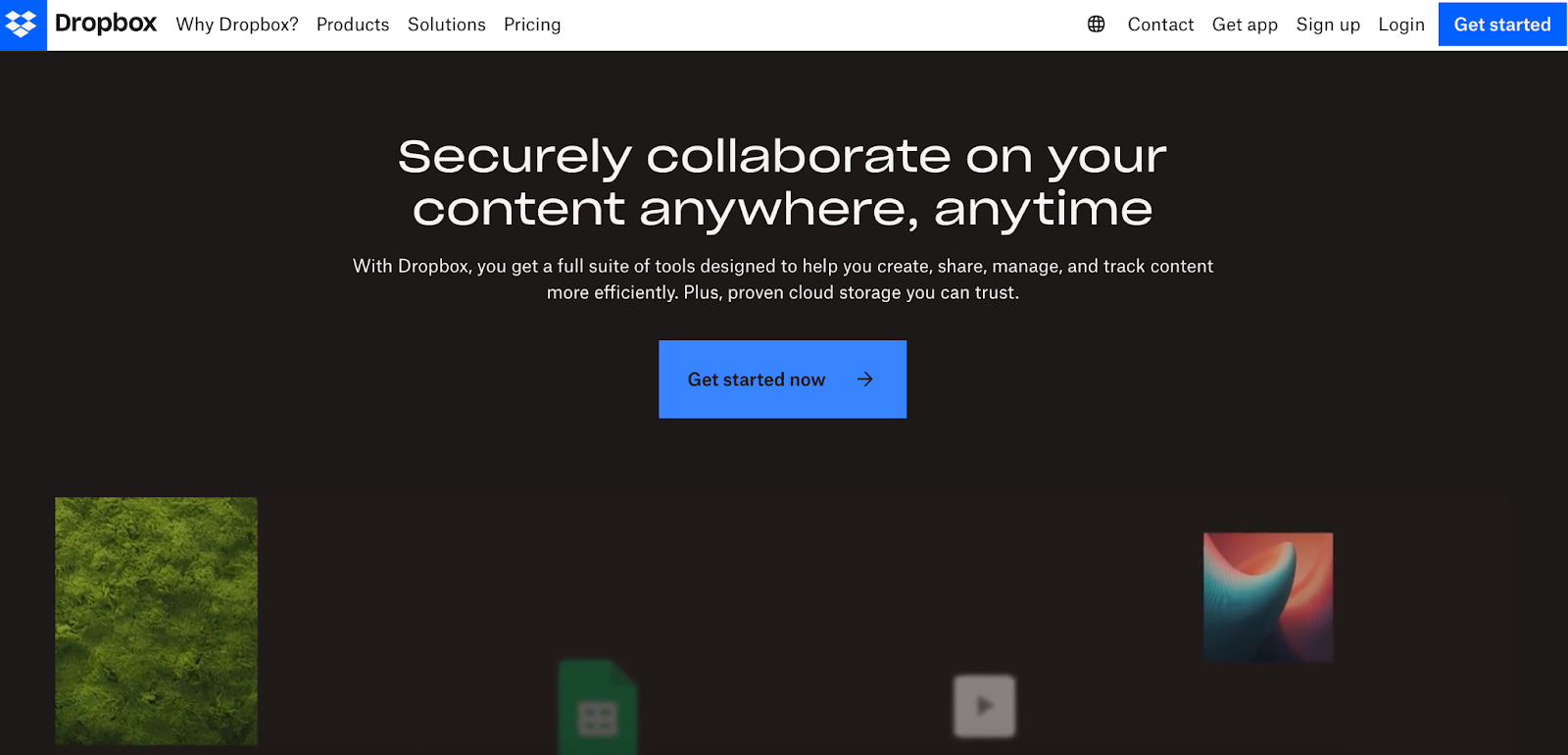 Source: Dropbox
Another aspect of being successful with this product strategy is making it simple for users to share a product with others who aren't currently users.
One of the best examples of this is Dropbox which makes it insanely easy for users to share folders, files, and documents with others, even if they're not Dropbox users.
All they have to do is select what they want to share and add the person's email address or name.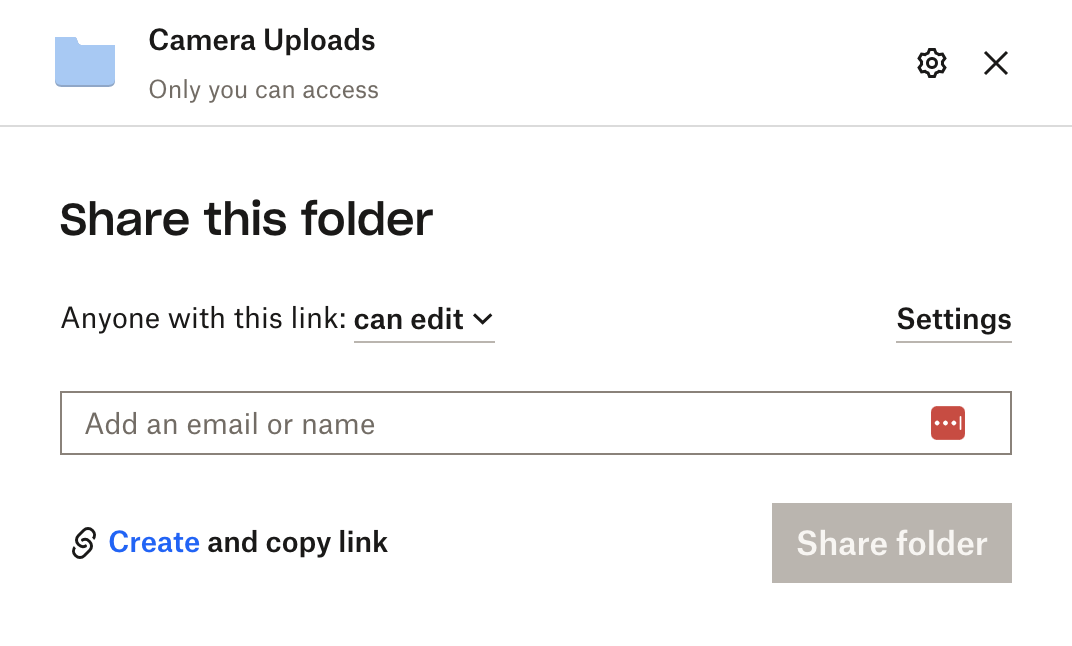 They can even add a note if they'd like. Then, voila!
They click on "Share folder," and just like that, a non-Dropbox user is now using the platform even without signing up for community led growth.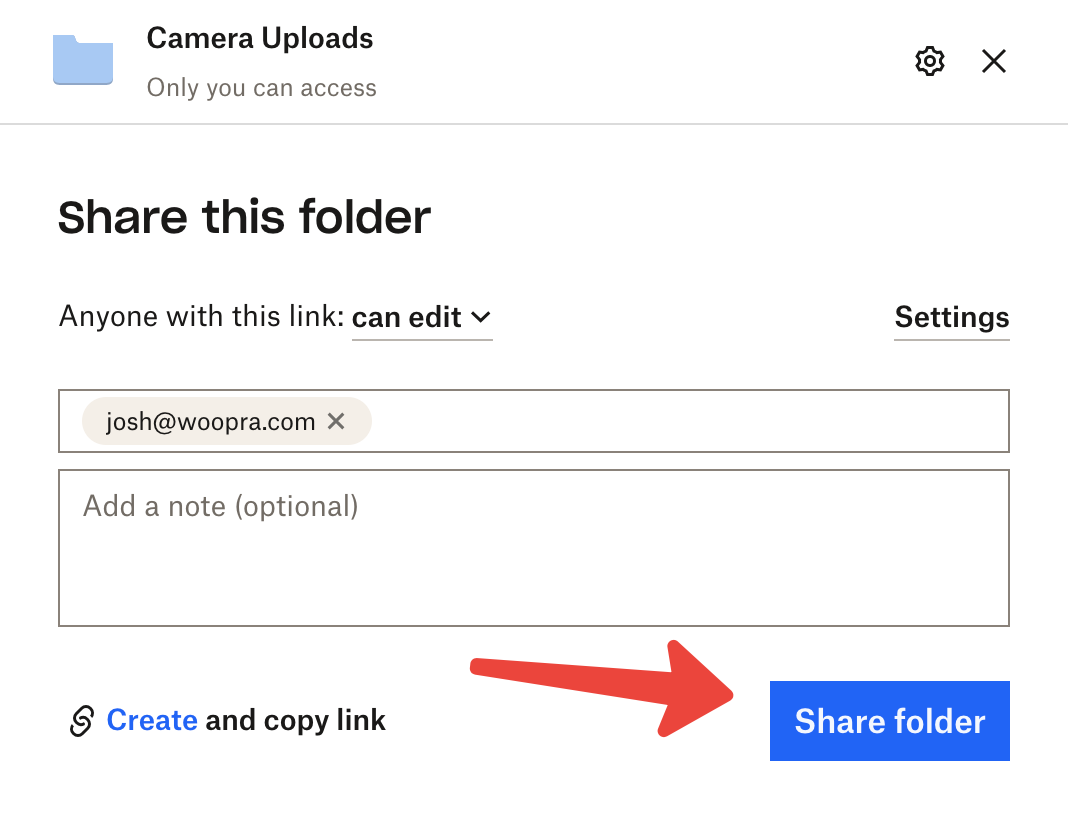 This is a referral program on steroids, and you can bet that a good chunk of people who check out Dropbox because a friend or colleague shared something with them will eventually become a user themselves.
HubSpot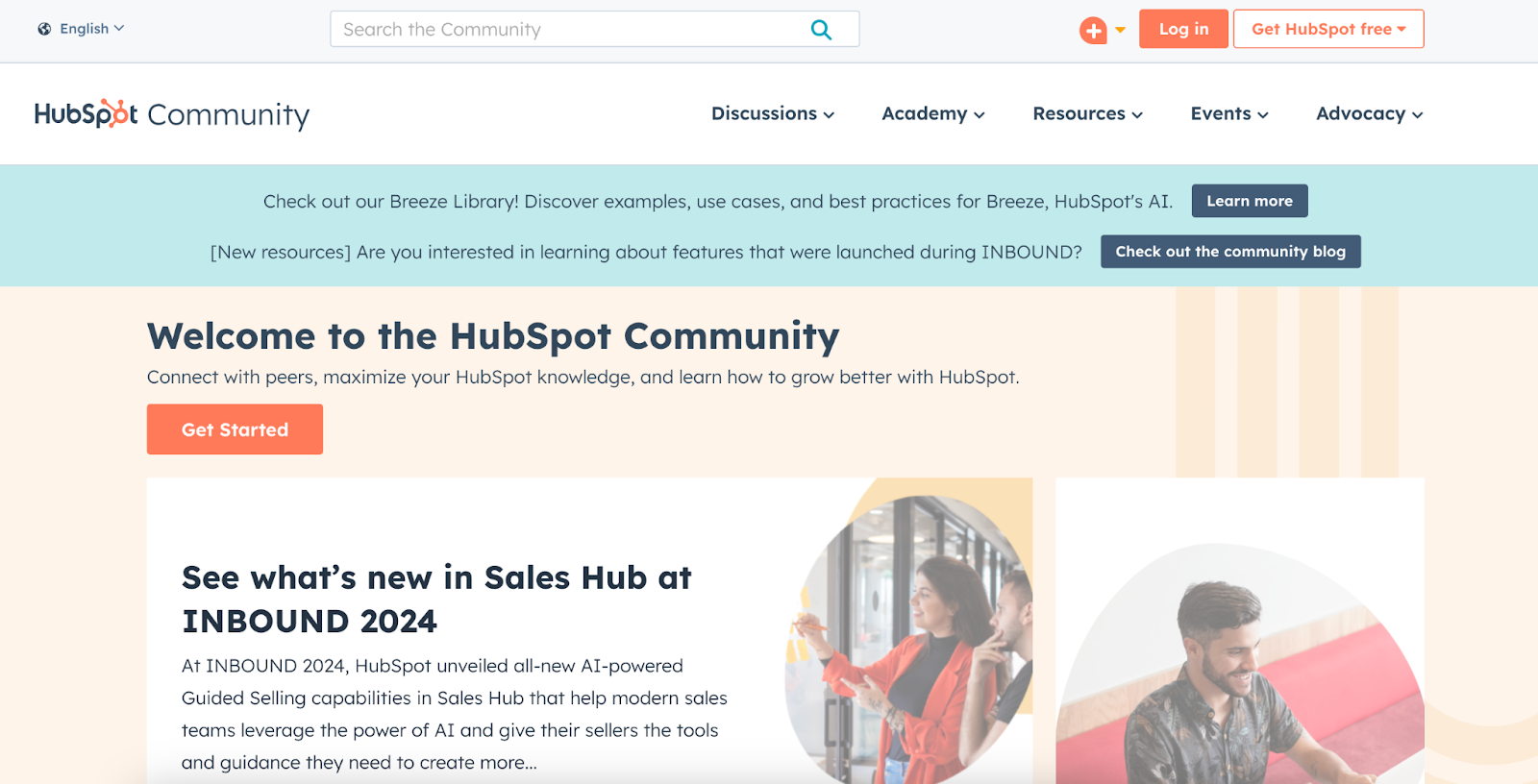 Source: HubSpot
What would a SaaS company list be without HubSpot?
By now, we've extensively covered free product versions, simple signups, little to no salesperson intervention, and more.
But for the last example, let's focus on "selling" the product using a self-guided model that connects the dots for potential users.
That's something HubSpot does exceptionally well, primarily with their social proof,…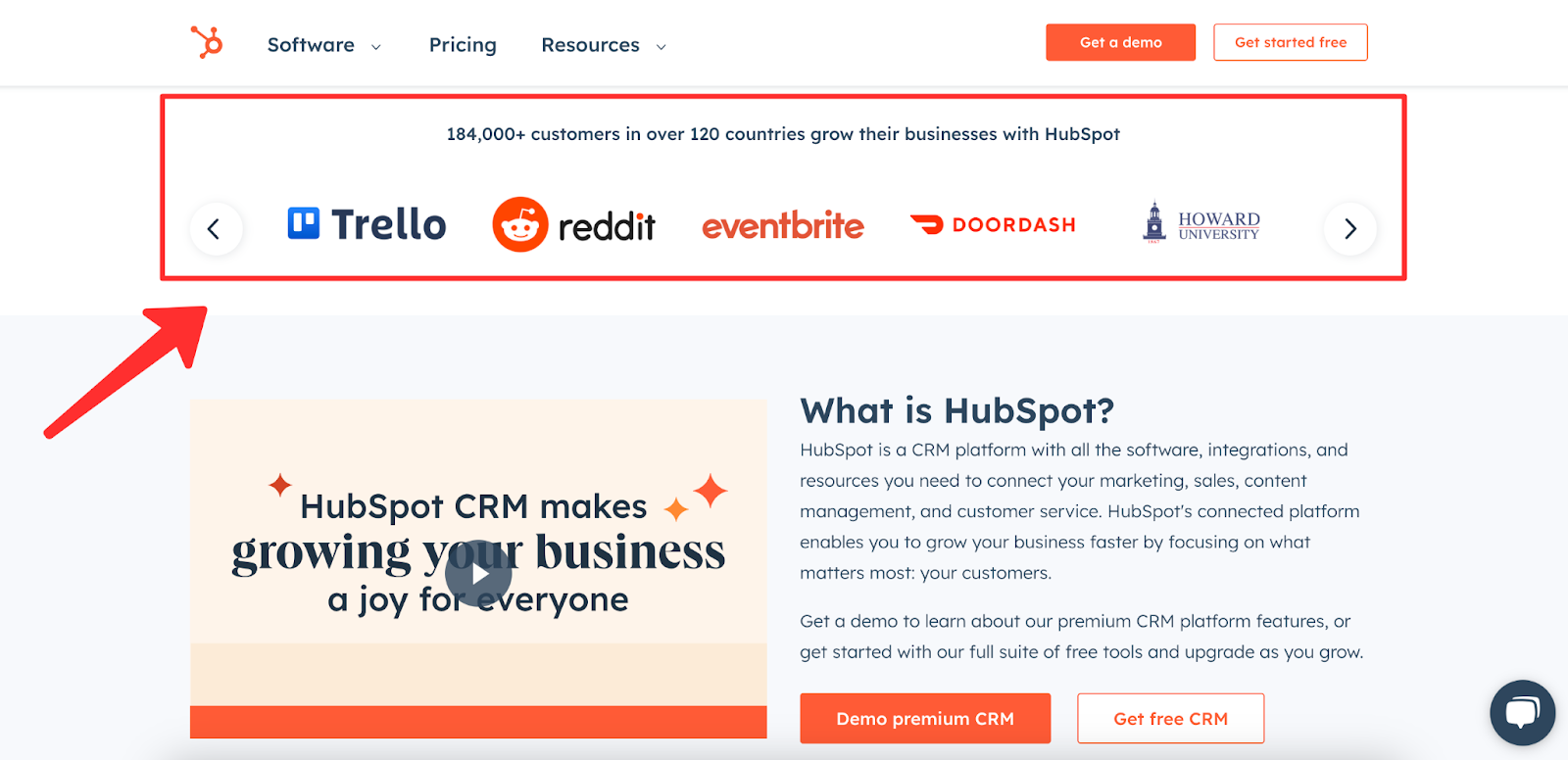 …their "Why Choose HubSpot? page,…
…and their comprehensive case studies.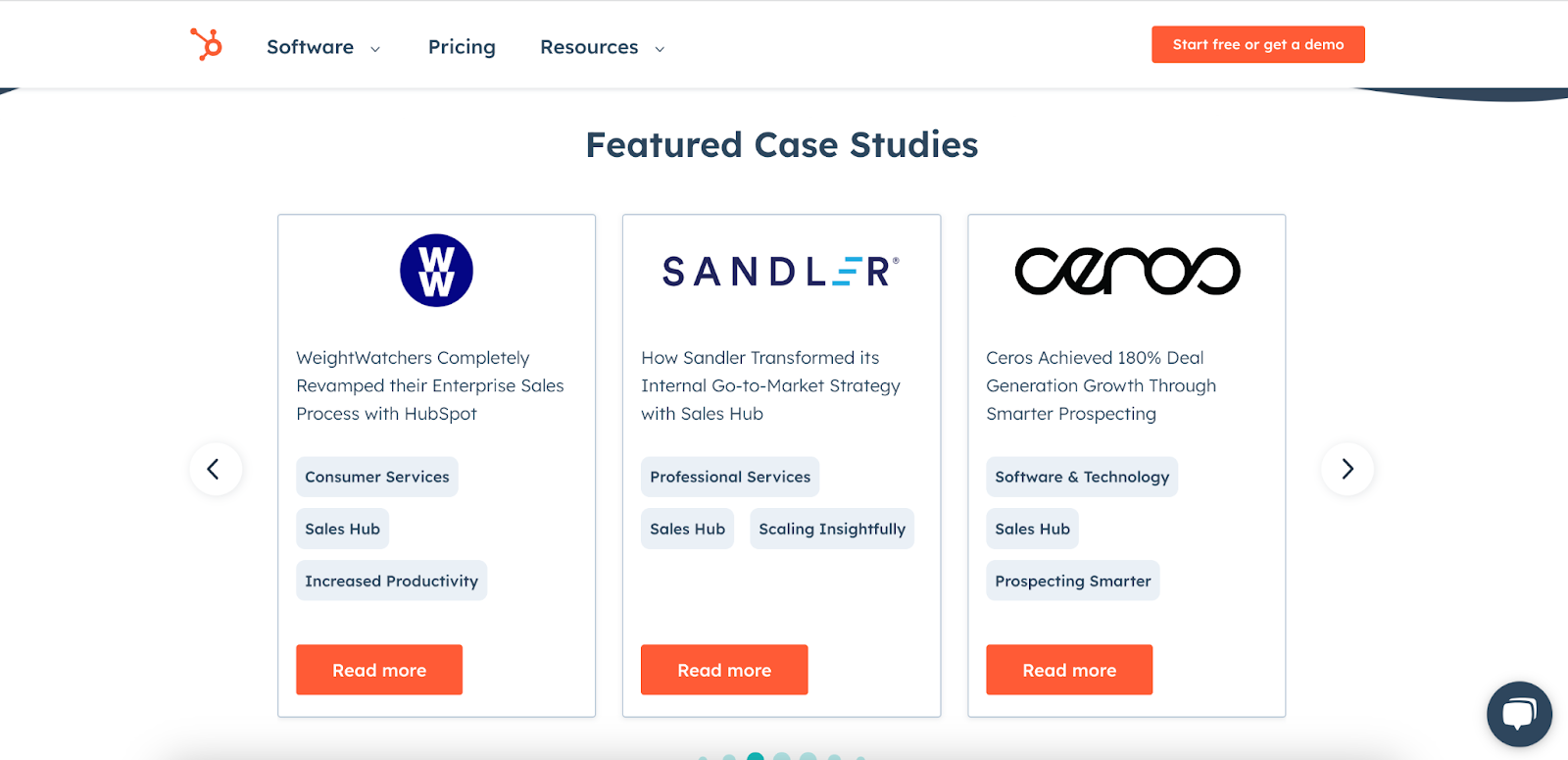 The customer feedback found in case studies is perfect for leads that are lower in the sales funnel that may have already used free HubSpot features but need that last little push to buy the paid version.
So in addition to the other techniques mentioned above, social proof can also factor into the product led growth equation to help a product team increase conversions.
And as they make more and more conversions, HubSpot can analyze key product metrics and make ongoing improvements to pave the way for continued success.